Is breakfast really the most important meal of the day? I'm not sure, but I know that it can seem overwhelming for some parents. Overwhelming to get organized and get food on the table/countertop for breakfast. I'm hopeful this collection of easy, healthy breakfast ideas for families will help.
What makes these easy breakfast recipes? I hear you asking this. Because one person's "easy" is another person's "complicated"…right? Many of these breakfast recipes can be made in advance. At a minimum, many of them can be prepped the night before and then thrown together in the morning. Depending on the age of your kids, they can definitely assist.
What makes these healthy breakfast recipes? I have always been a proponent of "fed is best" and if it can be homemade, even better. To me, a healthy breakfast is one where the amount of sugar is controlled. Healthy usually involves some fruit and some veggies. I'm not looking for these breakfast recipes to give my family all the vitamins and minerals they need for the day – I just want them to start the day on the best footing possible.
If this sounds easy and healthy to you, then welcome to my collection of healthy and easy breakfast recipes. Oh, and like most breakfast foods these also make amazing lunch and dinner options too!
Easy and Healthy Breakfast Recipes
Toad in a Hole – This was literally the first recipe I learned to make when I took home economics in elementary school. Eggs and toast, but make it fun! Practice on the weekend, when you have a little more time, and then the kids can take the lead on this one during the week.
Breakfast Nachos – Eveyrone loves nachos! Prep the meat, veggies, scrambled eggs and cheese the night before. In the morning it's all about the assembly. Pop in the oven and eat!
Breakfast Rainbow Fruit Wrap – Here's a power-packed, colourful and flavourful breakfast that everyone loves. Pile all the colourful fruit (that you could cut the night before) into a yogurt-lined tortilla…wrap up a rainbow!
Spring Vegetable Frittata – Okay, you might be wondering how this one is "easy", but it is. A frittata is a throw-it-in-a-pan and go kinda dish. You can even make the entire frittata the night before, store it in the fridge and in the morning you just need to warm it up. Pop it between a couple of pieces of toast and you have a portable breakfast option.
Blueberry Bread Pudding – Another recipe that seems more difficult than it actually is. Do all the prep work the night before and bake these individual bread puddings in the morning. These are so super delicious and would be amazing on a chilly morning.
Oatmeal Banana Bread – I am not against eating a fun bread or loaf for breakfast. These kinds of options are great for teens and tweens. They just want something to grab and go. This oatmeal banana bread is a little more elevated than your average banana bread.
Strawberry Banana Smoothies – Smoothies are the ultimate easy breakfast option. This recipe is a great jumping-off point if you are new to making smoothies. There were a few years there when my one daughter would eat a smoothie every…single…morning.
Pumpkin Spice Granola – Who says pumpkin spice is only for the fall? Not me! I love making granola. This is a terrific way to control the sugar in cereal. Make a big batch on the weekend and enjoy it all week long. Granola can be totally personalized to whatever you and your family likes – nuts, seeds, dried fruit, oats, fibre, whatever!
Honey and Peach Oat Muffins – Muffins are a superhero of breakfast foods. Bake a batch and watch them disappear. Have a bowl of fresh fruit available and the kids have a filling and balanced breakfast.
Mediterranean Scrambled Eggs – Scrambled eggs are one of our favourite quick and delicious breakfast ideas. They are a blank slate, waiting for your added touches. This recipe is packed with herbs and tomatoes and all this Mediterranean.
Cheesy Chive Scrambled Eggs – A simpler option for scrambled eggs is our cheesy chive eggs. Teach your kids how to make scrambled eggs and they will always be able to feed themselves. Seriously!
Lemon Blueberry Pancake Muffins – Here come all the muffins you can bake! First up, lemon and sweet blueberries in a pancake muffin. Yep, these use a pancake batter, but they're muffins! The tart and sweet combo is a total classic. Why grab these at the coffee shop when you can bake them at home?
Banana Bran Chocolate Chip Muffin – Okay, chocolate for breakfast can be a bit controversial. But, I added the chocolate to balance out the bran. These are total winners with the kids.
Strawberry Banana Muffin – Strawberries in a muffin always make me smile. These might be my fave. I love a banana muffin, and the strawberries add the touch of sweetness they need.
Blueberry Oatmeal Muffins – Our final muffin recipe. Yep, more blueberries. I love using fresh blueberries in my recipes. And crunchy oatmeal muffins are a great grab-and-go breakfast for the family.
What is your family's favourite easy, healthy breakfast recipe? Share in the comments. I'd love to give it a try.
---
Related Posts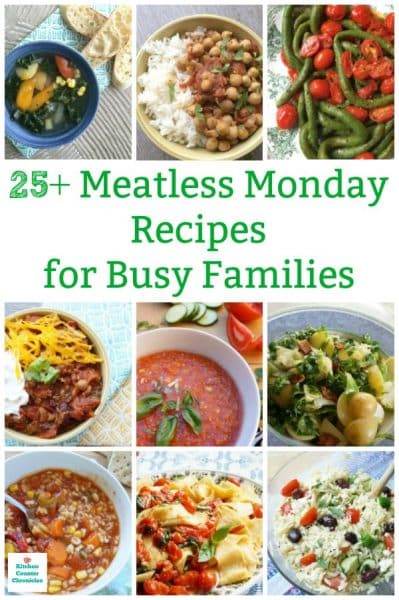 Monday is a great day to try and incorporate more vegetarian recipes. Check out our Meatless Monday recipes for families.
---
Make sure you are following along…
SUBSCRIBE TO KITCHEN COUNTER CHRONICLES TO HAVE OUR DELICIOUS RECIPES, FUN CRAFTS & ACTIVITIES DELIVERED DIRECTLY TO YOUR INBOX.
FOLLOW KITCHEN COUNTER CHRONICLES ON