Hi, my name is Jen Farr…thanks for stopping by!
If you are anything like me, then your life lands on your kitchen counter. You know those little piles that seem to accumulate on the kitchen counter…despite the constant tiding up we all do. One day I realized those little piles, those items are all small pieces of our lives. About 10 years ago I decided to start sharing everything that lands on our kitchen counter. Our adventures in
parenting, crafting
,
baking
,
gardening
and
greening our lives
and more, right here on Kitchen Counter Chronicle. Here's how this all came about…
In what I like to call my "previous life" I studied and worked in the field of mental health. I found the work incredibly challenging and rewarding. However, after my first daughter was born I decided to stay home and make this "mom" thing a full time gig.
Two daughters and over 19 years later – I am still at it.
In 2006 our lives were rocked when my mother was diagnosed with Stage 4 colon cancer. We welcomed my mom into our home and I cared for her through the end of her life. Her battle was far too brief and it left me heartbroken, but thankful for the time we were able to spend together.
I learned a lot about myself, my husband, my parenting skills and life in general through that experience. In the months following my mom's passing I searched for an outlet for everything that was swirling around my head – I turned to writing as an outlet.
Over the years I have shared countless craft projects, family friendly recipes and the many steps we have taken to live a healthy, eco-friendly lifestyle.
My girls have move through their tween years and into their teen years and our world has been rocked yet again. Parenting has shifted. Phew!
Ready to get to know me better? I've put together a set of questions and answers which should help you learn some fun facts about who I am and what this blog is all about.
---
3 things you might not know about me
1. I battle with my hair daily…too curly, too fuzzy, too grey, too brown, too…daily!
2. My dog George Michael (named after my fave singer) drives me crazy and makes me smile…he's an important member of our family.
3. I love listening to music…I need music on wherever I am…it feeds my soul.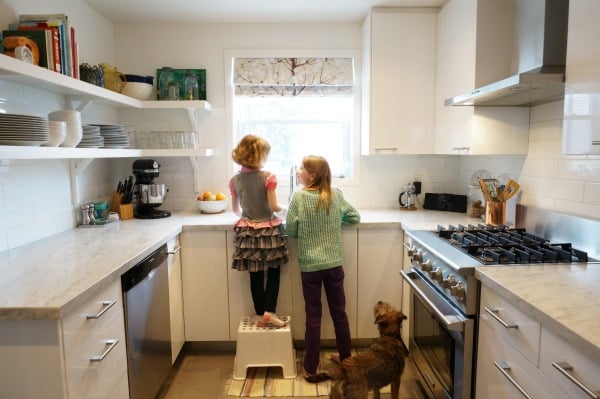 3 things that are on my kitchen counter right now
Left over lasagna, a glass canister filled with dog treats and my grandmother's ceramic bowl filled with fresh fruit…oh, and random piles of children's artwork and homework…of course!
Would I like to change anything about my kitchen counter?
I actually love my kitchen counter…I think if anything I would like to make my kitchen counter bigger. There never seems to be enough room (for those random piles of "stuff"). I would love it if we had enough space to pull up a couple of stools and enjoy an afternoon cup of tea.
What is my favourite thing to do on my kitchen counter?
My kitchen counter is made from Carrera marble, so it was built for rolling out pastry and baked goods. There is nothing I love more than baking with my girls in my kitchen. Unless of course, it's making a delicious Sunday night dinner with my husband and my girls. We have such a great time cooking, baking and hanging out in our little kitchen.
I hope my answers gave you a little more insight into who I am. Of course, if you want to know even more about all of us…and what's on our kitchen counter…read the blog, silly.
Thanks for stopping by!
Cheers,
Jen


Reach me at kitchencounterchronicle@gmail.com
Make sure you are following along…
FOLLOW KITCHEN COUNTER CHRONICLES ON
SUBSCRIBE TO KITCHEN COUNTER CHRONICLES TO HAVE OUR DELICIOUS RECIPES, FUN CRAFTS & ACTIVITIES DELIVERED DIRECTLY TO YOUR INBOX.