A few weeks ago we received a big box of summer fun in the mail. It was supplies we could use to have an awesome summer – craft supplies, a recipe book, sundae cups and a selection of Green Works cleaning products. You might remember my tween daughter getting her hands dirty in the play dough, in the winter. I think the summer is the messiest time of the year, so the timing for the arrival of our Green Works box was perfect. This past weekend we put some of the supplies to work making a deliciously tart red currant sauce summer sundae.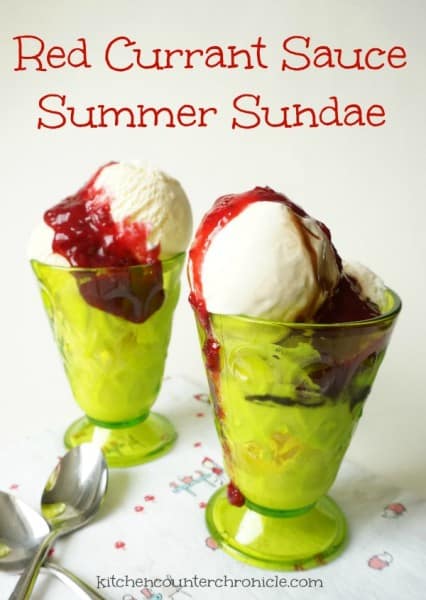 Like most berries in Ontario, they are at their absolute peek for only a few weeks in the summer. Yes, we can probably get our hands on red currants at any time of the year, but there is nothing quite as amazing as freshly picked red currants. Which is what we found at the farmers' market this weekend.
These precious little jewels have a tart, sweet and sour flavour. We wanted to find the best way to use these little gems. We decided to make a simple sauce. The method for making this sauce works for most summer berries. The best part is my 9 year old daughter is the one who came up with the recipe.
Red Currant Sauce
1/2 pint red currants (remove stems and stalks)
3 tbsp granulated sugar
1 tbsp water
juice of half a lemon
Place all ingredients in a small sauce pan over medium-high heat.
Bring the ingredients to a boil and then turn the heat down to medium-low.
Simmer until the sauce thickens to a consistency you like.
At this point there are two choice – leave the seeds/skin and use the sauce as is, or remove the seeds and skin.
To remove the seeds, place a fine sieve over a small bowl and pour the sauce into the sieve. Use a spatula or back of a wooden spoon to press the sauce through the sieve. Be sure to press all the sauce through…it is like liquid gold.
For our sauce, we pressed out the seeds and skins and then added about half of the seeds/skins back into the sauce. My daughter's decision – she liked the thickness of the sauce with a little bit of the seeds and skins.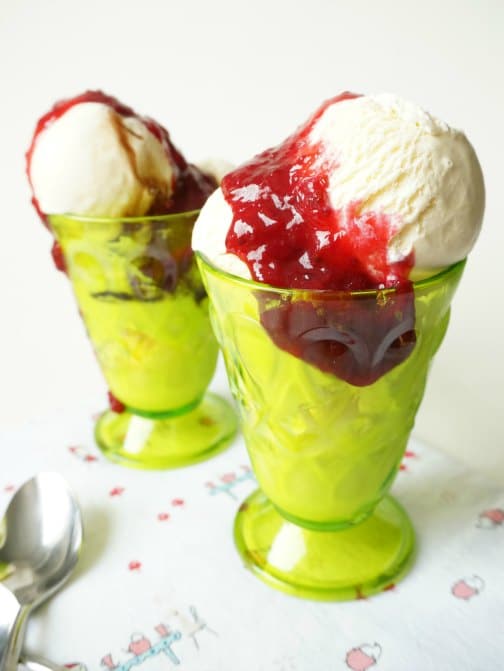 Once the sauce was cooled it was sundae making time! The red currant sauce is delicious served with vanilla ice cream and a little bit of chocolate sauce (for good measure). This sundae is the perfect way to end a summer meal.
What is your favourite summer berry? Do you have a favourite summer fruit or vegetable?
FYI red currant sauce can stain clothing, so when my daughter dripped some sauce on her new t-shirt, panic set it. No worries, I moved quickly and used a dab of Green Works Dishwashing Liquid to remove the sauce and all was right with the world again. Phew…summer emergency solved.
Disclosure: This article was generously sponsored by Green Works, the opinions expressed are my own.
Be sure to subscribe to Kitchen Counter Chronicles to have our delicious recipes, fun crafts & activities delivered directly to your inbox. You may also follow along Facebook and Twitter.
Looking for fabulous summertime activities for kids of all ages? Check out our Summertime Fun Pinterest board…
Follow Jen at KitchenCounterChronicle's board Summertime Fun on Pinterest.