Oh, how I love a holiday that encourages folks to make and give food to one another. Perhaps this is my favourite thing about Valentine's Day. When I want to show someone that I love them I usually find myself in the kitchen – preparing some sort of delicious treat. These adorable Valentine heart strawberry pop tarts are Valentine's Day perfection.
How cute are these little hand pies?! We filled our flaky pastry with strawberry jam, but feel free to substitute in your loved ones favourite jam. The key is adding corn starch to the jam…this keeps the jam from leaking out the seams. 
When I baked this batch of pop tarts the response from my entire family was unanimous – OMG! That's the exact reaction I was hoping for. Who will you bake these Valentine's Day treats for?
Valentine Heart Strawberry Pop Tarts
2 cups all purpose flour
1/4 tsp salt
3/4 cup cold Crisco vegetable shortening, cut into 1/2″ cubes
4-8 tbsp ice water
1/2 cup strawberry jam
1 tbsp corn starch
1 egg
1 cup icing sugar
2-4 tbsp water
red food colouring
Begin by making the pie crust. In a large bowl, whisk together flour and salt. Toss cold cubes of shortening into the flour. Use a pastry cutter to incorporate the shortening into the flour, until the shortening is small lumps (like small pebbles).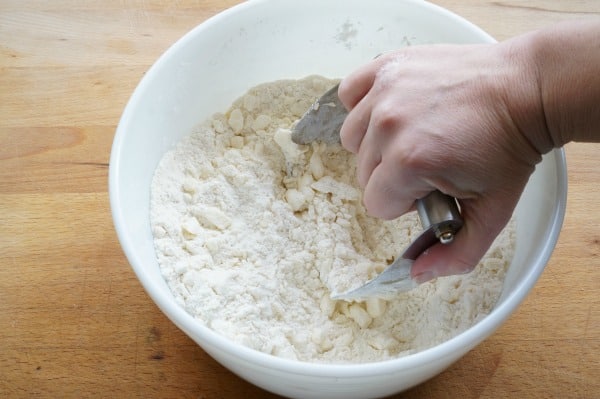 Next, add the icy water. Add the water 1 tbsp at a time, until the dough comes together. The dough shouldn't be sticky. Transfer the dough to a hard surface and shape into a large ball. Divide the dough in half and wrap the two halves in plastic wrap. Chill in the fridge for at least 20 minutes.
Make the filling by stirring together the jam and the cornstarch. In a small bowl, whisk together the egg and 1 tbsp of water – this will be the egg wash.
Remove one ball of chilled dough from the fridge. Roll the dough, on a lightly floured surface, to 1/8″ thickness. Use a large heart cookie cutter (mine is about 4″ long) to cut out the bottom hearts for the pop tarts. Once cut out, place hearts on a parchment paper lined baking sheet.
Roll out the second ball of dough and cut out an equal number of hearts. Let them sit while you fill the tarts.
Use a pastry brush (or your fingers) to apply the egg wash to the edges of the bottom heart. Add about a tsp of jam to the centre of the heart. Spread it around, keeping it away from the edges of the tart.
Place another heart over top of the jam. Use your fingers to press the edges closed and secure the jam inside. Press the tines of a fork around the heart, further sealing the jam inside. Use the fork tines to poke a series of venting holes in the top of each tart. Use the pastry brush to lightly coat the tart.
Bake the tarts in a 400°F oven for 15-20 minutes – until the tops are lightly golden. Cool on a rack.
Prepare the icing by stirring together the icing sugar and water. Add the water 1 tbsp at a time, until the icing reaches your desire consistency. Add the red food colouring until it reaches a lovely pink colour…or leave the icing white.
Once the tarts have completely cooled, use a spoon or fork to drizzle the icing onto the strawberry pop tarts. Sprinkle with Valentine candy sprinkles. Share with your friends and family.
Today's recipe is part of the fantastic 25 Sweet Valentine's Day Ideas blog hop. Be sure to check out all the other gorgeous crafts, decor and recipes being shared. There really are some beautiful projects to be discovered.
Monday
Heart Shaped Pizzas for Valentine's Day by Jo-Anna of A Pretty Life
Blood Orange Limoncello Cocktail for Valentine's Day by Tara of Suburble
Ombre Cake Makeover from a Grocery Store Cake by Colleen of Lemon Thistle
Valentine's Popcorn by Janella of Ma Belle Vie
"Warm Heart" Hand Warmers by Sarah of Flourish & Knot
Tuesday
Valentine's Day Embroidery Projects by Heather of Home to Heather
Valentine's Candy Inspired Table Setting by Andrea of Personally Andrea
Valentine Heart Strawberry Pop Tarts by Jen of Kitchen Counter Chronicles
Valentine's Day Date Night In Gift Basket Idea by Christina of The DIY Mommy
Valentine's Day Chocolate Chunk Skillet Cookies by Shauna of Satori Design for Living
Wednesday
Felt Valentine's Day Cards by Alex of Northstory
Lovey Dovey Vegan Chocolate Bark by Joann of Woman in Real Life
Valentine's Day Wall Hanging by Thalita of The Learner Observer
DIY Valentine String Art by Tash of The Dreamhouse Project
Fluffy Valentine Sugar Cookies by Kendra of Joy In Our Home
Thursday
Easy DIY Valentine's Wreath by Laurie of VinYet ETC
Raspberry Pie Mousse Cups by Daniela of Lifeovereasy
Valentine's Day Breakfast by Dannyelle of Life is a Party
Valentine's Mantel by Jen of Rambling Renovators
Boyfriend Bouquet | Floating Heart Terrarium by Cynthia of Cynthia Zamaria
Friday
Embroidery Hoop Valentine Art by Christine of The DIY Dreamer
"You & Me" Wood Sign by Lindi of Love Create Celebrate
Chocolate and Coconut Coated Heart Mini-Cakes by Jane and Sonja of Sustain My Craft Habit
DIY String Heart Wall Hanging by Melissa of The Sweet Escape
Heart Shaped Marshmallows for Valentine's Day by Christine of Amidst the Chaos
---
 Related Posts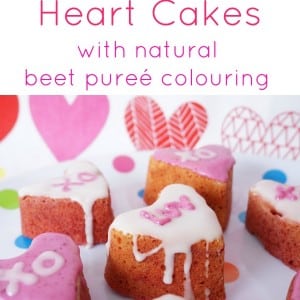 Bake Valentine cakes coloured with beet puree (they don't taste like beets)
Valentine's Day breakfast, lunch and dinner recipes covered
---
BE SURE TO SUBSCRIBE TO KITCHEN COUNTER CHRONICLES TO HAVE OUR DELICIOUS RECIPES, FUN CRAFTS & ACTIVITIES DELIVERED DIRECTLY TO YOUR INBOX.
---