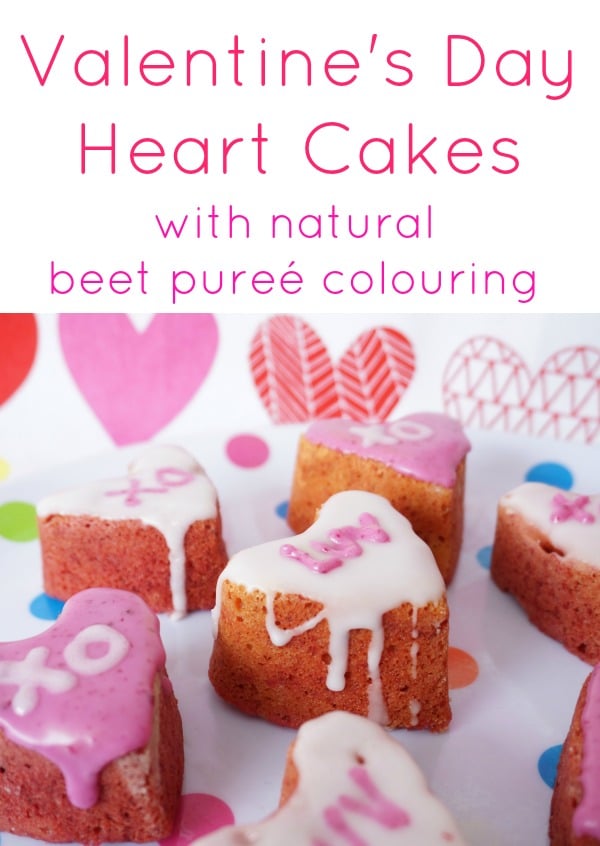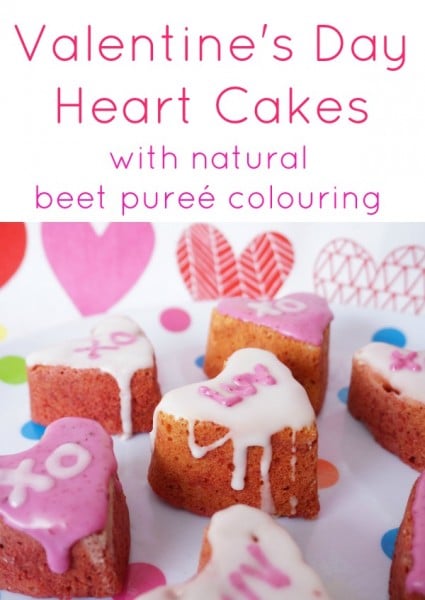 The countdown to Valentine's Day continues. It's time to shift our focus to baking. I baked up some super cut heart tarts over on Red Ted Art last week. While we were out this weekend, I picked up a baking pan (at Target), that is designed to bake candy conversation heart shaped little cakes. So, baking a cake was in order. We are pretty lucky when it comes to kid food related sensitivities. My daughters don't seem to be allergic or sensitive to anything (knock on wood). However, we have friends with food related allergies and sensitivities, so we try and be aware of the food we bake. A common food allergen is red food colouring. Aside from red food colouring causing allergic reactions for kids, it is also a chemical based food dye…safe for consumption..but if we could come up with an alternative, why not? Rather than baking with artificial colouring, for this Valentine Day cake we are trying a natural option, beet puree. Beets are a beautiful root vegetable and if you have ever cooked with beets then you know that they dye everything they touch…hands, wash cloths, cutting boards. Why not use this to our advantage. We baked these sweet little heart shaped cakes and the pink icing, coloured with beet puree. Perfect for Valentine's and safe for everyone to eat.
Valentine's Day Heart Cakes with Natural Beet Puree Colouring
1/2 cup unsalted butter, room temperature
1 1/2 cup granulated sugar
3 large eggs
1 tsp vanilla
2 cups all purpose flour
1 tbsp baking powder
1 tsp salt
3/4 cup milk
1/4 cup beet puree
1 cup icing sugar
1/4 tsp vanilla
1 tbsp water
1/4 tsp beet puree
3 medium sized beets
For the Beet Puree – Wash beets, trim beet tops off and wrap beets individually in foil. Place foil wrapped beets on a baking sheet and place in 400°F oven for 60-90 minutes. Once fork tender, pureé beets in blender or food processor and process until they are smooth. Set aside to cool.
For the Cakes – Preheat oven to 350°F. Butter and flour the baking pan. This recipe will make a double layer cake, in 8″ round pans or 12 mini-heart cakes.
Beat together butter and sugar, until creamy. Add eggs, one at a time. Then add vanilla.
In separate bowl, whisk together flour, baking powder and salt.
In separate bowl, whisk together milk and 1/4 cup of beet puree.
Add beet/milk mixture and flour to butter mixture in small batches – alternating between the two.
Mix together until batter forms and colour is consistent throughout.
Scoop batter into prepared baking dish. Make certain that baking dish is buttered thoroughly. For our small heart baking pans (or cupcakes) bake in 350°F oven for 10-15 minutes, until toothpick inserted comes out clean. For 8″ round cake bake for 25-30 minutes, until toothpick inserted comes out clean.
Remove cake from oven, let cool for 10 minutes and then remove from pan and let cool on rack.
For the icing – whisk together icing sugar, vanilla, beet puree and water. Add more water if the icing is too thick or more icing sugar if the icing is too thin. Spread over completely cooled cakes. Enjoy!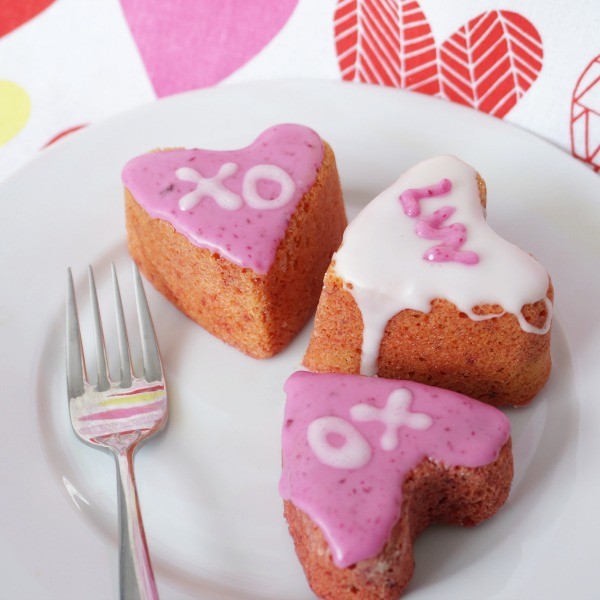 The secret to the success of using beets is to use beet pureé and not beet juice. Beet juice will simply water down the recipe too much. Whereas beet pureé is thicker and blends in beautifully. These cakes are super moist and don't taste like beets at all. I love that we have found an easy way to replace red food colouring. I wonder what else I can use to substitute other artificial colours.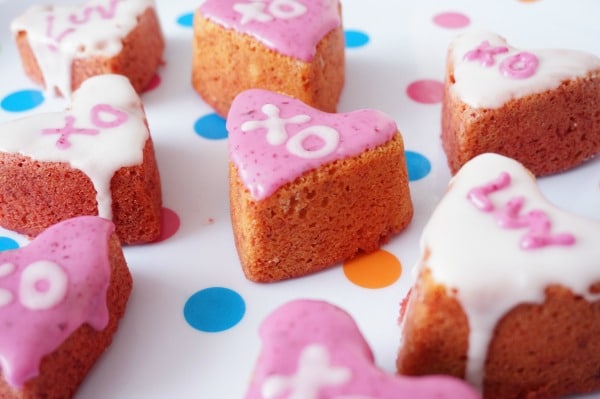 Come join Kitchen Counter Chronicles on Facebook, Pinterest,  and Twitter.