Start them young! You are never to young to start celebrating Earth Day and loving our beautiful planet. We have shared all kinds of creative ways to celebrate Earth Day with kids, over the years and this collection of Earth Day books for preschoolers is a fantastic place to start.
Be sure to check out all of our amazing book recommendations on our EPIC Top Books for Kids page.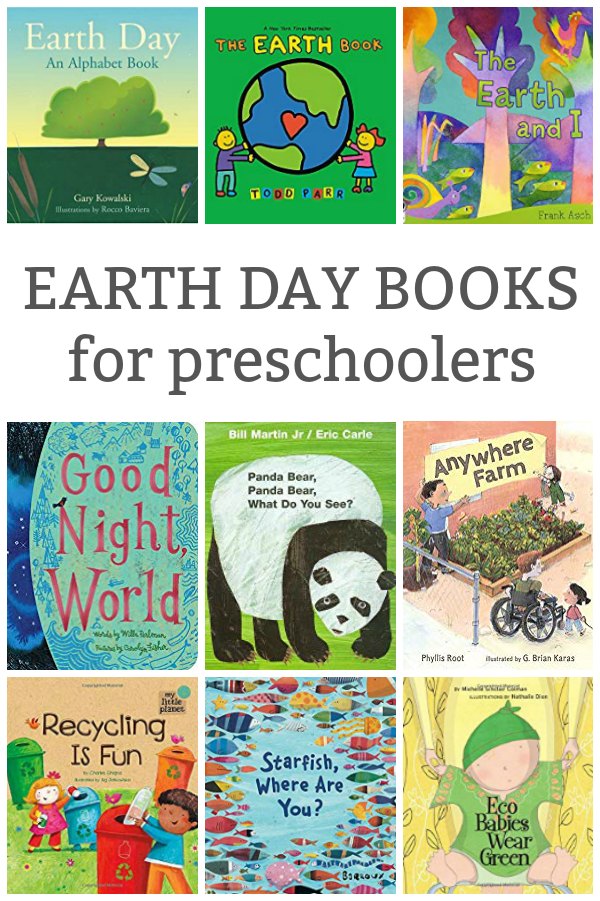 Disclosure: There are Amazon Affiliate links in this article which means, at no additional cost to you, we could receive compensation for our recommendations. You can read our full disclosure policy on our Disclosure Page for more details.
Board books and early readers can be the simplest and most beautiful books for children. This collection includes delightfully colourful books which will introduce early readers and curious babies to the importance of taking care of the world around them. These books make terrific baby shower gifts for friends and family.
Awesome Earth Day Books for Preschoolers

The Earth Book – by Todd Parr Are you familiar with children's author and artist Todd Parr? His books are bright, colourful and include simple text. The Earth Book carries readers through an assortment of little things that each person can do to be more eco-friendly. The book emphasizes kindness – kindness to animals, to each other and to our planet. Love the bonus pull-out poster that can be hung up and used as a daily reminder of all that we can do. An Earth Day book for 3-6 year olds.
Curious George Plants a Tree by H.A.Rey Everyone loves this silly monkey. When George becomes curious about the science museum's "Green Day", his enthusiasm for recycling gets him into all kinds of silly predicaments around town. Thankfully George's curiosity introduced young readers to many ways that they can live a little greener. The book includes a list of 20 kid-friendly green living tips. A fun Earth Day book for 3-6 year olds.
Berenstain Bears Don't Pollute (Anymore) by Stan & Jan Berenstain When Brother Bear has an environmental science project to work on, the bears consult their friend scientist Actual Factual. The bears learn all about the eco-issues impacting Bear Country and they look for ways to clean up. This book was written in the 1990s when pollution was a major focus of environmentalists. If your kids love the bear family, then they will love this intro to becoming little environmentalists. A great Earth Day book for 3-6-year-olds.
Anywhere Farm by Phyllis Root Did you know that you can plant a garden anywhere? Yep, even in the middle of a busy city. Anywhere Farm shares an urban community's creation of a delightful garden. Might even inspire young readers to become young gardeners. An inspiring Earth Day for 2-6-year-olds.
The Earth and I (Rise and Shine) by Frank Asch A simple story of the connection between and child and the Earth. Delightfully skip through the day-to-day ways that we all interact with nature and our innate connection with our world. The watercolour images are a new piece of art on each page. A lovely Earth Day book for 0-6-year-olds.
Earth day Alphabet Book by Gary Kowalski Who doesn't love a good alphabet book?! The Earth Day Alphabet Book introduces young readers to all kinds of critters, creatures, plants and animals – one letter at a time. A great jumping off point for early readers aged 2-6 years old.
Starfish, Where Are You? by Barroux This book takes children under the water to search for starfish, jellyfish and clownfish. Just when you think you are reading a simple hide and seek book, the author sneaks in an environmental lesson about plastics and pollution in our oceans. It's a good one for kids aged 2-6.
Compost Stew: An A to Z Recipe for the Earth by Mary McKenna Siddals Compost Stew has become a classic eco-book for little learners. What is compost anyway and what is compost stew? Do we eat it?! An informative and educational Earth Day book for preschoolers (and kids of all ages).
Recycling is Fun (My Little Planet) by Charles Ghinga Wouldn't it be awesome to get kids excited about recycling? That is exactly what this book does. Why do we recycle and what can we recycle. Learn it all in this cheerful Earth Day book for preschoolers.
Earth Day Board Books for Babies
Good Night, World by Willa Perlman A peaceful bedtime book for little ones. Travel around the world and explore nature as your child drifts off to sleep. A lovely Earth Day board book for babies-4 years old.
Panda Bear, Panda Bear, What Do You See? By Eric Carle Well, you can't really go wrong with any of the author and artist Eric Carle's books. In Panda Bear, readers meet a collection of endangered animals from around the world. A gentle introduction to endangered species for little ones. A beautiful Earth Day book for babies – 4-year-olds (and beyond).
Eco Babies Wear Green by Michelle Sinclair Coleman This one is as much for the parents as it is for the kids. A fun baby shower gift for your granola, tree-hugging friends. A clever Earth Day baby book.
Nature: Early Learning at the Museum by Nosy Crow This is a brand new book, that you can pre-order. From the folks at The British Museum. Pages filled with bright images from nature that will engage and excite young children. A simply informative Earth Day book for 0-4-year-olds.
---
Related Posts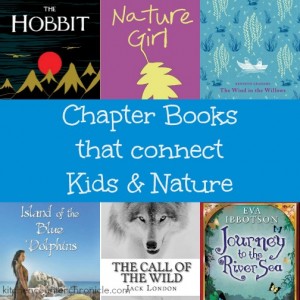 Be sure to check out our collection of chapter books that connect older children with nature
Have fun with our awesome Earth Day Celebration activities, crafts and more
---
Make sure you are following along…
SUBSCRIBE TO KITCHEN COUNTER CHRONICLES TO HAVE OUR DELICIOUS RECIPES, FUN CRAFTS & ACTIVITIES DELIVERED DIRECTLY TO YOUR INBOX.
FOLLOW KITCHEN COUNTER CHRONICLES ON