Did you know that tomorrow, February 14th is not only Valentine's Day it is International Book Giving Day. Yes, a day to celebrate books and to invite people to give books to one another. Which got me thinking about books and how magical and wonderful books are for children. When children are young, they can be transported into deep, dark forests or set floating on the vast ocean. What a wonderful way to spark children's love of nature. As children get older, they can lose their connection with the outdoors. Books are a wonderful way to keep curiosity alive. I have put together a collection of chapter books that use the natural environment as another character in the story. Chapter books connect older children to nature and encourage children to explore the outdoors.
Be sure to check out all of our amazing book recommendations on our EPIC Top Books for Kids page.
for your convenience, this article contains affiliate links
Chapter Books About Nature for Children
Wildwood by Colin Meloy – Readers will take a trip into the Impassable Wilderness with Prue as she searches for her brother. Meloy introduces readers to an incredible landscape and adventure story.
The Hobbit by JRR Tolkien – Few books have sparked the imaginations of readers like those written by J.R.R. Tolkien. Journey to the Lonely Mountain with Bilbo and his companions…escape into the magnificent Middle Earth.
Asha and the Spirit Bird by Jasbinder Bilan – Young Asha takes readers on a mystical adventure, following birds and other creatures as she attempts to help her family. The text will spark any child's imagination and desire to connect with the beauty of the natural world.
The Lion the Witch and the Wardrobe C.S. Lewis – When Lucy enters the world of Narnia, readers discover a world covered in snow. As the story unfolds read as the landscape becomes another member of their travelling team. Winter gives way to a beautiful spring.
The Secret Garden by Frances Hodgson Burnett – In such dire times, under such difficult circumstances how can beauty be found? Open the garden gate and discover the secret garden within.
Island of the Blue Dolphins by Scott O'Dell – Travel to the isolated and lush Island of the Blue Dolphins, where young Karana lives in solitude. As she waits for a ship to return for her Karana learns how to live off the land and survive in the wilderness.

The Call of the Wild by Jack London – Step inside the life of Buck, a strong dog who is born in sunny California and is then transported to Alaska and the Yukon Territory. As readers discover the truth about the lives of dogs in our society they will be captivated by the remarkable landscape London describes.

The Wind in the Willows by Kenneth Graeme – These tales of friendship and understanding that Graeme shares are timeless. Readers are transported to the riverbank and beyond as they follow the hilarious adventures of Mr.Toad, Mole, Badger and Rat.

Anne of Green Gables Series by LM Montgomery – Set in a small town in Prince Edward Island, Anne Shirley comes to life through the tales of Anne of Green Gables. Montgomery captures the very essence of life on the beautiful eastern Canadian island.

Journey to the River Sea by Eva Ibbotson – Maia sets off on an adventure along the Amazon River…what she finds is not quite what she had expected. Ibbotson transports readers to the banks of this majestic river.

Never Cry Wolf by Farley Mowat – Step into the Arctic tundra with Farley Mowat as he lives with and researches wolves. Mowat's words are so beautifully descriptive readers can almost feel the chill of the north and hear the breath of the wolves as they approach.

Nature Girl by Jane Kelley – What will eleven year old Megan do when she is stuck in Vermont with no internet, no TV and cell phone? What happens when she hits the forest trail in an attempt to make her way to find her best friend back in Massachusetts?

The Minpins by Roald Dahl – Take a trip into the deep dark woods with Little Billy and the creative text of Roald Dahl. Meet the Minpins and keep away from the Groucher…or else.

Upside Down in the Middle of Nowhere by Julie T. Lamana – Readers will take a trip to historic New Orleans. Experience the disastrous Hurricane Katrina through the eyes of ten-year-old Arnimi Curtis. Arnimi will discover her strength, courage and her community.

Eye of the Storm by Kate Messner – Kate Messer's book will introduce young readers to the science of storms through the story of Jaden Meggs and her father's knowledge of the eye of the storm.
Did your favourite chapter book about nature make our collection?
---
Related Posts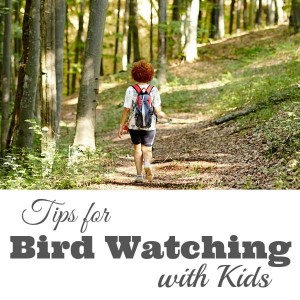 Along with books, simple nature crafts and activities are a lovely way to keep older kids connected with nature. Take the older kids out bird watching – a surprisingly engaging activity that you can do all year round.
While Mother Natured gathered leaves to make beautiful hand sewn leaf hearts.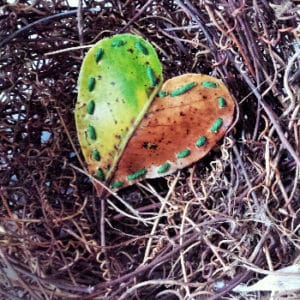 ---
Make sure you are following along…
SUBSCRIBE TO KITCHEN COUNTER CHRONICLES TO HAVE OUR DELICIOUS RECIPES, FUN CRAFTS & ACTIVITIES DELIVERED DIRECTLY TO YOUR INBOX.
FOLLOW KITCHEN COUNTER CHRONICLES ON