You know I love a good boredom-busting activity for the kids…I've made an entire bored jar filled with activities! This is why I've gathered together all of our free printable summer activity sheets. Add these activity sheets to your summer to-do list.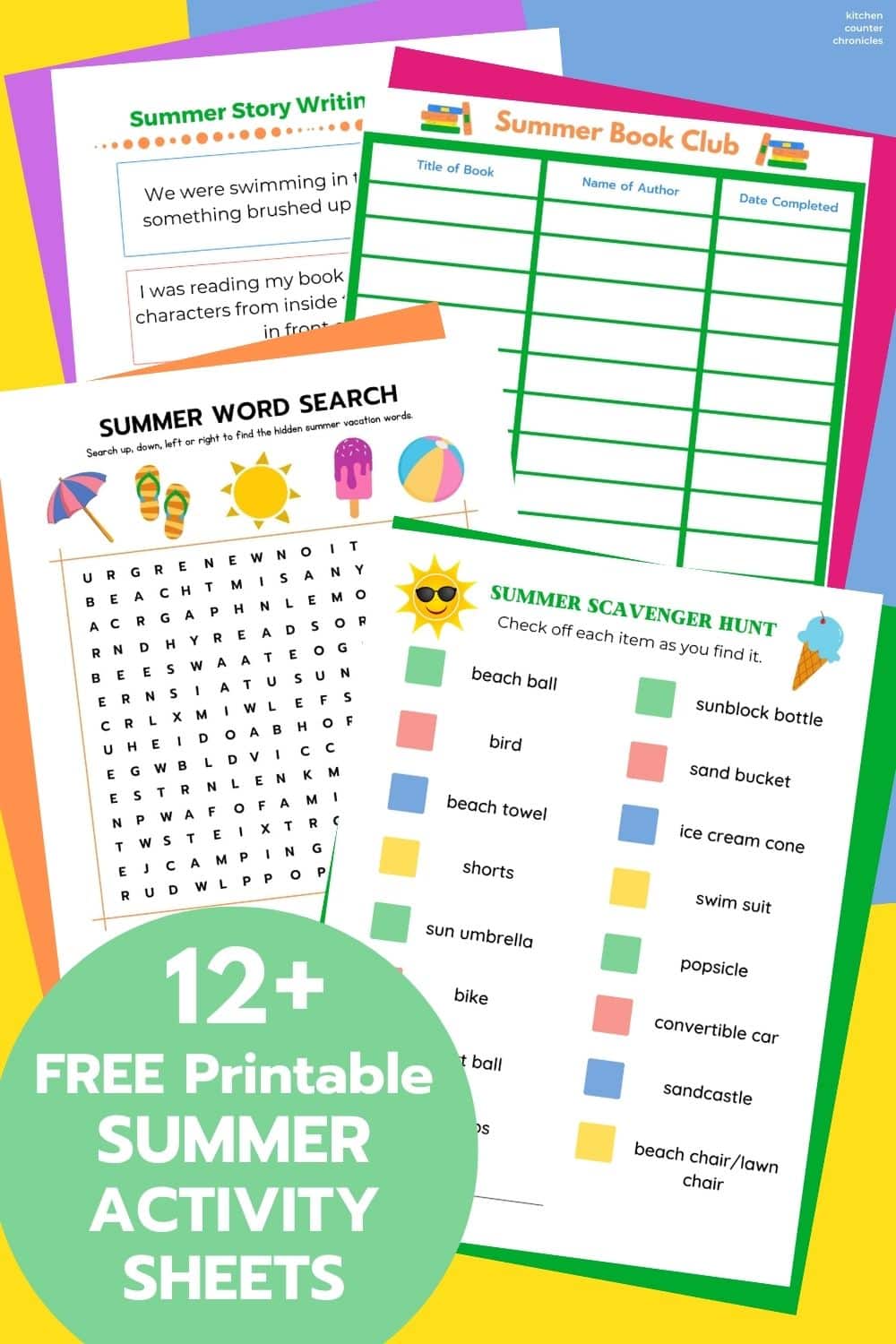 Why printable summer activity sheets?
Because sometimes it rains and you need an alternative to video games. Because, when you pop these into a clipboard they make a great road trip activity. Because these summer games are perfect for a shady moment at the beach. Because they are fun!
12+ Free Printable Summer Activity Sheets
Summer Word Games
Have fun with our 3 summer word games. We have all the classics. A summer word search, a summer word jumble, and a summer crossword puzzle. Don't forget to print all the answer sheets too.
Summer Scavenger Hunt for Kids
Bring our summer scavenger hunt along on your next trip to the beach or summer road trip. Check off everything you find as you head out and explore this summer.
Summer Would You Rather Questions for Kids
The kids love answering all of these silly summer would you rather questions. This game is a great addition to any summer outing. Have fun debating the questions around the campfire with the kids and adults too.
Summer Movie Checklist
We've pulled together a collection of 30 of the BEST summer family movies and made a printable checklist. Hang up the checklist and have fun ticking off each movie as you watch. Did your family's favourite movie make the list?
Summer Story Writing Prompts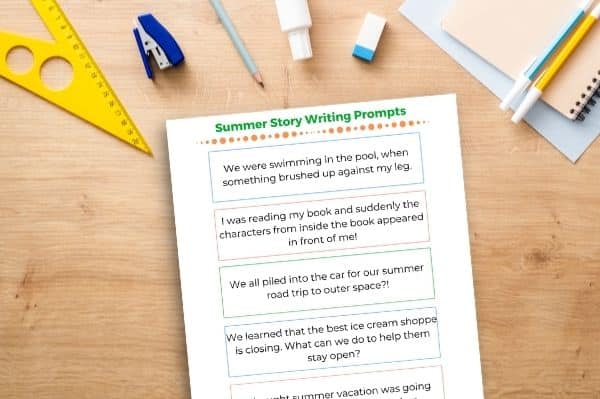 Summer is a great time for daydreaming and story writing. Print these summer story writing prompts and then use them to inspire your kids to fill their journals with amazing summer stories.
Summer Story Writing Pages
Skip the boring journal for writing and print our super cute summer story writing pages. We've designed lined pages and pages that include picture boxes. So your stories can have custom illustrations too. A great way to collect all of your kid's summer stories.
Summer Reading Pages
And, if your kids like to write stories they probably like to read. Check out our summer reading printables. We have a summer reading log where they can keep track of all the books they are reading. And, a summer book breakdown page, where kids can dig deep into the stories they are reading. And, we have a worksheet where kids can explore what they think might happen after the book is over. What might happen next with the characters they just met? The kids can write the next chapter.
Summer Reading Tracker
This summer reading book tracker is a simple way for kids of all ages (and adults) to visually track the books they are reading this summer. We have 4 different versions for you to choose from – 10 books, 20 books, 50 books, and 100 books. Read a book and color the summer item and add them all up at the end of the summer.
Summer Bookmarks to Colour
Finally, the kids will have fun using their creativity to color our summer bookmarks. These bookmarks make a fun activity to print, color, and share with friends.
Summer Printable Insect Games
If your kids love insects, they will love this collection of insect word games.
We have so many fun, free printable summer activity sheets that will keep your kids busy and engaged all summer long.
---
Looking for more summer fun
Check out our summer crafts for tweens to make
Speaking of summer reading, check out our roundup of great summer chapter books for kids to read
---
Make sure you are following along…
SUBSCRIBE TO KITCHEN COUNTER CHRONICLES TO HAVE OUR DELICIOUS RECIPES, FUN CRAFTS & ACTIVITIES DELIVERED DIRECTLY TO YOUR INBOX.
FOLLOW KITCHEN COUNTER CHRONICLES ON