We love scavenger hunts and we love coming up with fun things for kids to do in the summer. From cool summer STEM activities to creative summer crafts for kids to make – adding this summer scavenger hunt for kids to our summer activities is going to be awesome.
My kids love scavenger hunts because they love searching for things and they love the competition…who will find the items first. I love scavenger hunts because they help me pass time with the kids. Yep, when I have a day full of errands if I pull together a simple scavenger hunt, the kids don't notice the time passing by. Scavenger hunts can be simple, difficult, indoors or out…this super awesome printable summer scavenger hunt for kids is all about searching for summery items.
Summer Scavenger Hunt for Kids
What different items do you associate with summer?
I asked my girls to put together a list of summery items and they came up with things like sunglasses, beach towels, ice cream and sandcastles. I created a printable summer scavenger hunt that is engaging for kids of all ages to play along with. You can go ahead and print off a copy of our Summer Scavenger Hunt right here.
Bring this scavenger hunt along on your next trip to the beach, park or on a simple walk through the neighbourhood. Kids of all ages will love this activity…read the list for pre-readers, let the big kids take control of the hunt.
It is simple to make this scavenger more challenging for older kids. Add a new rule – the kids need to locate 3 of each item on the list (you might only be able to find 1 sun). Change things up to suit your child. Once you have printed off the scavenger hunt there is one last element to the scavenger hunt…the prize at the end.
After the kids have done all the hard work of searching and checking things off they deserve a little reward. The perfect little treat, one that we love to give the kids is a freezie or ice pop. Before we head out on our hunt, I make sure the freezer is stocked with some homemade popsicles – our strawberry creamsicles are pretty popular. When we get home the hunt is on for one last item…the popsicles.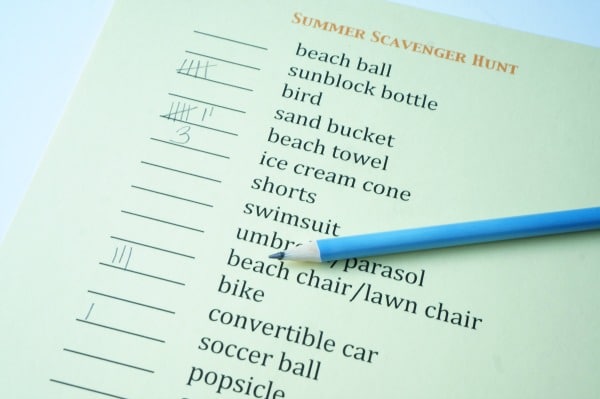 Here is another fun idea for your next walk with the kids, what about going on a listening walk? Let your kids' ears guide them and discover the sounds in your neighbourhood. A colour hunt is another simple walking activity. Pick a favourite colour and search the streets for items where you see that colour.
What would you include in a summer scavenger hunt?
What would your kids love to have as a prize?
---
Summer Scavenger Hunt for Kids
ABC's Scavenger Hunt
Search for Autumn Printable Booklet
Earth Day Scavenger Hunt
Search for Spring Printable Booklet
---
BE SURE TO SUBSCRIBE TO KITCHEN COUNTER CHRONICLES TO HAVE OUR DELICIOUS RECIPES, FUN CRAFTS & ACTIVITIES DELIVERED DIRECTLY TO YOUR INBOX.
---