We love a good story, especially one that the kids have written by themselves. We've shared all kinds of storytelling prompts for kids and story writing prompts for kids over the years, but this summer we wanted to share all kinds of summery writing inspiration.
I remember sitting under a tree with my notebook and writing out all my ideas for the novel I would write one day. My stories usually involved some sort of mystery that needed to be solved. There were always kids my age as the main characters and it usually took place during summer vacation. As my kids grew up I wanted to find ways to encourage them to write their own stories. These story writing prompts were born from that desire.
Summer Story Writing Prompts for Kids
Using these summer story writing prompts can be as easy as you like. Simply print off our summer story writing prompts for kids (black and white, printer-friendly version) or our summer story writing prompts for kids color (colored ink version) and then take the time to cut out each individual prompt. You can place the prompts in a jar and have the kids pull them out one by one. It's that easy.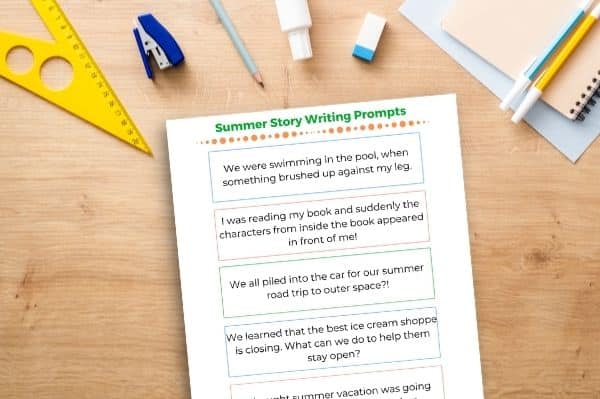 Alternately, you could select a different prompt for each week of the summer. There are 15 prompts total, so there are more than enough for kids to use one each week of summer vacation. These story writing prompts are great for kids of all ages. If your kids are too young to write, have them draw pictures to support the stories they tell.
Story writing prompts are a helpful tool to use at home and in the classroom. We have even brought ours along on road trips and pulled them out around the campfire. After all, storytelling is another version of story writing.
Elements of a Story
Now, story writing prompts are a great jumping-off point for a fantastic summer tale, but remember that every amazing story needs a few things.
Characters – Who are the characters in the story? The main characters and the supporting characters.
Setting – Where does the story take place? Somewhere familiar, or somewhere imaginary, or somewhere in the world where you would like to travel to?
Problem/Predicament – What problem presents itself to the characters? Does this problem lead to more issues?
Solution – How will the characters solve the problem? How will they get themselves, or others, out of the situation?
Conclusion – How will the story wrap up in the end? Now that the situation has been resolved what happens to the main characters?
Okay, now that you have the prompts in hand and you understand the elements needed for a great story, it's time to sit down and write a story. I wrote a helpful post about creating a writing kit for kids. Our writing kit includes things like proper writing utensils, story writing paper, etc. Be sure to check out our very fun printable summer story writing pages. Why not write a summer story on some cool summer paper!?
What wonderful story will your write this summer?
---
Related Posts
Check out our fall story writing prompts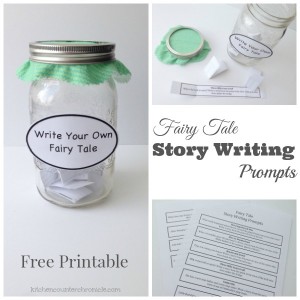 And, our fairy tale writing prompts are another favourite
---
Make sure you are following along…
SUBSCRIBE TO KITCHEN COUNTER CHRONICLES TO HAVE OUR DELICIOUS RECIPES, FUN CRAFTS & ACTIVITIES DELIVERED DIRECTLY TO YOUR INBOX.
FOLLOW KITCHEN COUNTER CHRONICLES ON