Kids of all ages will have fun creating their own stories with our fairy tale story writing prompts. We've shared all kinds of cool story writing prompts for kids over the years. We've share creative summer story writing prompts, fall story writing prompts, Halloween story writing prompts, storytelling prompts and more! But, this set is all about creating fairy tales!
Children love fairy tales. Classic stories that involve the main character falling into some sort of predicament and working to find her way out. Fairy tales are an original form of storytelling. Children love the thrill of the adventure and trying to figure out how the characters will get out of the predicament they find themselves in. Everyone love a good fairy tale.
But, have you ever wondered how the stories might have unfolded if they were told from a different perspective. Change the point of view with these fairy tale story writing prompts.
Fairy Tale Story Writing Prompts
What did those mean stepsisters think when their mother remarried and they suddenly had a beautiful step-sister?
How about the troll who lives under the bridge. Why did he get so upset when those loud goats arrived at his bridge?
Flipping the story around and changing the point of view in classic stories and fairy tales will inspire your child to write new fantastic stories.
Print off our fairy tale story writing prompts (click the link) and let your kids choose a topic at random. There are 20 different fairy tale and classic story options to choose from.
We put our story writing prompts in a large mason jar…I love mason jars…and my daughters can simple reach inside and pick out a prompt.
My daughter took the perspective of the fox in the gingerbread man story. Did you know that he didn't mean to eat the gingerbread man – it was all a mixed-up accident.
What a creative way for kids to "walk a mile in someone else's shoes."
What is your favourite fairy tale? How can you change the point of view? What stories will your child create?
---
Related Posts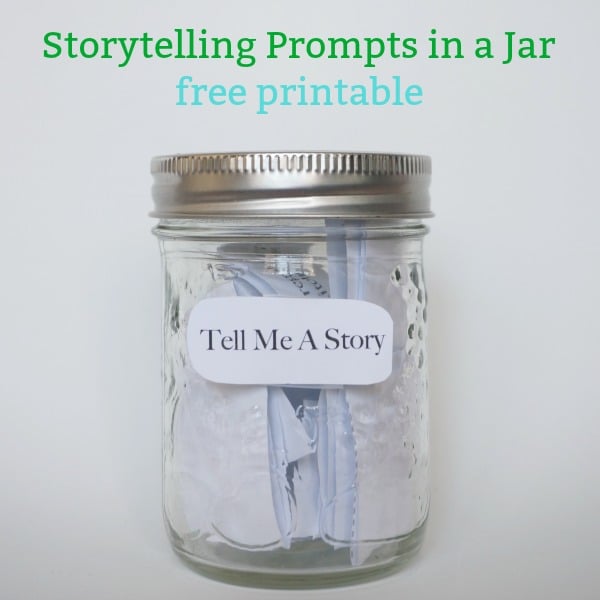 Storytelling Prompts for kids – another fun way to explore the art of storytelling with the entire family
Make story writing accessible with a story writing kit – a helpful resource for kids of all ages.
---
Make sure you are following along…
SUBSCRIBE TO KITCHEN COUNTER CHRONICLES TO HAVE OUR DELICIOUS RECIPES, FUN CRAFTS & ACTIVITIES DELIVERED DIRECTLY TO YOUR INBOX.
FOLLOW KITCHEN COUNTER CHRONICLES ON