Don't throw away that Thanksgiving turkey carcass!
If making your own turkey stock seems overwhelming to you, then I'm going to put your mind at ease. Making homemade stock is so simple to do and is an awesome way to cut down on food waste. Once you make turkey or chicken stock you will never go back to store bought.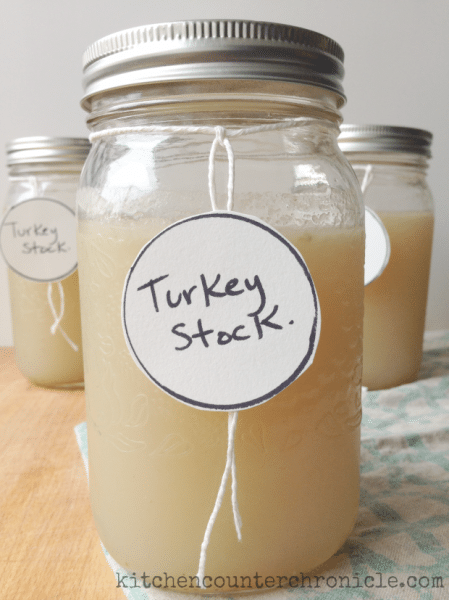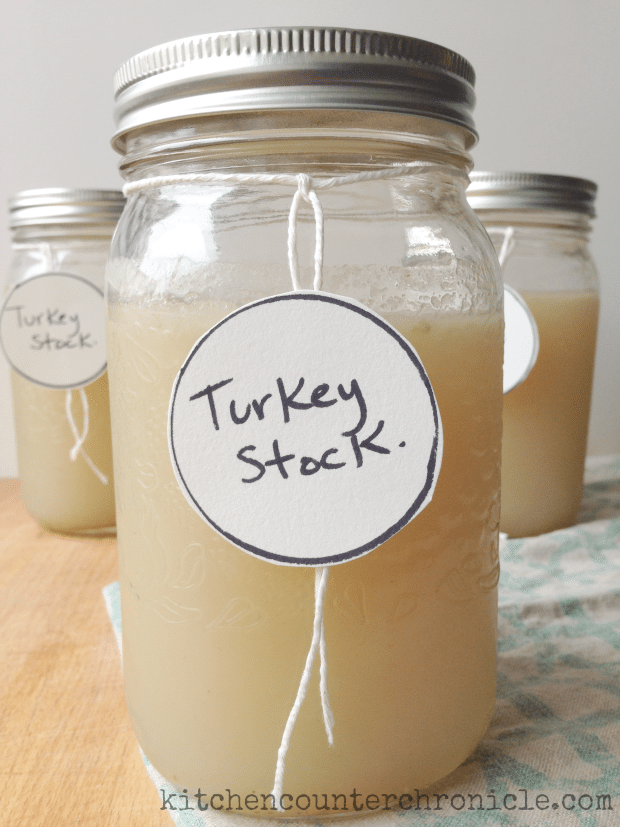 As we make our way toward American Thanksgiving I thought I would share a fantastic way to use the left over turkey carcass. There was a time when I would roast a turkey and throw the carcass directly into the trash or compost. I had no idea how to make stock…it was totally intimidating…where would I even start. Well, maybe you feel the same way? Let me reassure you, making turkey stock is easy. Once you try it you will find ways to make stock…chicken and veggie stocks are just as simple.
Simple Turkey Stock Recipe
After removing all the meat from the turkey, either wrap and refrigerate the carcass or work with it immediately. Making stock is a slow (but hands-off) process, make sure you have some time (about 3-4 hours). If you don't have the time right away, wrap the carcass and freeze it for when you will have the time to make the stock.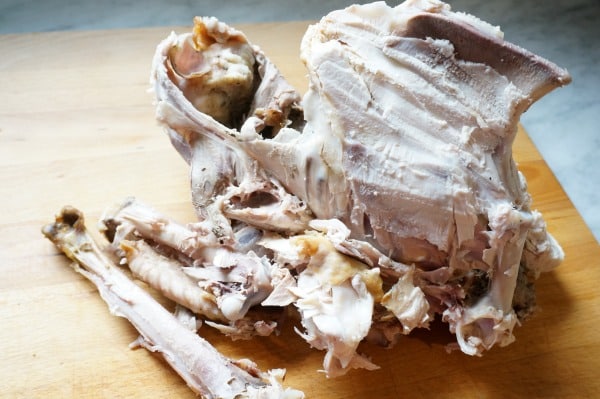 Now it's time to amplify the flavour of the stock. Add the turkey carcass (I had to break the turkey in half for it to fit in the stock pot), 2 carrots, 2 stalks of celery, 3 shallots, 1 head of garlic to a large stock pot. Don't worry about peeling the veggies, they will be discarded in the end. Wrap and tie a bundle of herbs in cheesecloth and add to the pot. I used the same herbs I had used to flavour my roast turkey; thyme, sage, oregano and rosemary. Pour in cold water, enough to cover the bones. About 6 to 8 cups of water.
Bring the pot to a boil and then drop to a simmer…partially cover the pot with a lid. Using a large spoon, skim any fat from the top of the stock. Simmer the stock for 3 to 4 hours – skimming off any fat every hour. * Cut down on the fat in the stock by not including fatty skin in the stock *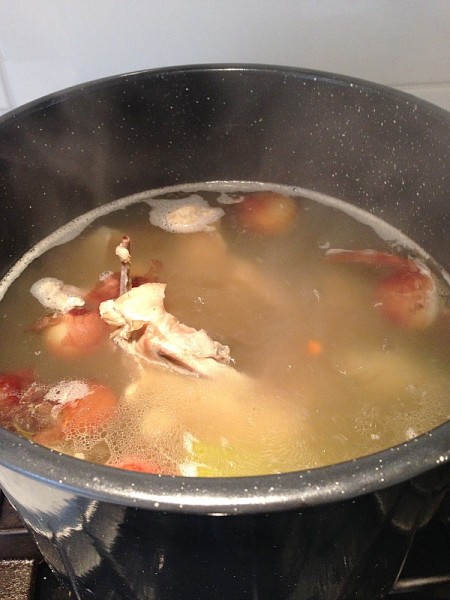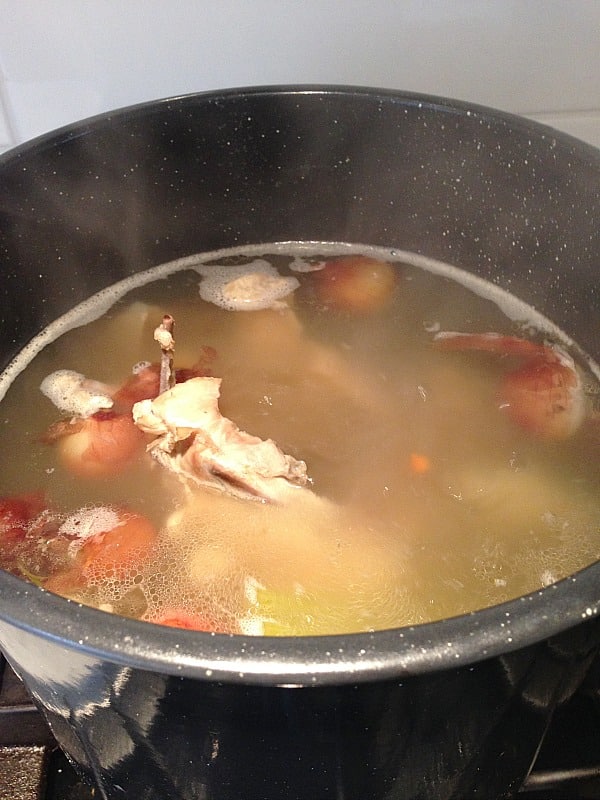 After the stock is nice and flavourful, turn the heat off and allow the stock to cool. Using tongs, remove the turkey bones, veggies and herbs. Strain the stock through a metal sieve and into a large bowl.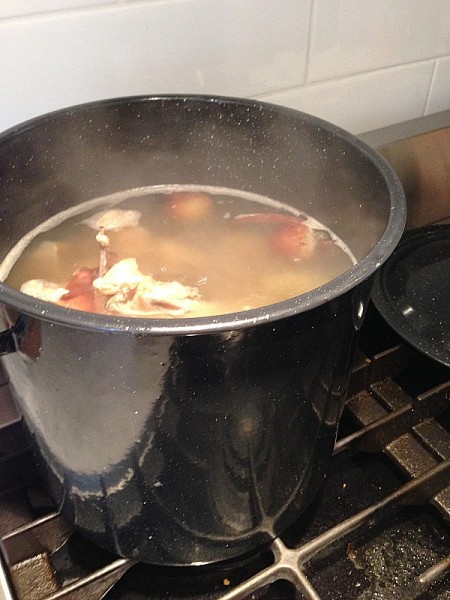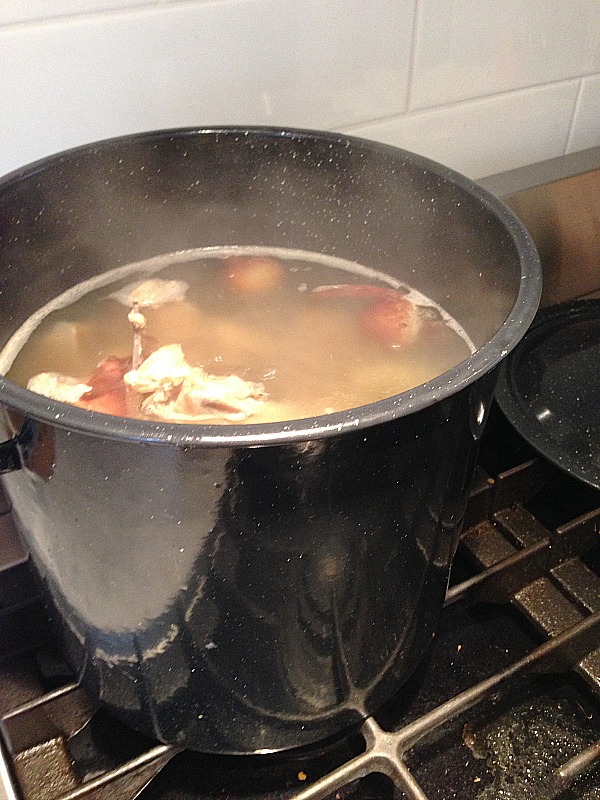 Once the stock has cooled, ladle into storage containers. I opted to freeze some of the stock into ice cubes – to be used when I need small amounts for sauces. I also filled 4 x 1 litre glass storage jars with stock and will keep them in my freezer, bringing out one container at a time. Frozen stock should last 6 months.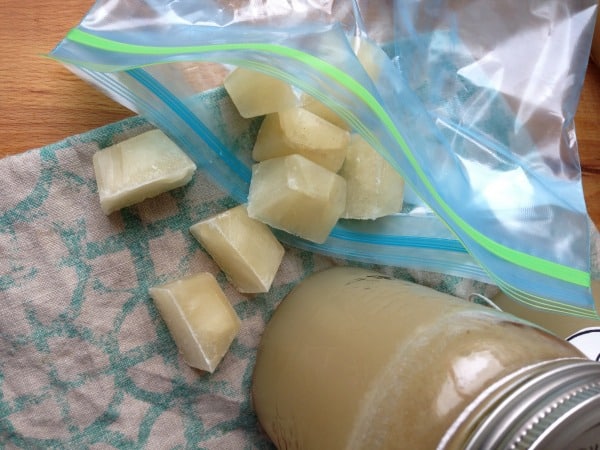 Now that we have all this delicious turkey stock, what are we going to do with it? How can we turn this turkey leftover into other dishes? Substitute turkey stock into any savoury dish that requires stock or water. The stock will make rice, quinoa and couscous more flavourful. Swap turkey stock into your favourite soup recipe. Drop a few cubes of stock into stews and pasta sauces. I found making this turkey stock so simple that I now keep any roast chicken carcass we make and repeat the same process. For the most flavourful chicken stock it is best to use two chickens…so freeze one carcass until you have a second one ready to go. Feel like something vegetarian? Take out the turkey and pump up the veggies and herbs – vegetable stock. What will you make with your turkey stock?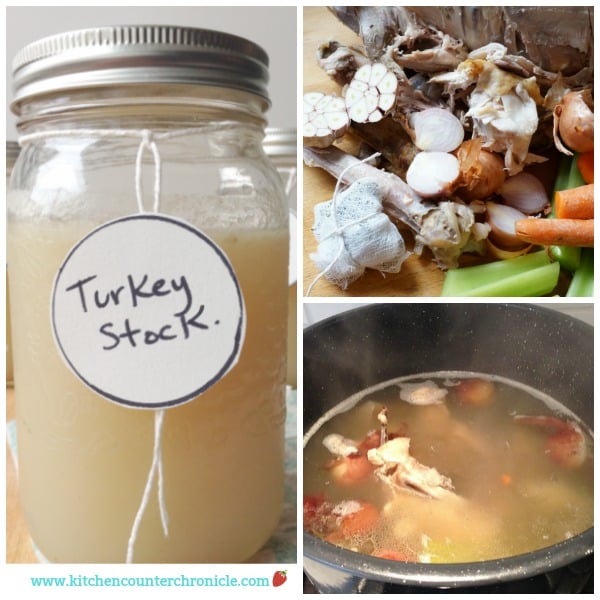 ---
Related Posts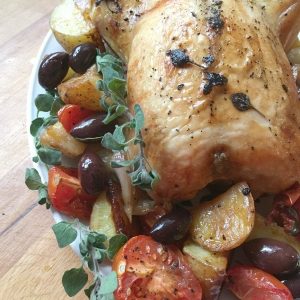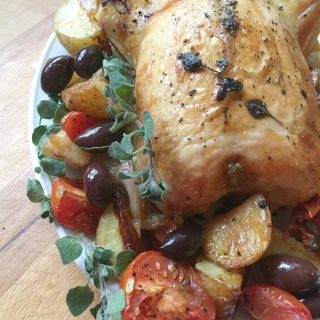 Kick your chicken up a few notches with our Greek style oven roasted chicken recipe
---
BE SURE TO SUBSCRIBE TO KITCHEN COUNTER CHRONICLES TO HAVE OUR DELICIOUS RECIPES, FUN CRAFTS & ACTIVITIES DELIVERED DIRECTLY TO YOUR INBOX.
---