As I sit and stare at the giant bowls of Halloween candy, I am faced with a stark reality – we have to eat all of that candy. We had so much fun thinking of things to do with our left over Halloween candy wrappers that I started thinking about what I was going to do with all this candy.  Every year I freeze the plain chocolate bars, but this year I thought it might be fun to bake with something with the other chocolate bars. So, I combined my favourite cookie dough recipe with a few Kit Kat bars, Smarties and a couple of Coffee Crisps. The end result is a spectacular Halloween candy cookie recipe.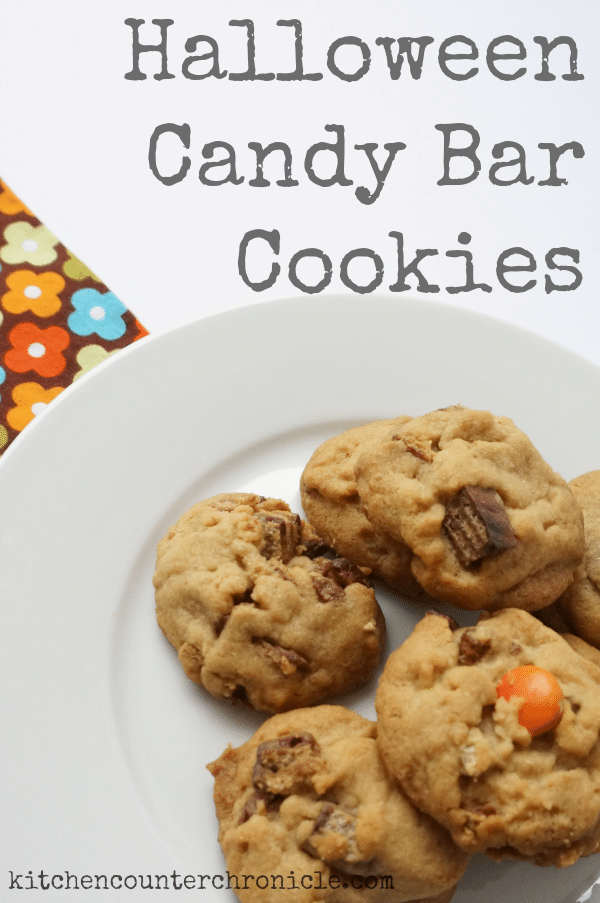 Halloween Candy Bar Cookies
3/4 cup unsalted butter
1 cup lightly packed brown sugar
1 tsp vanilla
1/2 cup vegetable oil (I used grapeseed oil)
2 1/4 cup all purpose flour
1 tsp baking soda
1/4 tsp salt
1 cup chopped halloween candy bars
Cream butter and sugar in a large bowl. Once creamed, stir in vanilla and oil, until incorporated.
Whisk flour, baking soda and salt in a small bowl. Stir into the wet ingredients.
Stir in candy bars…until candy is evenly distributed.
Drop 1 tbsp balls of cookie dough onto a parchment paper lined baking sheet. Place 1″ apart as the cookie will spread a little. Bake in 350°F oven for 10-15 minutes, until edges are golden.
Enjoy.
---
Looking for other fun recipes that use Halloween candy?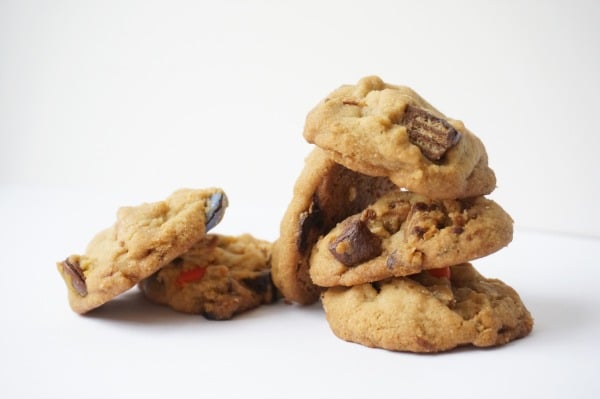 The best part about this recipe is how easy it is to freeze. Make a double batch, roll the dough into tsp balls, place on a baking sheet and pop inside your freezer. Once the balls of dough are frozen, transfer them into a freezer bag and store them in your freezer. When you are ready to bake the cookies, pull them out and bake them on a parchment lined baking sheet, following the same instructions as the original recipe. With these cookies you can use up a lot of candy and have cookies close at hand, as we approach the busy holiday season.
Bake a cake with a whole variety of Halloween candies, like Baker by Nature.
Make up a batch of Just a Taste's Halloween candy bark.
Use up all that candy corn to make salty and sweet candy hugs, like Sally's Baking Addiction.
Check out these fully loaded candy brownies from I Heart Naptime.
Crumbs and Chaos made a delectable trick or treat dessert pizza.