The pillow cases are full of candy. Bowl after bowl is overflowing with candy. Let's face it, most kids lose interest in Halloween candy after a day or two. Inevitably, mom and dad end up eating most of the Halloween candy. Which is not cool. I don't need to eat buckets of candy…my hips don't need me to eat buckets of candy. Even if the candies are small, they still pack a high-calorie punch. So, what can we do with all that Halloween candy? And more importantly, what can we do with all those Halloween candy wrappers? We are all about finding ways to reduce, reuse and recycle…which is why getting creative with candy wrapper crafts is such a fun green living idea.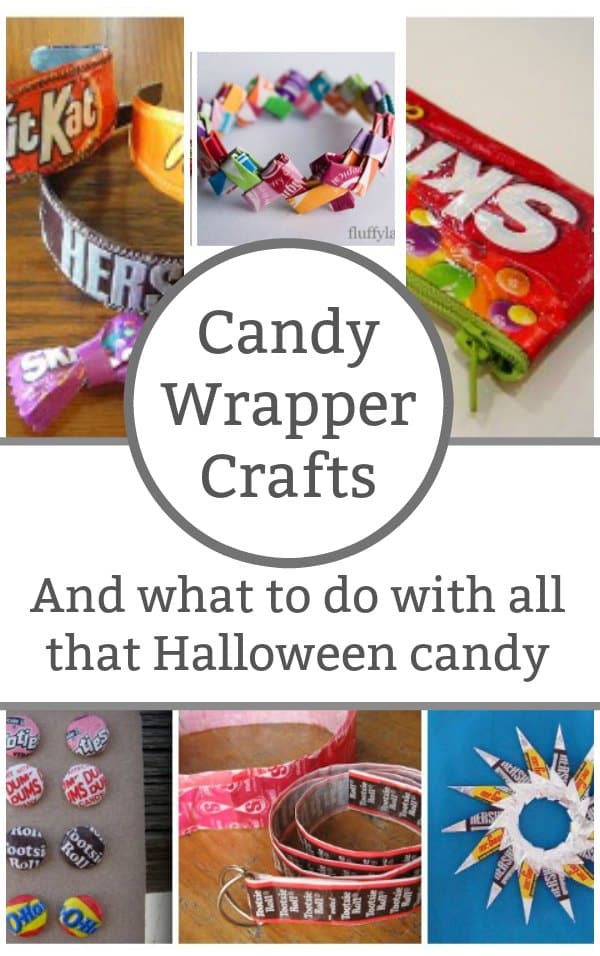 Chocolates – Sort out all of the chocolate. Chocolate freezes beautifully. Pop the chocolate in a freezer bag and store them in the freezer. Little chocolate bars can be used in all your upcoming holiday baking. Melt it down to drizzle on top of cookies or chop it up and add it to a cookie.
The Gummies – Hide, I mean place, the gummy candies in the freezer too. They actually freeze well too. The fact that the gummies are frozen will hopefully, slow down your consumption. Again, gummy candies can be used in holiday baking. Or, bring them out when you are entertaining over the holidays.
Pass on the Candy Love – Don't be afraid to take a bowl of treats to the office. I guarantee that a bowl of treats in a central location will magically disappear in no time.
Transform the Waste – Okay, let's say you have eaten a lot of the candy and now you have a pile of candy wrappers to deal with. Check out all the super cool things you can make with candy wrappers.
Make a candy wrapper pencil case like Punkin Patterns created.
Love this traditional Starburst wrapper bracelet from SoCraftastic.
Biblio Bags transformed wrappers into hair bands.
How fun are these candy wrapper earrings from Creative Itch.
Make a candy wrapper belt like Plum Pudding.
Love all the origami that can be made with candy wrappers at Origami Resource Centre.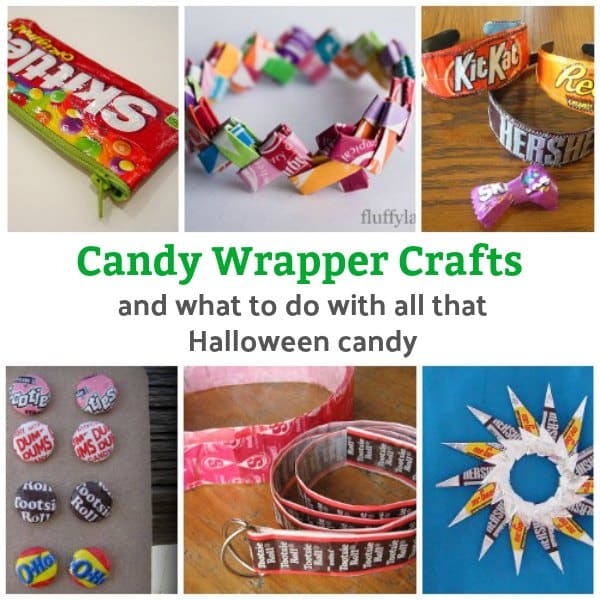 ---
Related Posts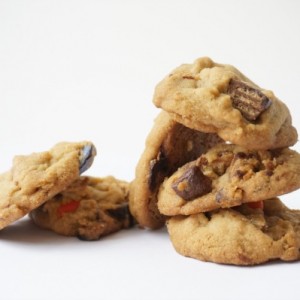 Bake up a batch of cookies using those Halloween chocolate bars
---
BE SURE TO SUBSCRIBE TO KITCHEN COUNTER CHRONICLES TO HAVE OUR DELICIOUS RECIPES, FUN CRAFTS & ACTIVITIES DELIVERED DIRECTLY TO YOUR INBOX.
---