Every year my kids make a pile of new Halloween and Thanksgiving decorations for our house. Our silly and spooky Halloween crafts for kids are truly endless. Which is why it was so much fun to add this simple paper pumpkin garland to the mix.
Disclosure: There are Amazon Affiliate links in this article which means, at no additional cost to you, we could receive compensation for our recommendations. You can read our full disclosure policy on our Disclosure Page for more details.
When they were preschoolers, my little artists made floaty leaf ghosts. As their skills changed, they made haunted houses, paper bats, and much more. Last year they made silly twiggy spiders. I love pulling out their handmade decorations in early October and putting them on display…and they love seeing their artwork as well.
Making and keeping our own decorations means we don't spend a whole lot of money on store bought "stuff" and aren't we all looking for ways to save money and cut down on our consumption of "stuff"?
So, this year we decided it would be fun to transform our previous newspaper garlands (from Earth Day and Valentine's Day) into the fall season with a newspaper pumpkin garland. From a few sheets of newsprint, we were able to make enough garland to decorate our entire house. The best part is these garlands work for Halloween and Thanksgiving.
How to Make a Pumpkin Garland
newspaper
pumpkin shaped cookie cutter or use our free printable pumpkin templates
scissors, pencil, tape
heavy string or twine
large needle (embroidery)
orange and black acrylic paint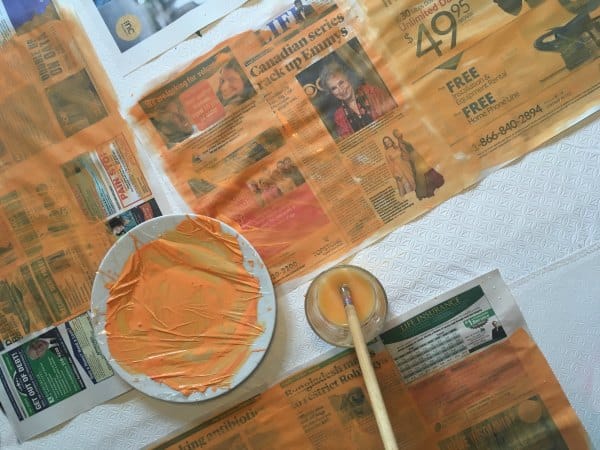 Begin by painting the sheets of newspaper…one side at a time. A good tip is to have plenty of water mixed with the paint, this way your paint will spread further. Be careful not to soak through the paper, or it might rip. Let the first side dry and then paint the other side of the paper. Painting both sides of the paper will make it so your pumpkins don't curl up. Another tip, since the pumpkins will have faces, try and look for areas of the newspaper that has lots of words…not pictures…which will compete with the faces your kids paint on.
Once the newspaper is painted (both sides) and has dried use the pumpkin cookie cutter to trace pumpkins all over the paper. Our cookie cutter is about 4 inches wide. Alternately, you could use our printable pumpkin templates. There are 2 different sized pumpkin shapes and all you have to do is print them, cut them out and trace them on your painted newspaper. When the tracing is done, it's time to cut all of the pumpkins out.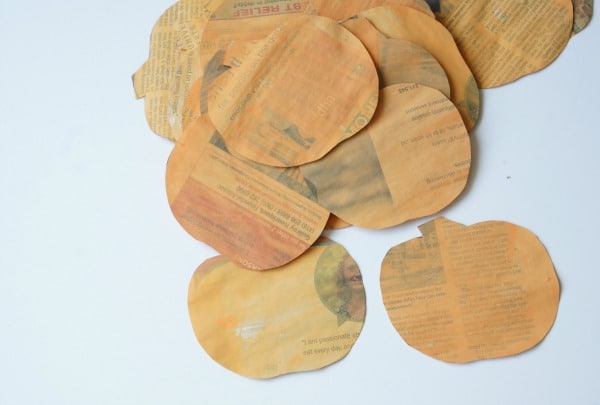 Pile up your pumpkins and decide how many you want to add faces to. We did about half the pumpkins – feel free to do them all. Use black paint to create your jack-o-lanterns. Set them aside to dry.
Okay, now it's time to stringing the Halloween pumpkin garland. You have two choices – the easiest way to create the garland is to simply tape the pumpkins onto a length of the string. Easy peasy. However, if you want the garland to last for many years to come, then using a needle is your best bet. Cut a long length of string and tie a knot in one end…this will hold the last pumpkin in place. Feed the string through the needle and poke the needle through the top of each pumpkin.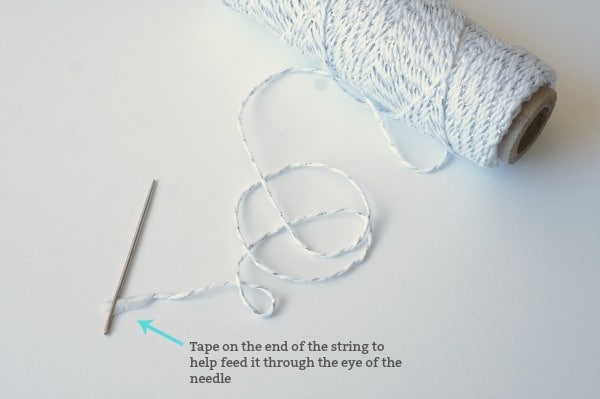 * Tape the end of the string together if you're having a hard time feeding it through the eye of the needle. Feed the pumpkins on the string and position wherever you like – close together or further apart. We made two styles of garland – one that can hand vertically and one that can be strung horizontally.
When the pumpkin garlands are complete it's time to hang them up. We taped ours to the very top of our wall and let them dangle down the wall. We also draped them across our big mirror and down our staircase railing. These pumpkin garlands are so adorable and will hang beautifully all autumn long.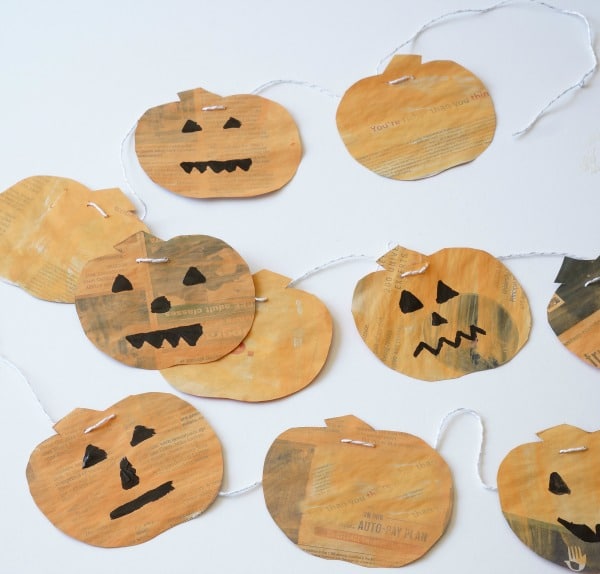 When the season is over you can store the garland in a large resealable plastic bag with your fall decorations and enjoy them for years to come.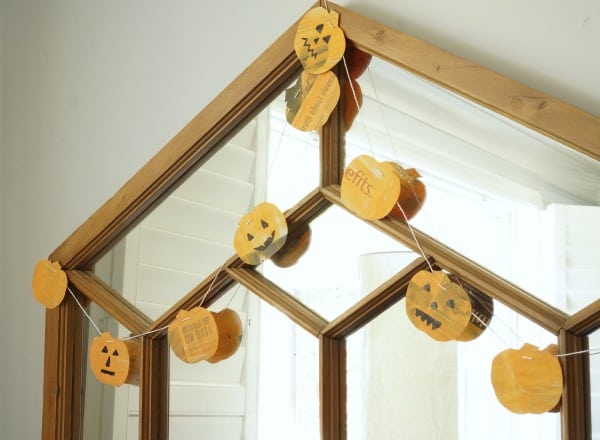 ---
Related Posts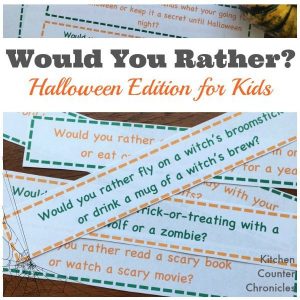 Play a game of Halloween Would You Rather with the kids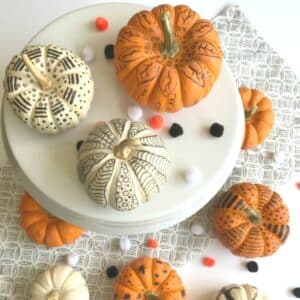 Grab the markers and create cool doodled pumpkins
---
Make sure you are following along…
SUBSCRIBE TO KITCHEN COUNTER CHRONICLES TO HAVE OUR DELICIOUS RECIPES, FUN CRAFTS & ACTIVITIES DELIVERED DIRECTLY TO YOUR INBOX.
FOLLOW KITCHEN COUNTER CHRONICLES ON