We have created many, many
Halloween crafts for kids
over the years. One of my all time favourite Halloween crafts is our painted
Halloween leaf ghosts
we made for our Halloween tree.
Disclosure: There are Amazon Affiliate links in this article which means, at no additional cost to you, we could receive compensation for our recommendations. You can read our full disclosure policy on our Disclosure Page for more details.
Last week, when I was walking our dog, George, through the park and I came across a large fallen branch. My mind immediately saw the potential in this branch. I saw that it would make a perfect Halloween tree. But first, I had to get the branch home. So, I picked it up and carried it all the way home…looking slightly strange as I walked along the city streets with a 5 feet long tree branch under my arm.
How to Make a Halloween Tree
As you might already know, I love a holiday tree; a
Christmas tree
, an
Easter tree
and even a
Halloween tree
. Transforming a fallen branch into a festive tree is a simple way to bring the holidays inside your home.
While on this same walk, I picked up a big pile of fallen leaves. Have you ever noticed that fallen leaves look like floaty ghosts? They do!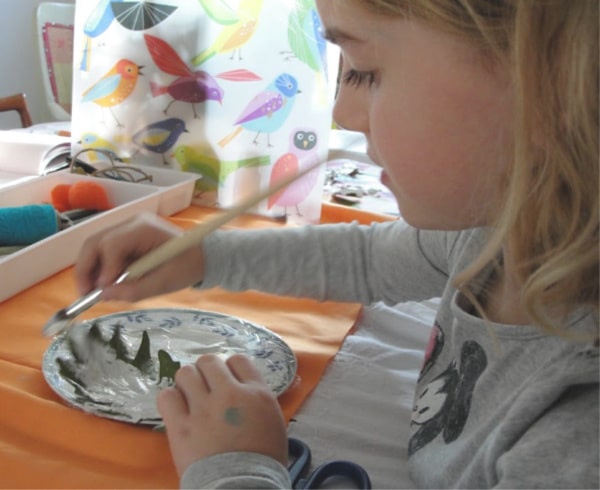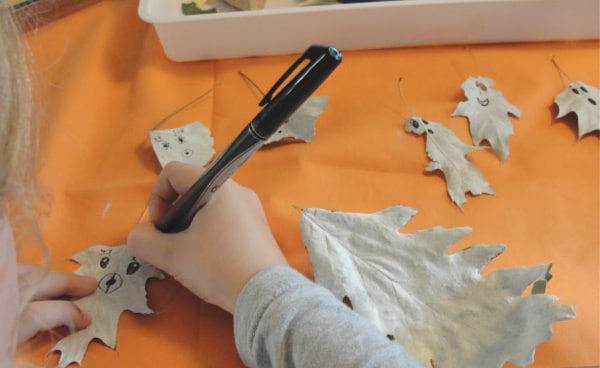 Once I had the branch home, and I had chopped it down to size, it was time to get decorating. I was inspired by the fallen leaves that are all around us right now. With a little paint and some markers, we were able to transform those fallen leaves into ghosts to decorate our Halloween tree.
How to Make Halloween Leaf Ghosts
fallen leaves (we used oak tree leaves, maple leaves and ginko biloba leaves)
white acrylic paint
paintbrush
Place the fallen branch into a vessel of some sort. Be certain that the vessel is heavily weighted so it doesn't tip over…we used a pile of rocks to weigh down our vase. Check out our awesome
Halloween tree post
for all the tips and tricks for making your own.
Begin by painting the leaves with white paint. We painted two coats of paint.
Since the leaves will be hanging on the tree, you will want to paint both sides of each leaf. Once the leaves have dried, it is time to have fun drawing ghost faces on the leaves.
Take inspiration from the shape of the leaves when drawing the faces. Some leaves look sillier than others and some look a little spooky. Your kids will have fun giving the ghost leaves their own personalities.
When the faces are all done, it is time to tie the string into the leaves. You can either tie the string to the leaf stems or poke a hole through the leaves and feed the string through the hole. We also used a needle and thread for some of our leaves. Simply feeding a length of thread through the leaf and securing it with a simple knot.
The final step is to loop the ghosts onto the branches of your
Halloween tree
.
I love giving my daughters the challenge of painting on different surfaces. My youngest daughter was initially quite uncomfortable painting on the uneven surface of the leaf. However, she persevered and ended up having a great time creating funny and scary ghost faces.
Our Halloween tree has been a great success! Have you ever created a Halloween tree before? What is hanging on your Halloween tree?
---
Related Posts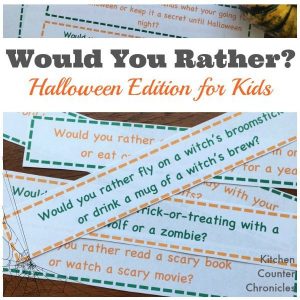 Print and play a game of Would You Rather Halloween Edition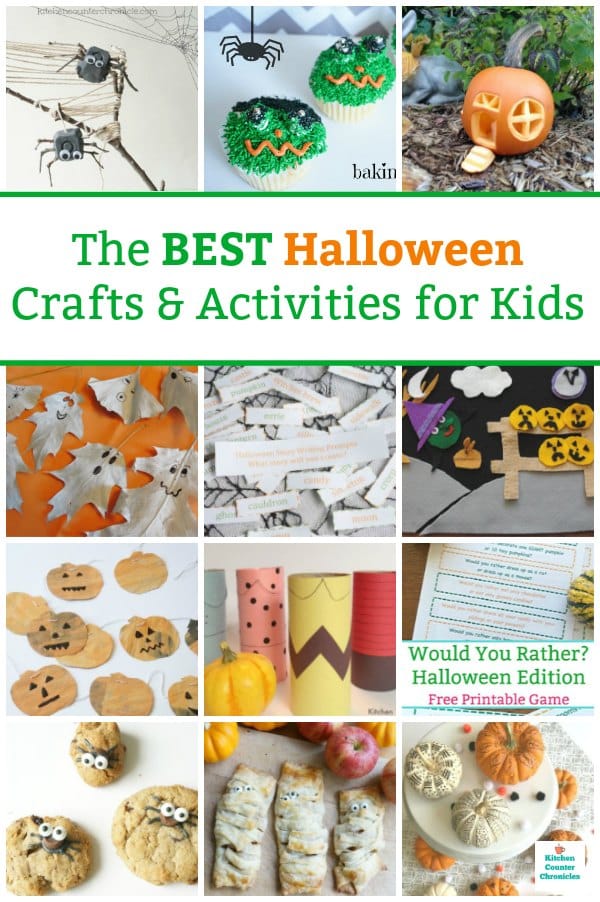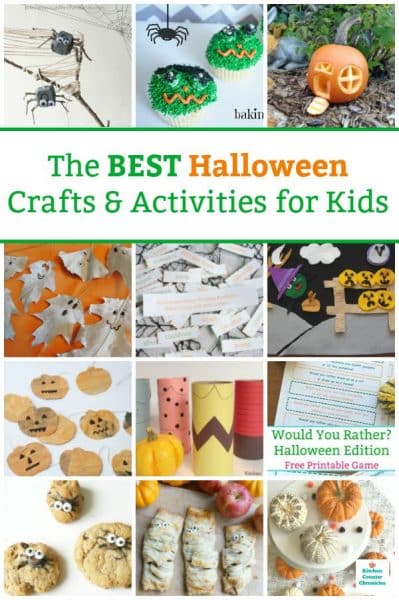 Check out all of our super fun Halloween crafts and activities for kids to make
---
Make sure you are following along…
SUBSCRIBE TO KITCHEN COUNTER CHRONICLES TO HAVE OUR DELICIOUS RECIPES, FUN CRAFTS & ACTIVITIES DELIVERED DIRECTLY TO YOUR INBOX.
FOLLOW KITCHEN COUNTER CHRONICLES ON