Yep, a Halloween tree. Not a Christmas tree…a Halloween tree. This might sound silly, but we've been making a Halloween tree for years now. Where else would we hang our leaf ghosts?! We love sharing fun Halloween craft projects for kids and a Halloween tree is a fun addition to your Halloween traditions.
Disclosure: There are Amazon Affiliate links in this article which means, at no additional cost to you, we could receive compensation for our recommendations. You can read our full disclosure policy on our Disclosure Page for more details.
When I was a kid Halloween was super simple. My mom would make our costumes from things around our house. Yes, I was totally a white bed sheet ghost…with my dad's necktie to complete the look. So, when I had kids I knew that I wanted to keep it simple and homemade. Afterall there aren't that many Halloweens in a kid's life…like 13ish.
Our costumes have stayed homemade and in large part, so has our decor. The kids have crafted so many fun Halloween decorations over the years. When Halloween is over, I pack them up in a big bin and pull them out year after year. We have some awesome paper ghosts from when my eldest was just learning to draw…precious.
We made our first Halloween tree a few years ago – inspired by our Easter tree. Our Halloween tree is super easy to make. Keeping with our desire to keep Halloween simple and handmade, you only need a few things that you probably have around the house.
Let's Make a Halloween Tree
branches
black craft paint
paintbrush
a tall vase
rocks
black felt
leaf ghosts
The first step is collecting the perfect branches for the Halloween tree. Look for fallen branches and twigs that have lots of twists and nooks to hang things from. Don't worry if they have some leaves on them, you can remove the leaves and trim the branches to a length you like. We always find ours in our local park.
Once you have your sticks it's time to pick our a vase. A taller vase is good because then you can use tall branches. We used a tall clear vase, but you could totally use an opaque vase. Whatever you have on hand will work.
Now, you need to add weight to the bottom of the vase so that it doesn't tip over when the branches are inside it. Cut a circular piece of black felt, that will fit inside the bottom of the vase. We used one BIG rock to weigh our vase down. You could use a pile of smaller stones if that's what you have on hand. Place the rock on top of the felt.
Next, if you are using a clear vase you are going to want to cover the rock. Cut a piece of felt that will wrap around the inside of the vase. I cut a jagged edge on the felt…so it looks a little creepy and Halloweenie.
Once the vase is ready, it's time to paint the branches. Lay down some newsprint or a plastic table cloth to protect your work surface, and paint the branches with the black paint. Might I suggest that you wear a painting shirt when working on these branches. It's easy to lose track of which branches are wet and get black paint on your clothing…speaking from personal experience.
As you finish painting the branches, place them inside the vase to dry. Arrange them in a way that looks appealing to you.
Finally, it is time to have some fun decorating your Halloween tree. We opted to fill our tree with our leaf ghosts…you can learn how to make those in our Halloween leaf ghost post. I love how they float around the tree.
Alternately, you could hang paper bats, paper pumpkins, paper blackbirds on the branches. You could hot glue purple and black pom poms to the branches. How would you decorate your Halloween tree?
Now, it's time to find a spot to place your tree and enjoy it all Halloween season long.
---
Related posts
fill your Halloween tree with floating leaf ghosts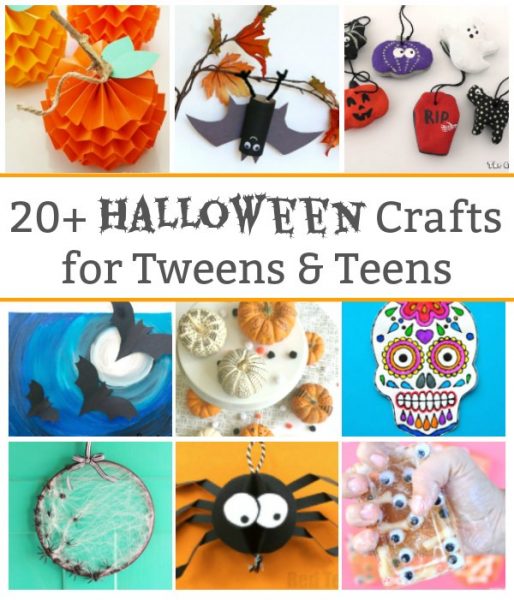 check out all these other Halloween craft project for tweens
---
Make sure you are following along…
SUBSCRIBE TO KITCHEN COUNTER CHRONICLES TO HAVE OUR DELICIOUS RECIPES, FUN CRAFTS & ACTIVITIES DELIVERED DIRECTLY TO YOUR INBOX.
FOLLOW KITCHEN COUNTER CHRONICLES ON