The time has come to decorate the house for Valentine's Day. Instead of heading to the dollar store and filling the house with disposable decorations, we have decided to make our own decorations this year. We are transforming old newspapers into a beautiful painted newspaper heart garland.
This is a fantastic art project for kids to work on. Kids get messy painting, do all the tracing and cutting. The project even involves simple sewing. Depending on the age of our children, they can do some or all of the work. In the end, you will have a lovely hearts that will bring a smile to everyone's faces. Perhaps the best part is that this garland is recyclable and reusable. Pack it up after Valentine's Day and bring it out again for years to come.
Newspaper Heart Garland for Valentine's Day
A few sheets of newspaper
red acrylic paint
scissors
heart shaped cookie cutter
cross stitching needle
string
Use the red paint to paint both sides of the sheets of newspaper. We watered down our paint, making a very translucent paint, however feel free to use the paint at full strength.
Once the sheets of newspaper are painted (on both sides) and have dried, trace the heart cookie cutter all over the newspaper.
Cut out all of the hearts.
Feed the string into the large needle…a cross stitch needle is a good choice. A cross stitch needle has a dull end, which makes it great for kids to sew with. We made 2 styles of garlands. One that swags like a traditional garland and we also made 7 hanging heart garlands. For the hanging hearts, simply use the needle and string to poke a hole in the top centre of each heart. Tie a knot to keep the heart from sliding on the string and feed on another heart. You can position the hearts as close together as you like. The girls and I liked having the hearts with large spaces.
For a more traditional garland, poke the needle and thread through the top of the hearts in two spots. Continue "sewing" the hearts onto the string.
Hang the garlands up around your house and enjoy!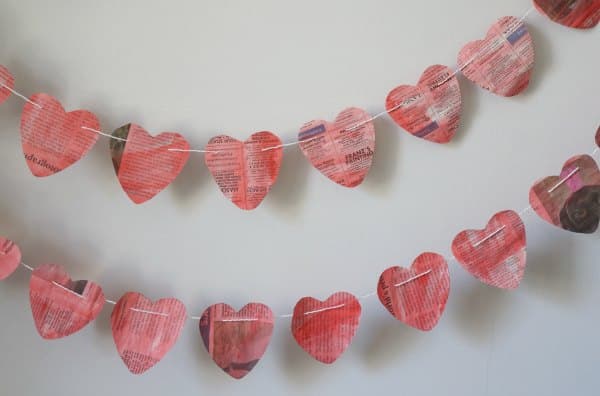 We will be placing our hanging heart garland in our living room. We have a weird cut out in the wall, that makes the perfect spot for hanging festive garlands. You might remember we hung our newspaper rainbow bunting in the same spot a couple of years ago.
Today's post is part of the awesome Love Blog Hop – hosted by Kiddy Charts. Check out all the lovely crafts and activities being shared by these other bloggers.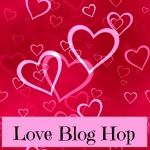 Love Coupons from KiddyCharts :: Valentine Fine Motor Sensory Bin from Adventures Of Adam :: Love Bug Craft from Play & Learn Everyday :: Love Tot Pack from Kori at Home :: Books About Love from Learning by Design :: Doodle Heart Painting from Flash Bugs Studio :: Painted Heart Garland for Preschoolers from Craft Create Calm :: Fingerprint Heart Art from Teach Beside Me :: DIY Friendship Love Bracelet from Living Ideas :: 6 Simple Date Ideas from Great Googa Moogas :: Fingerprint Heart Keepsake from Messing Little Monsters :: Book Review – 5 Love Languages from MissJaimeOT :: Sign Language Love Artwork from Pray Species :: Geeky Valentine's day Chocolates from Two Married Geeks :: Sweet Hearts to Sew from Coloured Buttons :: Valentines invitation to Play from My Bored Toddler :: Valentine's day Tracing Worksheets from Living Life and Learning :: Using mind maps and thinking routine to explore the concept of love from Smart Tinker :: Foil Heart Painting from Crafts on Sea :: Free Valentine's Day Printable Pack for Preschoolers from Best Toys 4 Toddlers :: Valentine's Day Game from Books and Giggles :: Conversation Heart Goop from Raising Little Superheroes :: Easy Carved Love Stamps for Kids from The Usual Mayhem :: 14 Days of Love Notes from There's Just One Mommy :: Kite Valentines Card from KiddyCharts :: Valentines Biscuits – Heart Shaped Frozen Yoghurt Sandwiches from KiddyCharts :: 7 Healthy Ways to Show Your Family LOVE This Valentine's Day from Shrinking Momster :: Sandy Hearts Sensory Play from Simple Fun for Kids :: 50+ Awesome Valentines Day Printables for Kids from KiddyCharts
---
If you loved this Valentine craft, then you might love our other Valentine's Day crafts…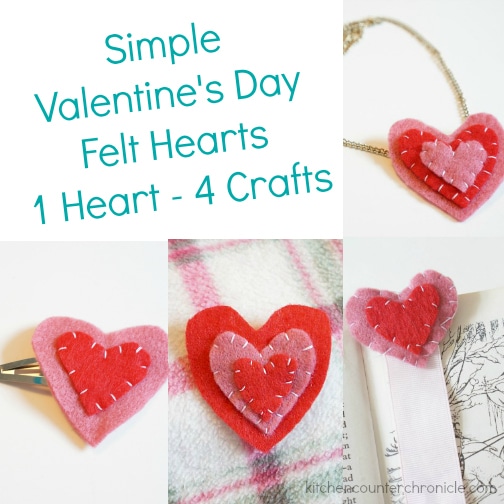 Turn a simple Valentine felt heart into 4 different crafts
Have the kids made these super cute Bee Mine Valentine's
Countdown to Valentine's Day with this treat filled countdown calendar
---
Looking for more ways to connect with your kids this holiday season?
Come join Kitchen Counter Chronicles on Facebook and Pinterest.
Be sure to subscribe to receive our ideas delivered to your inbox.
---