It's amazing to me how many ways you can reuse a toilet paper roll. We've made
Christmas crafts with toilet paper rolls
and all kinds of
craft projects
with toilet paper rolls. Once the roll is emptied of tissue it can take on a life of it's own. We transformed a pile of old rolls into this beautiful
Valentine's Day toilet paper heart
.
Disclosure: There are Amazon Affiliate links in this article which means, at no additional cost to you, we could receive compensation for our recommendations. You can read our full disclosure policy on our Disclosure Page for more details.
In the past, we used toilet paper rolls to
stamp valentine's cards
for friends and family. We also turned
toilet paper rolls into necklaces
for Valentine's Day gifts for our friends. So, it was no surprise this Valentine's Day I had toilet paper rolls on my mind. We love making something new to hang on our front door and for Valentine's day we love hearts. Logically, we landed on making a
toilet paper heart
for our front door.
This heart is easy to make and the kids had fun helping with the construction and painting the heart. Choose the colour you like. We went with a combination of red and pink. You can hang this heart on your front door, like a Valentine toilet paper wreath, or hang in inside your home – as a part of your holiday decor.
How to Make a Toilet Paper Heart
around 12 toilet paper rolls, cut in half
The first step is to use the scissors to cut all of the toilet paper rolls in half. If you don't have a supply of toilet paper rolls, you could use paper towel rolls, wrapping paper rolls or any other cardboard rolls you have laying around.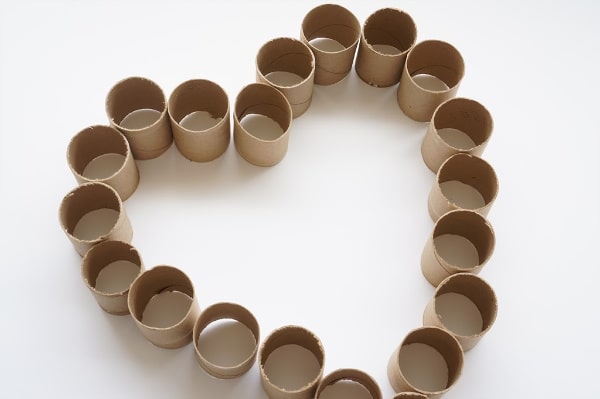 Once the rolls are cut in half, it is time to layout a heart shape with the toilet paper rolls. You will need to crimp the rolls for the bottom point of the heart and the top indent of the heart.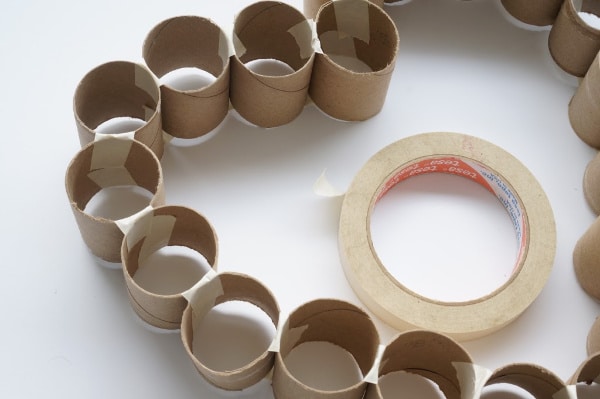 Now, use the masking tape to tape each roll to the next. Alternately, you could use a hot glue gun…but I was trying to make this project as kid-friendly as possible. Be sure to tape the top and bottom of each connection.
Once the heart is taped and assembled, it is time to paint the toilet paper rolls. To avoid making a big mess, paint one side of the heart at a time…the half that is away from the table top…we decided to paint ours in two tones of red and pink…but you could use just red, just pink or whatever colour your child likes.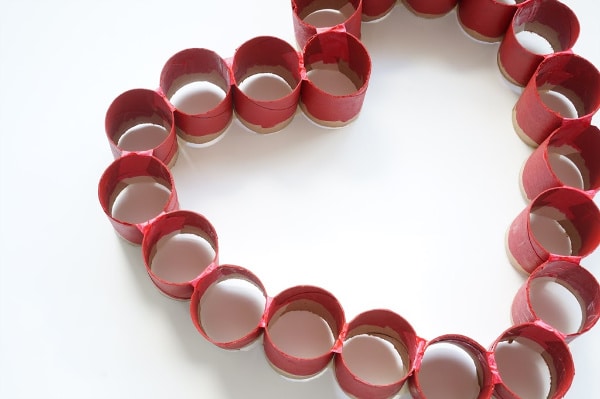 Once the paint has dried, flip over the heart and paint the other side of the rolls.
When the entire heart is dried, you may want to paint a second coat. When you are happy with the paint, it's time to make a hanger for the heart. Use a hole punch or a utility knife to create two small slits in the bumps at the top of the heart…this is where you will hang the heart from.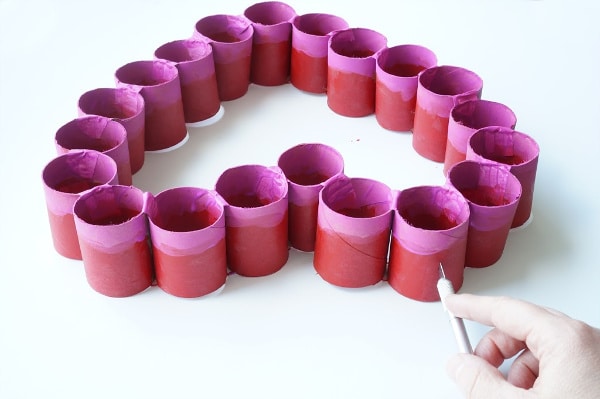 Now, feed the ribbon into the slits/holes and tie a knot, inside the toilet paper roll.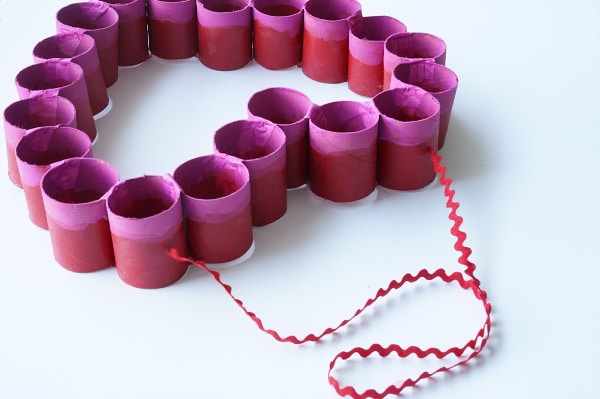 When the ribbon is in place it is time to hang the heart on your door and enjoy.
This craft is totally kid-friendly…but it's fun for mom to make too. Waiting for the paint to dry requires kids to have patience, which is always a valuable lesson for kids. I am also going to surprise my girls and make a heart for their bedroom doors. I think I will make a smaller version for their doors. I may even fill some of the toilet paper rolls with chocolate kisses.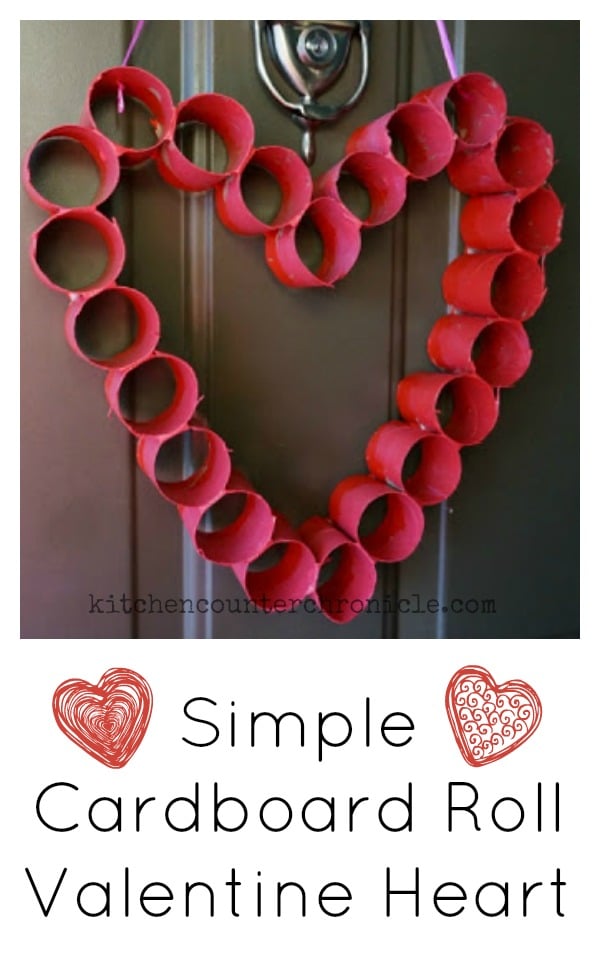 ---
Related Posts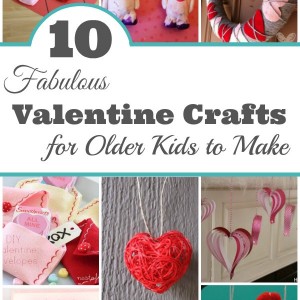 Love these ideas – then read our 10 Fabulous Valentine Crafts for Older Kids to Make and 10 More Fabulous Valentine Crafts for Older Kids to Make.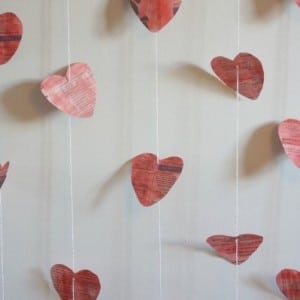 Make a beautiful painted newspaper Valentine's Day heart garland
---
Make sure you are following along…
SUBSCRIBE TO KITCHEN COUNTER CHRONICLES TO HAVE OUR DELICIOUS RECIPES, FUN CRAFTS & ACTIVITIES DELIVERED DIRECTLY TO YOUR INBOX.
FOLLOW KITCHEN COUNTER CHRONICLES ON