Don't live like we used to live. We used to only make burgers on the weekend.
I know this sounds ridiculous, but we would make elaborate homemade burger recipes, that took too much time for a busy weeknight. Then my husband decided to scale everything back. He developed this super simple weeknight burger recipe. I swooped in with an easy and healthy salad solution and we can now enjoy juicy burgers any night of the week. You can too!
Simple Weeknight Burgers
1 lb lean ground beef (serves 4)
1 tbsp soy sauce
1 tbsp worcestershire sauce
1/4 tsp salt, 1/4 tsp pepper
2 tbsp vegetable oil
4 buns
Eat Smart Avocado Ranch Salad Shake Ups
Eat Smart Wild Greens and Quinoa Vegetable Salad Kit
Begin by placing the beef in a large bowl…don't use a wooden bowl or utensils when you are working with raw meat.
Next, use your hands to work in the soy sauce, worscestershire sauce, salt and pepper.
Use your hands to divide the meat into 4 balls. Flatten the balls into burger patties. Use your thumbs to press a small divot in the middle of the burger, this will stop the burger from rising up in the middle as it cooks. Place the burgers on a parchment paper lined plate. Pop them in the fridge while you start the barbecue.
Use a silicone brush to coat the barbecue rack with vegetable oil. Cook the burgers on the barbecue over medium-high heat – about 5 minutes a side.
While the burgers are grilling, mix together the ingredients in the Eat Smart Avocado Ranch salad kit. This will be the topping for the burgers. The Salad Shake Ups are a great way to enjoy salads on the go…think picnics in the park and school lunch boxes…they also happen to be the perfect size to top 4 burgers…it's all that the burgers need…and it's a great way to sneak more greens into our meal.
For a quick side dish, put together one of the other delicious Eat Smart Vegetable Salad Kits – our family love the crunchy bits of quinoa in the Wild Greens and Quinoa salad.
On busy weeknights we really can't beat the convenience using Eat Smart Vegetable Salad kits. My entire family (even my kids) love these salads. I've learned that when you find something your kids love and it's packed with nutrients, vitamins and fibre – you keep on eating it!
The bags are the perfect size for our family of four – I never have to throw out any uneaten food. I truly appreciate that Eat Smart is the first brand to commit to "clean" ingredients. This means the salad kits do not include any preservatives, no artificial colours or flavours. You won't find any high-fructose corn syrup, hydrogenated fats or sweeteners (by the end of 2018) in these salads. Basically, they've taken nutrient rich ingredients and put them in a convenient package that makes weeknight meal prep super easy and family friendly. Yay!
Are you and your family fans of bag salads? How do you use your salads?
---
Related Posts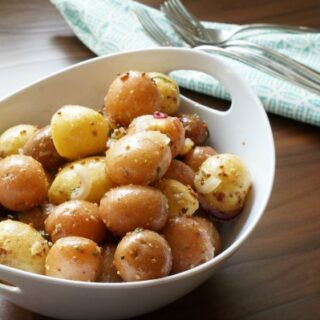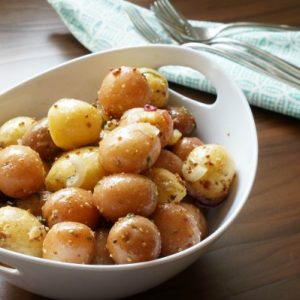 Make a big batch of summer potato salad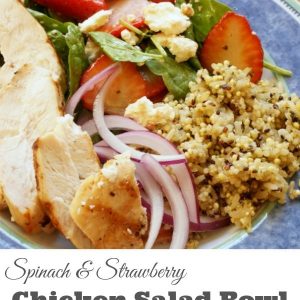 The entire family will love a spinach and strawberry chicken salad bowl
---
BE SURE TO SUBSCRIBE TO KITCHEN COUNTER CHRONICLES TO HAVE OUR DELICIOUS RECIPES, FUN CRAFTS & ACTIVITIES DELIVERED DIRECTLY TO YOUR INBOX.
---