It's Saturday morning. You just remembered that you agreed to bring a salad to the potluck pool party – this afternoon.
Looks like you'll be stopping and picking up a ready-made salad at the grocery store…again.
Stop right there! It is possible to make a delicious, crowd-pleasing salad in about 20 minutes. This potato salad with grainy mustard vinaigrette is simple and pot luck party approved.
Simple Potato Salad with Grainy Mustard Vinaigrette
2 lbs new potatoes (red, yellow, whatever you have on hand)
3 shallots, finely sliced
1 tbsp grainy mustard
1 tbsp red wine vinegar
3 tbsp olive oil
1 tbsp chopped taragon
1/2 tbsp chopped rosemary
1 tsp salt
1/4 tsp ground pepper
Boil potatoes in salted water for about 15-20 minutes, until the point where a fork pokes into them easily.
While the potatoes boil, prepare the vinaigrette.
Combine sliced shallots, mustard, vinegar and olive oil in large serving bowl. Whisk until combined.
Once potatoes are soft, drain and rinse with cold water. Lay on a clean tea towel remove excess water. Add warm potatoes to the vinaigrette in the serving bowl. Toss.
Add herbs, salt and pepper.
Toss and taste. Add salt and pepper as needed.
Done. Cover and pack it up to bring to your party. Don't forget a big serving spoon. Enjoy!
---
Related Posts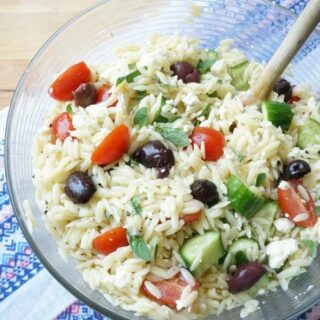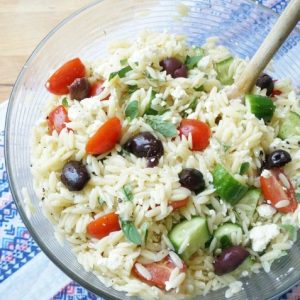 Party ready Greek pasta salad for a crowd
Pot luck party no bake cookies and bars
---
BE SURE TO SUBSCRIBE TO KITCHEN COUNTER CHRONICLES TO HAVE OUR DELICIOUS RECIPES, FUN CRAFTS & ACTIVITIES DELIVERED DIRECTLY TO YOUR INBOX.
---