It is true. The thought of eating meatless meals can be a little bit scary. For some folks, meat is the very heart of every meal.
As the world buzzes with facts about the environmental and health benefits of cutting out meat (if only for one day of the week) it can feel overwhelming. As for kids – change is even scarier for kids. A meatless chili recipe!? My eldest daughter literally said, "the meat is my favourite part of chili!" Who knew?
New year, new goals and new recipes. Time to step outside of your comfort zone and take a chance on this delicious kid friendly vegetarian chili. No one will miss the meat.
Kid Friendly Vegetarian Chili
2 tbsp olive oil
2 shallots, roughly chopped
1 tsp ground cumin
2 tsp cocoa powder
2 tsp smoked paprika
1 tablespoon peanut butter (if you have a nut allergy you can skip this ingredient or substitute with a seed butter)
3 red peppers, chopped into 1/2 inch pieces
2 sweet potatoes (total 10 ounces), chopped into 1/2 inch pieces (smaller if you have picky potato eaters, * see the note below)
handful of little yellow potatoes, halved
2 x 19 fl oz cans mixed beans (chick peas, black beans, butter beans)
1 x 28 fl oz can whole plum tomatoes
1 x 28 fl oz can diced plum tomatoes
handful of cilantro stalks
1/4 tsp salt
1/2 cup shredded cheddar cheese
1/4 cup sour cream
In a cast iron dutch oven…if you don't have a dutch oven, a large flat bottomed pot will suffice…heat oil over medium-high heat. Toss in the shallots, cumin, cocoa, paprika and peanut butter. Cook the onions and spices until the onions soften and the peanut butter melts. You will have a dark, onion paste.
Add in the peppers, sweet potatoes and yellow potatoes. Toss the peppers and potatoes in the paste until they are coated.
Add beans (with their liquid), tomatoes (with their liquid), cilantro stalks and salt. Stir until all the ingredients are combined. Bring the chilli to a boil and then drop to a simmer. Simmer for 1-2 hours…until the potatoes are soft.
Serve the chilli with shredded cheddar cheese and sour cream.
Now, what does "kid friendly" mean? I have two kids – one kid devoured the chilli and even took a thermos full for lunch the next day. The other kid picked her way around the sweet potatoes. I'll take that. She loved the flavours…not the chunky potatoes. Lesson learned, next time I'll chop the potatoes smaller. If you have a picky potato eater…chop those sweet potatoes smaller. Kid approved!
This recipe is another twist on a Chef Jamie Oliver recipe – Smoky Veggie Chilli. I skipped using a grill…too cold to go outside and I didn't have the time to use a stovetop grill. I also skipped serving the chilli with a baked potato. Instead, I added the little potatoes into the chilli itself. A few tweaks and this chilli has now been added to our regular rotation. You really cannot beat a big bowl of hot chilli on a cold, winter day.
---
*** Cookbook Giveaway ***
It's time for another Food Revolution Toronto cookbook giveaway. For our January #CookWithFoodRevTO challenge, we're cooking up Jamie Oliver's Smoky Veggie Chilli from Family Super Food – perfect for chilly January days! The giveaway will run from January 2nd 2017 until January 31st 2017. All you have to do is cook up a batch of the chilli for your chance to win a Jamie Oliver cookbook thanks to HarperCollins Canada.
*** How to enter ***
Make Jamie's Smoky Veggie Chilli, snap a picture and share it on social media using the hashtag #CookwithFoodRevTO and tag us on FB, or at @FoodRevToronto on Twitter or Instagram and you'll be entered to win a cookbook!
Eligibility and contest rules:
– Contest begins on January 2nd 2017 at 9am EST on and closes January 31st 2017 at 6pm EST.
– Prize consists of one (1) Jamie Oliver cookbook
– Open to readers of the age of majority with a Canadian mailing address.
– No purchase of any product necessary for entry.
– Winners will be chosen randomly (using random.org) from all qualified entries on January 31st 2017 after 6pm EST.
– Winners will be notified via email February1st 2017 and will have 48 hours to respond to the email.
– Winners will be required to answer a skill testing question.
Good Luck
---
Related Posts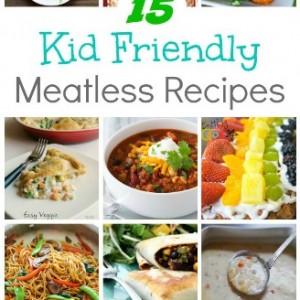 Check out this collection of 15 Kid Friendly Meatless Recipes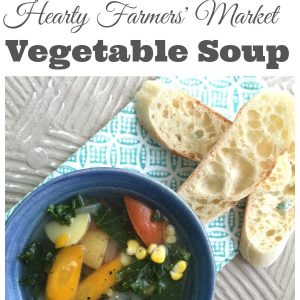 Make a pot of farmers' market vegetable soup
---
BE SURE TO SUBSCRIBE TO KITCHEN COUNTER CHRONICLES TO HAVE OUR DELICIOUS RECIPES, FUN CRAFTS & ACTIVITIES DELIVERED DIRECTLY TO YOUR INBOX.
---