If you follow along with Kitchen Counter Chronicles on Facebook, then you already know that this past weekend our family gathered to celebrate the life of my grandmother. My Nanny passed away a week ago, just a few days shy of her 90th birthday. Some of my fondest childhood memories involve baking and cooking in my grandmother's big red kitchen. When my grandparent's built their dream home, my grandmother installed a kitchen with red countertops and red appliances. It was fabulous…I know it sounds strange, but it was really fabulous. Those kitchen countertops saw the creation of many family meals and lots of pies. I fell in love with my grandmother's lemon meringue pie as a child and it is still my absolute favourite pie. So, this weekend I decided to honour my Nanny's memory and bake up a lemon meringue pie.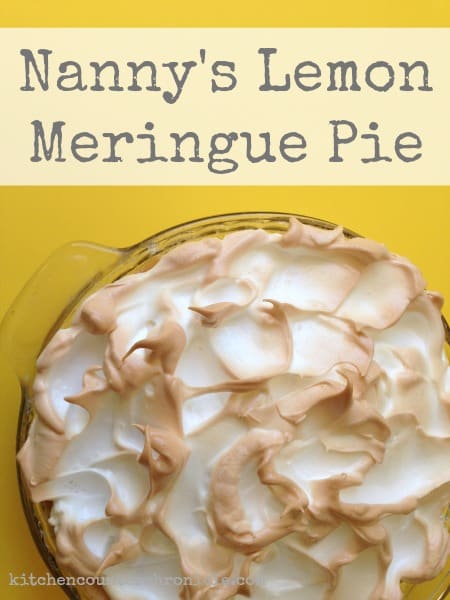 Now, I do not have her exact recipe…I'm not really sure why I didn't ask her for it? However, since my grandmother was a "from scratch" kind of lady I knew that this pie was going to be a labour of love. If you have never made a lemon meringue pie before let me advise you, it takes some time. There's a lot of resting, baking, cooling, whisking, melting, it is a true science experiment pie. What you end up with is a little slice of lemony heaven – it is so worth the effort.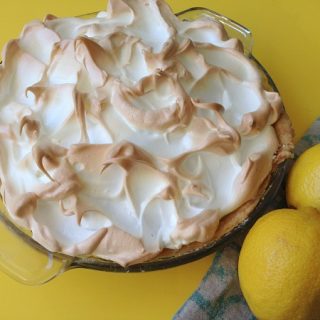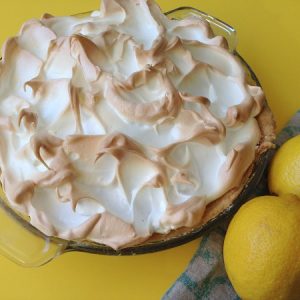 Print Recipe
Lemon Meringue Pie
A lemony, sweet, tangy and fluffy classic lemon meringue pie.
Ingredients
For the Pastry
Follow your favourite single crust pie recipe - I used the one on the Tenderflake box - just like Nanny
For the Filling
1 1/4

cup

granulated sugar

6

tbsp

cornstarch

1/2

tsp

salt

2

cups

water

3

lightly beaten egg yolks

3

tbsp

butter

1/2

cup

lemon juice

zest of 1 lemon

about 1-2 tbsp
For the Meringue
4

egg whites - at room temperature

1/4

tsp

cream of tartar

6

tbsp

granulated sugar
Instructions
Bake your pie crust, according to your chosen recipe. Set the pie crust aside to completely cool.
For the Filling
Combine sugar, cornstarch and salt in a medium sized saucepan. Whisk in water.

Bring liquid to a boil and then turn the heat down to medium - stirring constantly for about 2 minutes - the sauce will simmer and thicken.

Remove from the heat and whisk a small amount of the hot liquid to the egg yolks - then whisk the egg yolks into the pot of hot liquid (this is called tempering)

Stir in the butter, the lemon juice and zest.

Let the filling cool for about 5-10 minutes - then pour filling into pie crust and set aside.
For the Meringue
Beat the egg whites, with the cream of tartar, until it holds soft peaks.

Add the sugar, 1 tbsp at a time, to the egg whites and continue to beat until stiff and shiny peaks form.

Scoop and spread the egg whites over the lemon filling - be sure to spread the meringue all the way to the edges of the pie crust - this way it will not shrink away from the crust while cooking.

Use a spatula to make small peaks all over the meringue - these will make the pie look beautiful when it browns.

Bake in a 350F oven for 15 minutes - until the peaks have lightly browned.

Let the pie cool completely before serving - let sit for at least 2 hours or overnight - do not refrigerate.

Enjoy
Notes
Adapted from Canadian Living Cookbook (1987)
Nutrition
Calories:
211
kcal
|
Carbohydrates:
35.7
g
|
Protein:
3
g
|
Fat:
6.2
g
|
Saturated Fat:
3.5
g
|
Cholesterol:
90
mg
|
Sodium:
201
mg
|
Potassium:
69
mg
|
Fiber:
0.1
g
|
Sugar:
31.7
g
|
Calcium:
10
mg
|
Iron:
0.2
mg
Calories:
211
kcal
|
Carbohydrates:
35.7
g
|
Protein:
3
g
|
Fat:
6.2
g
|
Saturated Fat:
3.5
g
|
Cholesterol:
90
mg
|
Sodium:
201
mg
|
Potassium:
69
mg
|
Fiber:
0.1
g
|
Sugar:
31.7
g
|
Calcium:
10
mg
|
Iron:
0.2
mg
While I will never be certain what my Nanny's actual recipe was, this one comes pretty darn close. The pastry is light and flaky – the filling is tart and sweet – and the meringue is beautifully fluffy and golden. In fact, it is so good I will be enjoying a slice for breakfast with a cup of tea in the morning…cheers Nanny!