Whether you are vegetarian, vegan or are just looking for a little meatless Monday inspiration. This collection of kid friendly meatless recipes will help make meal planning easy. Be sure to check out all of our other meatless meals for kids recipes too…we've got quite a few awesome kid-friendly vegetarian recipes.
for your convenience, this post contains affiliate links
Like many of you, we have been overwhelmed by the information around eating less meat. Recently, the Canadian government release the updated Canadian Health Guide, in it they recommend eating less meat and more protein alternatives. But…they used to say that meat was healthy? What are we supposed to do?
Well, as confusing as the mix of information might be we are moving ahead with what I have always believed – eating a balanced diet. What this means to us is adding more vegetable and protein alternative meals into our recipe repetoire.
Eating less meat is a healthy break for our bodies and an opportunity to discover new dishes. Let's face it, the first thought I had when I was thinking of taking on this change was "how am I going to convince my kids to eat more veggies?" Yes, our kids are great eaters, they don't shy away from very many meals, but an adding more vegetable based dishes might be too much for me to handle.
So, what do you do when you have a challenge ahead? We plan the heck out of that challenge. I've been super busy preparing for a our new meat-less lifestyle. I've done a lot of research and have gathered together a collection of delicious, kid friendly meatless meals.
We don't want to just "get by"…we want to enjoy each and every meatless meal we eat.
20 Kid Friendly Meatless Recipes
Budget Bytes shares a simple breakfast, lunch or dinner option spinach, mushroom & feta quiche
One of our favourite kid-friendly vegetarian dinner dishes. A hearty and healthy lentil sloppy joe recipe
Damn Delicious shares a super simple and kid friendly lo mein recipe.
Our power packed kale salad has crispy chick peas, toasted pumpkin seeds and a kid-friendly pesto dressing.
A mild curry that kids will love – chick peas and rice curry for the win.
Kids will gobble up this creamy spring vegetable pasta primavera.
Kids seem to love Mexican cuisine, right? How great do Simple Bites' black bean burritos look?
Did someone say pie?! Get the kids to eat veggies with Mom's Test Kitchen's easy vegetable pot pie.
The Pioneer Woman shares a flavour packed smooth cauliflower soup…perfect hot lunch idea.
Fruit can be savoury too. Pack in the fruit with Eats Amazing's fruity couscous salad.
Who said chilli has to be full of beef? Swap out the meat with Cooking Classy's quinoa chilli.
Can't forget the kids' favourite three cheese pasta. Yep, gooey and cheesy and perfect for lunch or dinner (my kids would say it's perfect for breakfast too).
How delightful is this? Kids will love eating Parenting Chaos' colourful rainbow fruit pizza.
Curry is another favourite with our kids. A delicious oatly sweet potato and chickpea curry with lemongrass from In the Playroom.
Where did the meat go in our vegetarian meatloaf? You seriously won't even miss the meat.
Food 4 Tots shares a recipe for irresistible cauliflower tots. Cauliflower is such a versatile vegetable.
Deliciously simple baked spaghetti with mozzarella from Martha Stewart. Classic and crowd pleasing.
Kids will go crazy for BetsyLife's Buffalo quinoa bites.
Kids love our vegetarian chili – hearty and rich flavour.
Super Healthy Kids shares a crunchy kid favourite veggie nugget recipe
Shepherd's pie without the meat? Yep, She Likes Food shares a kid-friendly vegetarian BBQ shepherd's pie
If you have a favourite kid-friendly meatless recipe, share the link in the comments below.
---
A Few Common Questions About Being Vegetarian
What does "vegetarian" mean?
A vegetarian is a person who does not eat meat and meat products. While vegetarians do not eat meat, they often eat eggs and dairy products. People may be vegetarian for moral, religious, social or health related reasons.
What does "vegan" mean?
Vegan is a word that people are less familiar with – but that has become much more popular in that last decade. A vegan is a person who does not eat meat and meat products – including any dairy products or eggs. Vegans eat nothing that is an animal by product – even honey.
What does "pescatarian" mean?
A pescatarian is another branch of vegetarianism. A pescatarian does not eat meat, but they do eat fish and seafood. While their diet is largely plant based, they do eat seafood.
---
A fun way to get kids to eat their veggies is to use a spiralizer…this one is a best seller!
5-Blade Vegetable Slicer and Spiralizer
---
Related Posts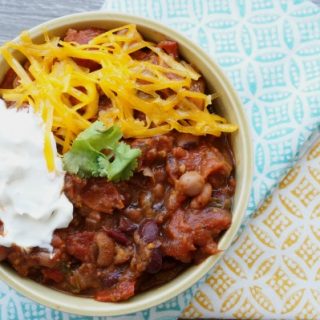 Pile on all the toppings! Love this kid friendly vegetarian chili
Flavourful and colourful…because we eat with our eyes first. You really can't beat a bowl of delicious fruit salad
---
BE SURE TO SUBSCRIBE TO KITCHEN COUNTER CHRONICLES TO HAVE OUR DELICIOUS RECIPES, FUN CRAFTS & ACTIVITIES DELIVERED DIRECTLY TO YOUR INBOX.
YOU MAY ALSO FOLLOW ALONG FACEBOOK AND TWITTER
---