My kids LOVE chickpeas.
When they were toddlers, chickpeas were a super easy go-to snack. As they've grown up and their palates have developed, chickpeas have become a healthy part of our family recipes. They can be transformed into a hummus-type dip, added to salads and crisped up in the oven. These little fibre and protein packed legumes take on flavours beautifully, which is why they are perfect in stews and curries. This simple chickpea curry is a super quick healthy weeknight meal that can be carried over into lunch boxes. Perfect for busy families.
Simple Chickpea Curry
1 tbsp olive oil
2 shallots, finely chopped
1 clove garlic, minced
2 tsp garam masala
1/4 tsp ground cinnamon
1/4 tsp ground cloves
1/4 tsp tumeric
2 cans chickpeas, rinsed and drained
1 can whole plum tomatoes
1 cup vegetable stock
2 tbsp tomato paste
salt and pepper to taste
sirachi optional
basmati rice for 4 servings
handful of cilantro, chopped
Warm olive oil in a large skillet, over medium heat. Add shallots and garlic – saute until softened.
Stir in all spices and warm through, approximately 1 minute.
Pour in chickpeas, tomatoes, vegetable stock and tomato paste. Bring to a boil and turn down to a simmer. Simmer for 15 minutes, until sauce thickens and chickpeas are tender to the fork. If you like a spicier sauce, add a tsp of siracha sauce.
In the meantime, make the basmati rice according to your package instructions.
Serve the chickpea curry over a bed of rice and sprinkle with cilantro. Enjoy.
In about 20 minutes, you have a warm, comforting dinner that everyone in the family will love. This dish is perfect for families who are looking for simple vegetarian meals.
Today's healthy, simple and delicious chickpea curry recipe is another fun example of a twist on a classic, basic recipe that families can prepare and enjoy at home. We put a vegetarian twist on Jamie Oliver's lamb and chickpea curry. Be sure to check out Jamie Oliver's 10 Food Revolution recipes and see what twists your family might like to make on his collection of basic family friendly recipes.
---
 Related Posts
Broccoli and Ginger Beef Stir Fry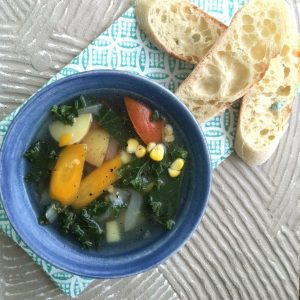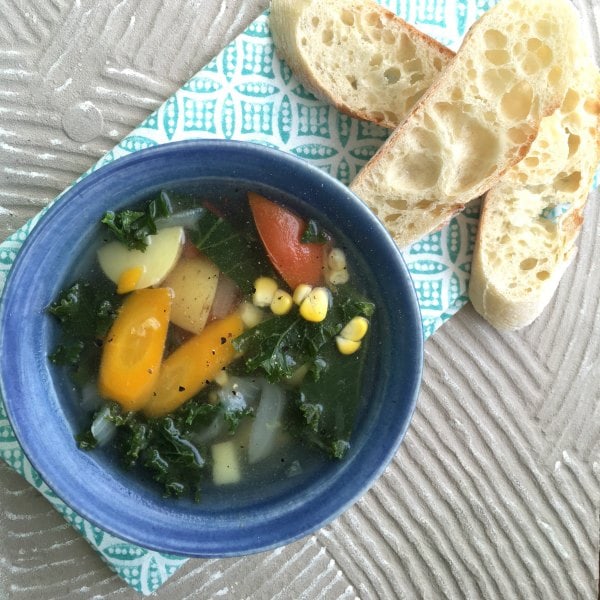 Hearty Vegetable Soup
---
BE SURE TO SUBSCRIBE TO KITCHEN COUNTER CHRONICLES TO HAVE OUR DELICIOUS RECIPES, FUN CRAFTS & ACTIVITIES DELIVERED DIRECTLY TO YOUR INBOX.
---