Life around here got a little bit busier 2 weeks ago.
We travelled to northern Ontario to pick up our new family member – George the border terrier. He's a super cute puppy that we will love and love and love. But, for the next few months, George is going to take a lot of time and energy. Puppies are kind of a handful. When you already have a full schedule, squeezing in a trip to the backyard for a toilet break, every hour is disruptive – to say the least. 
This is why I was so excited when the folks from Hello Fresh reached out, wanting our family to try out their service. Um…YES!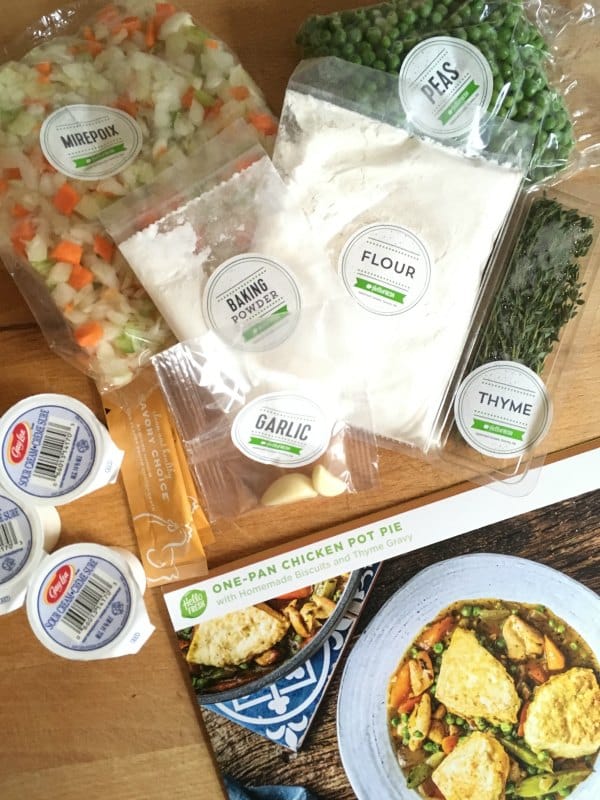 Hello Fresh provides full meals – prepped and ready to go – to your doorstep. All you have to do is click through their website and make your meal selections (we chose the family plan). The meals are designed by chefs and come with detailed recipes, including photos, along with all the ingredients you need – no shopping required. The recipes were so clear and easy to follow that my youngest daughter had fun making most of the meals. 
Each recipe requires a little bit of prep at home, chopping herbs, mincing garlic – those sorts of steps can't be prepared ahead of time. My daughter was happy to help.
Our meal plan included 3 dinners – One Pan Chicken Pot Pie, Pork Carnitas Tacos and Shrimp Farfalle. Since the arrival of George the puppy, it has been a challenge to get my head around meal planning, let alone getting out to the grocery store. Finding everything we needed to make 3 meals inside the insulated cooler was such a relief. I couldn't help but think how awesome this service would have been when I had a newborn baby at home.
So, did everyone like the food? That's what you really want to know.
Yes, everyone enjoyed every meal. You can't beat freshly prepared meals that are quick. Wednesday night's are our craziest night and we were able to have dinner on the table before heading to our scheduled activities…that's some kind of miracle around here. I love finding alternatives that can save our family time and are actually healthy.
---
Related Posts 
Keep it simple with no bake cookies
Cook up these kid-friendly meatless meals
---
BE SURE TO SUBSCRIBE TO KITCHEN COUNTER CHRONICLES TO HAVE OUR DELICIOUS RECIPES, FUN CRAFTS & ACTIVITIES DELIVERED DIRECTLY TO YOUR INBOX.
YOU MAY ALSO FOLLOW ALONG FACEBOOK AND 

TWITTER
---