Growing up in my house you always knew when someone in my house was "backed up". My mom would make a batch of bran muffins. You know that ubiquitous package of bran muffin mix you can purchase at the grocery store. That was my mother's go-to solution for constipation. I don't even remember if they actually helped – I just remember they tasted like eating cardboard. (Which is why we made this awesome version – that makes a super simple breakfast recipe for families.)
Well, I'm the mom now. I make the "what do we do when someone's backed up?" decision. Which is why I love making these banana bran chocolate chip muffins.
These aren't your average bran muffins. Made with whole wheat flour, honey and wheat bran, these muffins pack a healthier punch. I opted for wheat bran because it is a insoluble form of bran…which works best for aiding in the resolution of constipation issues. The bonus is how moist the banana makes the muffins. Plus, the kids LOVE them. It is possible to keep everyone regular with these delicious treats. Kick the cardboard to the curb.
Banana Bran Chocolate Chip Muffins
Makes 12 muffins : Bake in 350°F oven
1 cup mashed banana (2 large bananas)
1 1/2 cups wheat bran
1/3 cup skim milk (1%)
1 tsp vanilla extract
1 cup whole wheat flour
1/2 tsp baking soda
1 tsp baking powder
1/4 tsp salt
1/2 tsp cinnamon
2 tbsp sunflower oil
1/2 cup honey
1/2 cup mini chocolate chips
2 tbsp rolled oats
coconut oil spray
Begin by soaking the wheat bran in the milk – let sit for 5 minutes.
Combine mashed banana, soaked wheat bran and vanilla in a large bowl. Set aside.
In a small bowl whisk together whole wheat flour, baking soda, baking powder, salt, cinnamon, chocolate chips and rolled oats. Set aside.
In a small bowl stir together oil and honey. Set aside.
Add dry ingredients and oil/honey to the banana bowl. Stir until all ingredients are combined.
Scoop batter into greased muffin tin. I used a coconut oil spray to grease my muffin tin. You could use butter or other light oil.
Bake in 350°F oven for 15-18 minutes – until tops are firm and toothpick inserted comes out clean. Let cool in pan, remove to wire rack and enjoy.
---
Related Posts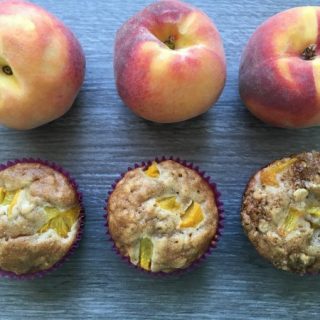 Check out our amazing honey peach oat muffins…so good.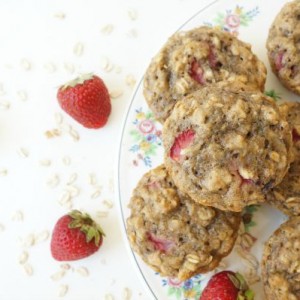 Or, bake a batch of our strawberry muffins! Yum!
---
Make sure you are following along…
SUBSCRIBE TO KITCHEN COUNTER CHRONICLES TO HAVE OUR DELICIOUS RECIPES, FUN CRAFTS & ACTIVITIES DELIVERED DIRECTLY TO YOUR INBOX.
FOLLOW KITCHEN COUNTER CHRONICLES ON