Back to school means back to packing lunch boxes. Will this be the year the kids eat everything inside?
Over the years I've learned a thing or two about packing a lunch box. One thing I know – kids love muffins. I've made every variety of muffin – zucchini, strawberry banana, ham and cheese and more. Yep, kids love finger foods. These honey and oat peach muffins have little bursts of summery sweetness inside. Muffins are so simple to make, kids can totally lend a hand. When kids make their own food, they tend to eat it. Bake up a batch of these muffins and they will become a favourite for lunch and after school snacks.
Snack Time Honey and Oat Peach Muffins
1 cup buttermilk
1 cup large flake oats
1/3 cup sunflower oil
1/4 cup brown sugar
1/4 cup honey
1 egg
1 1/4 cup all purpose flour
1 tsp baking soda
1/2 tsp cinnamon
1 cup peeled and finely chopped peaches
Combine oats, flour, brown sugar and baking soda in a large bowl.
Mix together buttermilk, oil, honey and egg in a small bowl. Stir into dry ingredients until combined.
Stir in peaches. Don't over stir muffin batter.
Use 1/4 cup measure to scoop batter into muffin cup liners.
Bake in 375F oven for 15-20 minutes – until toothpick inserted comes out clean.
One of the best things about muffins is how great they are to freeze. This recipe makes 12 muffins, pop half the muffins in the freezer and you have 2 weeks of lunch snacks prepared. That's assuming you don't eat them all. These can be made into mini-muffins too – simple cut the baking time down to 10 minutes.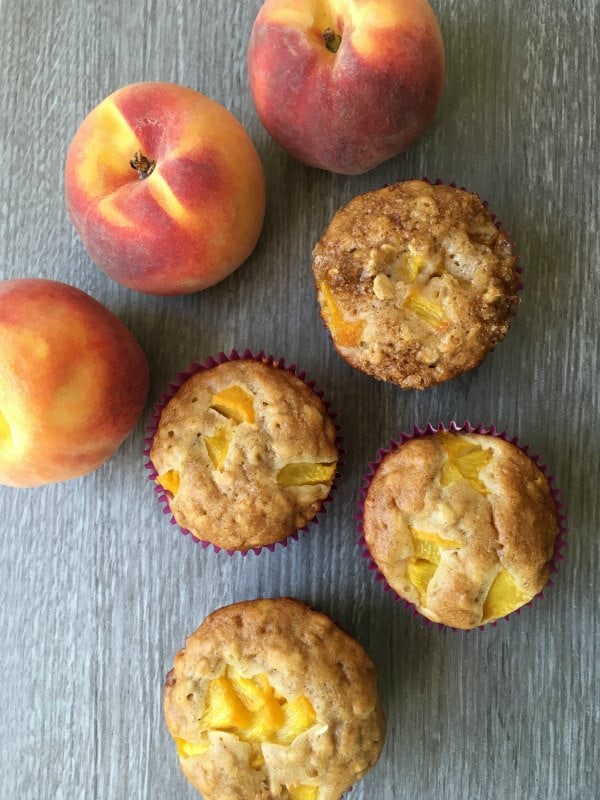 What is your favourite type of muffin? Do your kids have a favourite?
Today's post is part of the Kids in the Kitchen series…this month we are focusing on school snacks. Be sure to check out all the delicious kid-made snacks being shared.
Watermelon Pizza | The Gifted Gabber :: Easy No-Bake Granola Bars | Royal Little Lambs :: Ants on a Log Fun Food Preparation for Preschoolers | Living Montessori Now :: No bake chewy choc chip muesli bars | Kidgredients
---
Related Posts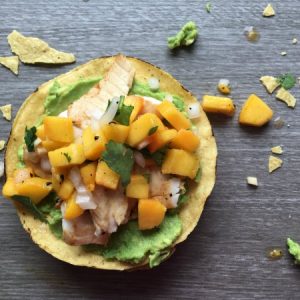 Simple weeknight dinner fish tostadas with peach salsa
Bake a batch of strawberry banana muffins
---
BE SURE TO SUBSCRIBE TO KITCHEN COUNTER CHRONICLES TO HAVE OUR DELICIOUS RECIPES, FUN CRAFTS & ACTIVITIES DELIVERED DIRECTLY TO YOUR INBOX.
---