I have a food confession to make. It is hard for me to make this confession. Especially in light of all the "my kid is a picky eater" articles floating around.
I don't like to eat fish.
Yep, I don't like fish.
I love tuna sandwiches. I love fish and chips. That's about it.
Heading into becoming a parent I didn't want my daughters to see my dislike of fish. I didn't want my girls to follow in my footstep. I didn't want to influence their food likes and dislikes. So, I made various fish dishes over the years.
I am happy to report that at the ages of 13 and 10, I have one daughter who likes fish (of all sorts) and one who is still on the fence. They have come to their own conclusions. They have developed their own culinary opinions.
My husband, on the other hand, loves fish. He is the one encouraging me to try any and all types of fish. A few years ago he introduced me fish tacos. The combination of salsa and fresh fish won me over. Another fish dish that everyone in our family loves to eat.
With peach season upon us, I've paired the sweet fruit with crisp tostadas and light tilapia. A quick and delicious recipe that is perfect for summer dinnertime.
Fish Tostadas with Peach Salsa
2 tilapia fillets
1 lime
1/2 tsp cumin
1/2 tsp chilli powder
3 tbsp sunflower oil
3 peaches, peeled and diced
1/4 cup finely chopped white onion
juice of half a lime
1 minced clove of garlic
salt and pepper
avocado
tostadas
To prepare the fish place fish in a shallow baking dish and sprinkle with cumin, chilli powder, salt and pepper.
Squeeze lime over fish. Set aside while preparing the peach salsa.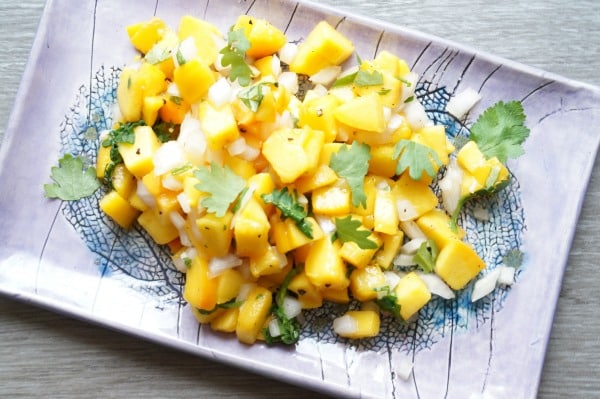 To prepare the peach salsa, peel and dice the peaches. Place in a small bowl.
Stir in onion and cilantro. Squeeze in juice of half a lime. Add salt and pepper. Toss to combine.
Heat 3 tbsp of oil in a small saute pan over medium-high heat.
Place fish in hot pan and cook through – approximately 2 minutes per side – depending on the thickness of your fish. You will know the fish is done when it is opaque and flakey with touched with your fork.
To assemble the tostada, spread mashed avocado on the tostada first. Layer on pieces of the fish and top with peach salsa. Sprinkle with more cilantro, if you like.
I am so happy to have gotten my fish aversion confession off my chest. Phew. I can assure you that if you have kids who aren't keen on eating fish, this recipe will work for them. The combination of lime and peach is so refreshing, this is sure to become a family favourite in your house.
Do you have a food confession? Is there a food that you don't like, but you don't want to pass on to your child? How have you dealt with your food dislike?
This simple fish recipe is another example of a twist on a classic, basic recipe that families can prepare and enjoy at home. Be sure to check out Jamie Oliver's 10 Food Revolution recipes and see what twists your family might make on his collection of basic family friendly recipes.
---
Related Posts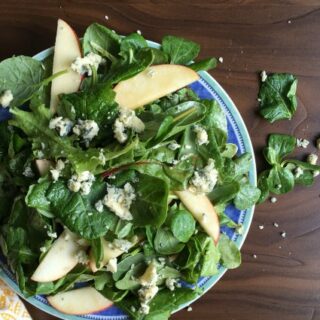 Maple balsamic vinaigrette with blue cheese and apple
Healthy meatless recipes that kids will love
---
BE SURE TO SUBSCRIBE TO KITCHEN COUNTER CHRONICLES TO HAVE OUR DELICIOUS RECIPES, FUN CRAFTS & ACTIVITIES DELIVERED DIRECTLY TO YOUR INBOX.
---