Has your family fallen into a salad rut?
Eating the same sad romaine lettuce with the same sad salad dressing – night after night?
It is so easy to fall into a salad rut…especially if you find a salad combination that your kids will actually eat. However, I think it is time to make a few changes and reinvigorate your weeknight salad routine. Kick out the boring with this super simple maple balsamic vinaigrette.
What makes this salad so delicious is using seasonal greens. Yep, wherever you live you can hunt down different varieties of lettuce greens. Skip the boring old ice burg lettuce (which is delicious in it's own right) and explore all the other leafy options. Your salad will take on a whole new life through the addition of baby kale, spicy arugula or dandelion greens…seriously.
There are a couple of other secret/awesome ingredients in this vinaigrette. Maple syrup, blue cheese and apples.
Okay, the kids might not be keen on the blue cheese. I have one kid who LOVES it, and another who DOES NOT. That's why I keep the crumbling of the cheese to the end. Don't be afraid to challenge your kids with new flavours. I'm not a big fan of blue cheese, but that doesn't mean I won't feed it to my daughter…why not?
Maple balsamic vinaigrette
1/4 cup olive oil
1 tbsp maple syrup
2 tbsp balsamic vinegar
2 tsp dijon mustard
blue cheese
1 apple, thinly sliced
Whisk together olive oil, maple syrup, dijon mustard, salt and pepper in the bottom of a large salad bowl. We always make our salad vinaigrette inside the bowl we are going to use for the salad. If we are planning bringing the salad to a potluck, I will prepare the vinaigrette in a mason jar – with a tight fitting lid.
When ready to serve the salad, toss salad greens and apple slices with vinaigrette.
Crumble cheese over the salad right before serving.
This vinaigrette can be whisked up in mere minutes. With a bowl full of crisp seasonal greens your family will be asking for more salad. Salads are a great way to experiment with new flavours. Try goat cheese instead of blue cheese, what about strawberries instead of apples, and don't forget the endless lettuce options. Boring salad rut be gone!
Our delicious seasonal maple balsamic vinaigrette recipe is another example of a twist on a classic recipe that families to make and enjoy at home. Be sure to check out Jamie Oliver's 10 Food Revolution recipes and see what twists your family might make on his collection of basic family friendly recipes.
---
Related Posts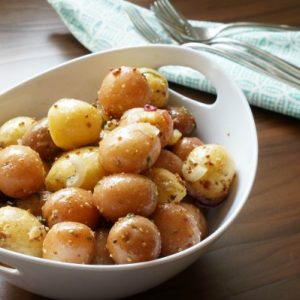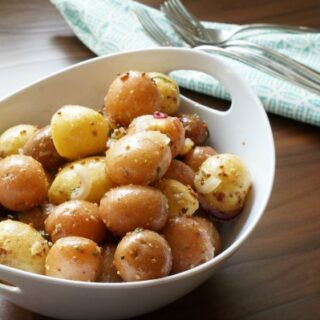 Grainy mustard turns this potato salad into a weeknight winner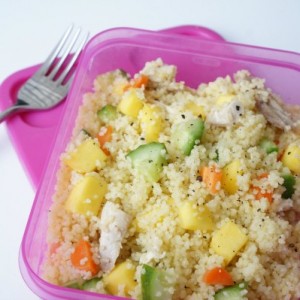 Lunch box perfect mango and chicken couscous salad
---
BE SURE TO SUBSCRIBE TO KITCHEN COUNTER CHRONICLES TO HAVE OUR DELICIOUS RECIPES, FUN CRAFTS & ACTIVITIES DELIVERED DIRECTLY TO YOUR INBOX.
---