Breakfast is the most important meal of the day. Breakfast also happens to be the hardest meal of the day to convince my kids to eat. I'm always on the hunt for delicious, quick and healthy breakfast options.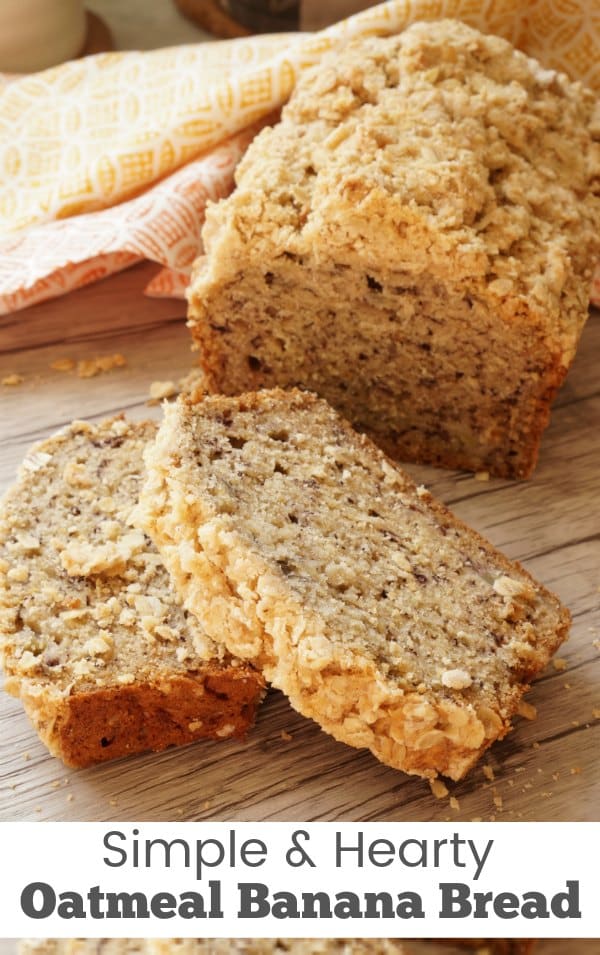 Disclosure: There are Amazon Affiliate links in this article which means, at no additional cost to you, we could receive compensation for our recommendations. You can read our full disclosure policy on our Disclosure Page for more details.
Yes, school day mornings are busy around here. Everyone seems to allow themselves just enough time to get up, get cleaned up, get dressed and get ready to catch the bus. There isn't a lot of time allotted to eating – let alone eating something healthy.
When my girls were younger, it was easy to throw a bowl of hot oatmeal down infront of them for breakfast. The oatmeal would be eaten and they'd be ready for their day. As a teenager and a tween – things are different. The fact is they still need to eat a decent breakfast, so I'm always looking for ways recipes that are quick, easy and delicious…oh, and that my kids will actually want to eat.
Muffins and quick breads are a great option. A slice of this oatmeal banana bread along with a dish of fresh fruit, makes a simple breakfast.
Hearty Oatmeal Banana Bread
2 cups all purpose flour
1/4 cup rolled oats
1/4 cup granulated sugar
2 tsp baking powder
1 tsp baking soda
1/4 tsp salt
1/2 cup chocolate chips
3 large bananas, mashed
1/2 cup unsalted butter, melted
1/4 cup milk
2 large eggs
Streusel Topping
1/2 cup all purpose flour
1/2 cup packed brown sugar
1/4 cup rolled oats
1/4 tsp cinnamon
pinch of salt
1/4 cup unsalted butter, room temperature
Whisk flour, sugar, baking powder, baking soda, oats and salt together in a small bowl.
In a small bowl combine streusel topping; flour, brown sugar, oats, cinnamon and salt. Use your fingers to mix in the butter until everything is combined. Again, use your hands to crumble the streusel over the banana bread dough.
The bread can be frozen at this point and be thawed at room temperature at a future date. We often bake 2 loaves at a time – one to eat and one to freeze.
---