Easter Sunday in our house is fun, but a little hectic. Our day is jam packed with Easter activities. First, we have to hunt for Easter eggs…indoors and outdoors. Once the hunt has ended we get ready to go to our neighbourhood Easter parade…the largest Easter parade in North America. Then we wrap things up with Easter dinner. This year we are hosting the big family dinner. When in the world do we squeeze in breakfast and lunch? We all know that hungry kids are cranky kids. How 'bout kids who have only eaten chocolate Easter eggs and bunnies…the worst! This year I have a deliciously simple and versatile solution, a spring frittata. 
You know it is spring when you walk through the grocery store and come across asparagus. I came across some lovely snappy, thin stalks of asparagus the other day, and I simply had to add them to the grocery cart. To make the frittata even more appealing to my kids, I knew I had to add some cheese. For our spring veggie packed frittata, I wanted to pair a sharper cheese. I picked up a block of Ivanhoe naturally smoked gouda…mmm, smoked gouda. Ivanhoe is the oldest cheese company of its kind in Canada and their shop is a tourist attraction in the small hamlet of Ivanhoe, Ontario. The naturally smoked gouda paired with asparagus, spinach, delicate peppers, parsley and green onions was a match made in foodie heaven. Here's the problem – I have actually never made a frittata before. Have you ever made one? I've made hundreds of omelettes, plenty of scrambled eggs with chives, but never an oven baked frittata. I loaded up my grocery cart and headed home to my kitchen to give it a try.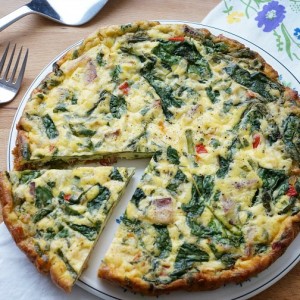 Print Recipe
Spring Frittata
Celebrate spring with this vegetable packed spring frittata.
Ingredients
2

tbsp

olive oil

1

cup

asparagus

chopped

2

sliced cooked bacon

1

green onion

thinly sliced

1/4

tsp

red and yellow pepper

finely chopped

handful of spinach

roughly chopped

1

tbsp

parsley

chopped

8

large eggs

1/4

cup

cream

1

cup

grated smoked gouda cheese

1/2

tsp

salt

1/4

tsp

ground pepper
Instructions
Preheat oven to 350°C.

Coat oven safe saute pan with olive oil.

Saute asparagus, onion and peppers in pan, until softened.

Add spinach to pan, until wilted then remove pan from heat.

Beat eggs in a large bowl.

Add cream, cheese, bacon and sauted vegetables to eggs. Stir until combined.

Pour egg and vegetable mixture into heated saute pan, over medium heat.

When edges begin to firm up, remove from heat and transfer to oven.

Transfer pan to 350° oven and bake for 20-25 minutes...until frittata is firm in the middle.

Remove from oven and use a rubber spatula to remove frittata from pan.

Slice and serve.
Our spring frittata was so simple to make. My girls beat the eggs, helped chop the veggies and grate the cheese. The best part is I can make a frittata ahead of time, pop it in the freezer and pull it out for a quick and nutritious mid morning snack on Easter Sunday. Sliced and wrapped in a tortilla, the kids love eating a frittata burrito. Packed with so many green vegetables and that smokey gouda, a spring frittata a simple solution for our busy family.
Now that I've made a frittata, I have to make more. What do you like to add to your frittata?
Check out the GayLea website for more great recipes and product information. Sign up for the GayLea newsletter to receive seasonal recipes, special offers and more delivered to your inbox.
Be sure to subscribe to Kitchen Counter Chronicles to have our delicious recipes, fun crafts & activities delivered directly to your inbox.
Disclosure: I am part of the Gay Lea Ambassador Campaign with Mom Central Canada and I receive special perks as part of my affiliation with this group. The opinions on this blog are my own.