We have had so much fun over the years developing and playing different versions of the classic Would You Rather Questions for Kids. So, we've gathered together all of our awesome would you rather games in one spot!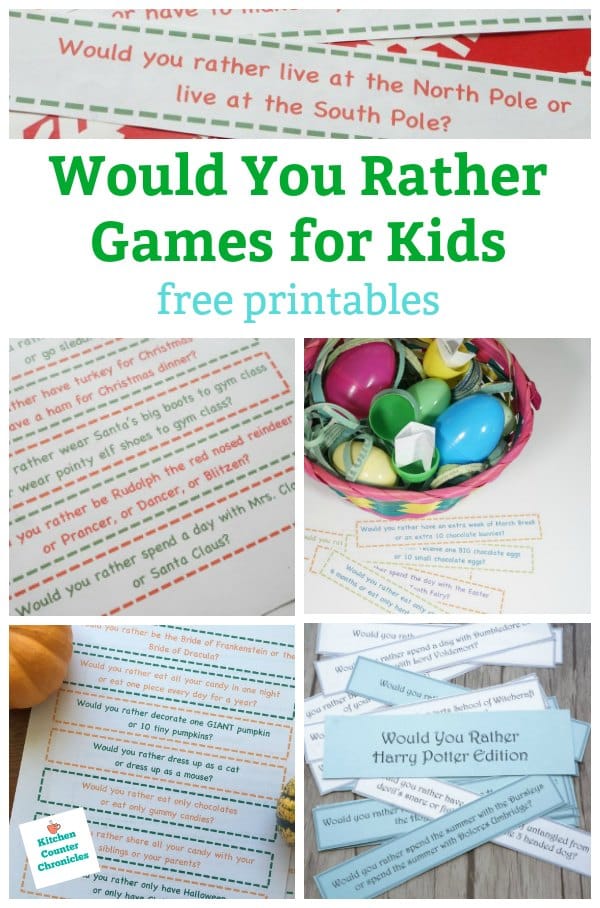 Whether it's seasonal would you rather questions theme, a favourite movie would you rather questions theme or silly would you rather quesitons – would you rather questions are a fun way to connect and play with your kids and your students.
Would You Rather Questions for Kids
Check out our totally epic 50+ Would You Rather Questions for kids. These questions don't follow a particular theme, they're funny and thoughtful and fun for tweens, teens and the whole family.
Put your Harry Potter knowledge to the test with our super magical Would You Rather Harry Potter Edition
Spark an interesting conversation about environmental issues with our Earth Day Would You Rather Questions for Kids
Middle School is an interesting time in a kid's life. That's why we had to create a special edition of Would You Rather Questions for Middle School. Lots of fun in this one!
Rainy days won't stop us from having fun with our Spring Would You Rather Questions for kids. The rain might be falling, but the flowers are blooming and it's time for a silly game.
Okay, it's summertime and you're heading on a family road trip! Don't forget to bring along our Summer Would You Rather Questions for your family.
We also have you covered on the winter snow days. Have fun with our winter would you rather questions for kids…all kinds of snow fun in this one.
The Easter Bunny totally approves of our Easter Would You Rather Questions. So many chocolate dilemmas to ponder.
Pumpkins, apples and corn mazes fill the questions in our Fall Would You Rather questions for kids.
Halloween Would You Rather Questions for Kids is all about the tricks and treats. Perfect silly Halloween fun for kids of all ages.
Our Thanksgiving Would You Rather Questions will keep everyone laughing around the Thanksgiving dinner table. Pies, parades and a whole lotta turkey!
Christmas Would You Rather Questions for Kids We heard that Santa Claus loves playing our Christmas would you rather…so you should probably give it a try.
Superheros have to make tough decisions. The kids are going to have fun debating the questions in our Superhero Would You Rather questions for kids.
---
How do we play Would You Rather Games with Kids?
There are a number of ways to play the games. First, once we print them off and cut them off we place them inside a mason jar. Then the jar can be taken in the car on long road trips. Or, we've brought the game along with us when we visit with family over the holidays…makes for a fun dinner conversation. Speaking of dinner conversation – we also play around our own dinner table during the holidays.
Another fun idea is to pop the questions inside our kids' lunch boxes. Then the kids can play along at school…debating some funny topics!
I love hiding the questions. Yep, hide them inside the Christmas advent calendar, inside the plastic Easter eggs or inside birthday cards.
Finally, print off the game and give the game to friends as a gift. What an inexpensive gift for kids to give to their friends…no special equipment is needed…just your creativity.
How do you play Would You Rather? What topic should we cover next? What holiday should we add to our list? Share in the comments below and let's have some more fun!
---
Be sure to check out our other free printable activities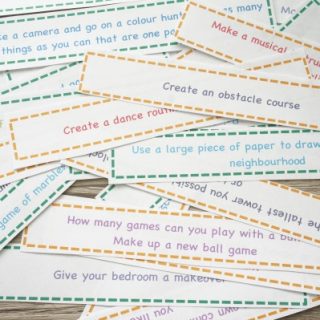 A jar filled with activities to keep tweens busy
A jar filled with outdoor play activities for kids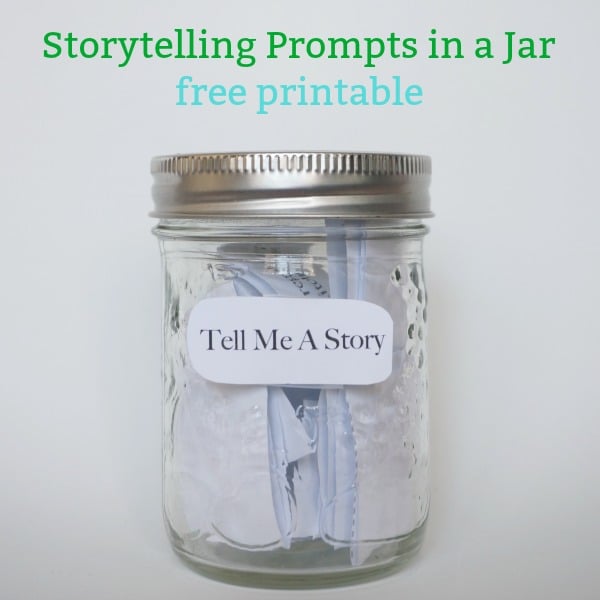 A jar filled with storytelling prompts
---
Make sure you are following along…
SUBSCRIBE TO KITCHEN COUNTER CHRONICLES TO HAVE OUR DELICIOUS RECIPES, FUN CRAFTS & ACTIVITIES DELIVERED DIRECTLY TO YOUR INBOX.
FOLLOW KITCHEN COUNTER CHRONICLES ON
---