We have been having a lot of fun playing the simple question and answer game "Would You Rather?" If you aren't familiar with the would you rather game it is an entirely made up game of questions that ask – would you rather? Our family loves all of the would you rather for kids games that we have created over the years.
This is such a simple game to play. Funny would you rather questions like – would you rather have the eyes of a hawk or the speed of a cheetah? Would you rather travel to the north pole or travel to the equator? You can make up your own questions on the spot – it makes a great game for long road trips. Sometimes the questions can start some interesting conversations and other times they are down right silly.
Over Christmas this year, we made a printable set of would you rather Christmas edition questions. So, when Easter rolled around and my daughter was helping organize the class Easter egg hunt, she immediately asked if we could make a would you rather Easter edition for kids. We even created a spring would you rather edition.
Easter Would You Rather for Kids
My daughters and I sat down and came up with a list of funny would you rather questions for the Easter would you rather for kids printable (click the link to print your own copy).
Simply click the link and print off the questions. Cut the individual strips and have fun hiding the questions inside your plastic Easter eggs.
Here are a few of the Easter Would You Rather questions you'll find…
Would you rather search for Easter eggs at the bottom of the ocean or the top of a mountain?
Would you rather eat only carrots for a month or only chocolate for a month?
Would you rather wear an Easter Bunny costume in gym class or a Santa suit in gym class?
Alternately, we will be tucking our questions into our napkin rings on the Easter dinner table. Let's see how the grandparents answer our silly questions.
It is also fun to add the questions to your child's lunch box. If you're a teacher, have a game with your students. Easter is such a fun time of year for kids. This simple game is a fun way to get the kids contemplating and discussing some very interesting topics.
Be sure to hop on over and print off our spring would you rather questions. The spring edition is filled with mud puddles, tadpoles and rainy day fun.
How will you share the would you rather Easter edition questions this year?
---
Pin this post for later…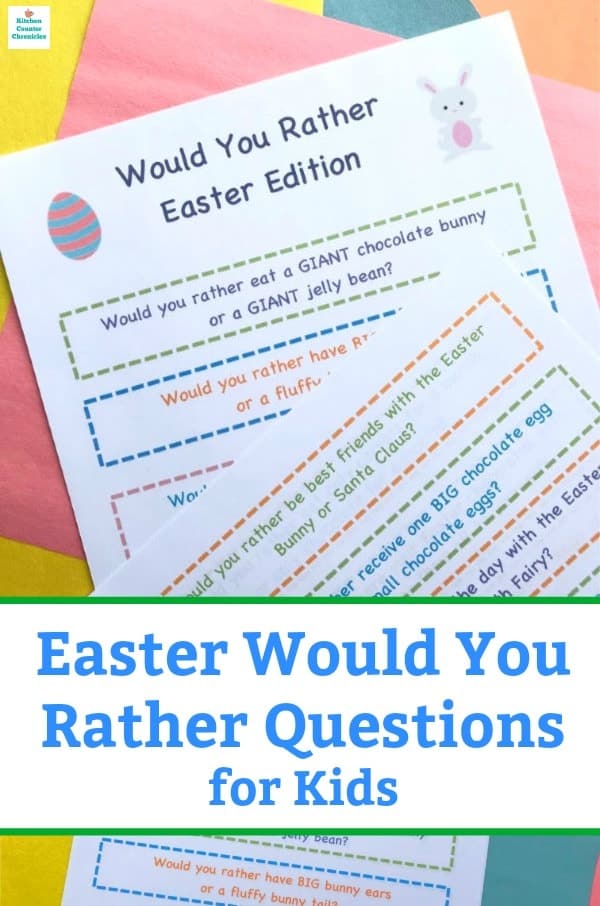 ---
Related Posts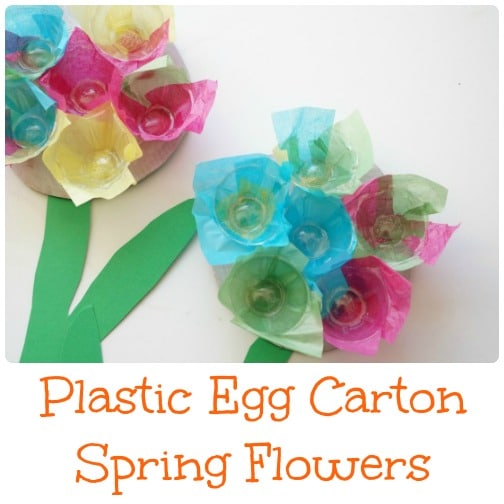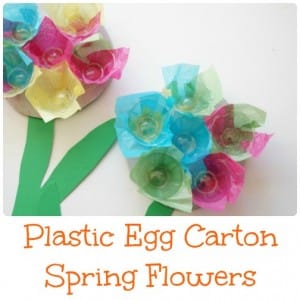 Use tissue paper and plastic egg cartons to make these spring flowers
Make paper flowers using the same technique as paper snowflakes
One of our most popular posts EVER, use paper egg cartons to make spring flowers
---
Make sure you are following along…
SUBSCRIBE TO KITCHEN COUNTER CHRONICLES TO HAVE OUR DELICIOUS RECIPES, FUN CRAFTS & ACTIVITIES DELIVERED DIRECTLY TO YOUR INBOX.
FOLLOW KITCHEN COUNTER CHRONICLES ON
---