Play this Would You Rather Harry Potter game with kids or all ages…or adults of all ages! How will you answer the questions?
You know how much we LOVE creating Would You Rather games for kids…we have created a Christmas game, an Easter game, a spooky Halloween edition and even a non-seasonal epic edition. Then the idea popped into my head to create a Would You Rather Harry Potter Edition. Combining our love for Harry Potter with our favourite game.
Disclosure: There are Amazon Affiliate links in this article which means, at no additional cost to you, we could receive compensation for our recommendations. You can read our full disclosure policy on our Disclosure Page for more details.
How excited am I to be putting together our Would You Rather Harry Potter Edition? SUPER EXCITED! (note the all caps)
This one was a lot of fun to create.
My youngest daughter was home sick the other day (okay, not such a fun start to the story) and when she started feeling a little better we sat in the living room and brainstormed our way through this entire Harry Potter would you rather list of questions.
My daughter and I are MAJOR Potterheads. We pride ourselves on our level of knowledge of the books and movies. So, these questions are based on both the movies and the books.

We think we've put together some tough questions for avid Harry Potter fans to ponder. What makes a tough would you rather question? Well, both options have to be desirable and defendable. After all, making your supporting arguments is half the fun.
Harry Potter Would You Rather Printable Game
How do you play with these Harry Potter Would You Rather Questions?
All you have to do is click the link to print off our copy of our Would You Rather Harry Potter Edition (newly updated) game. Once you've printed out the pages, it is time to cut out the individual slips of Harry Potter would you rather questions. We printed our questions on heavier card stock – so the questions feel like a board game card.
A couple of sample questions…
Would you rather spend the summer with the Dursleys or spend the summer with Dolores Umbridge?
Would you rather have to untangle from devil's snare or fight the 3 headed dog?
Touch choice – don't you think?
It's as simple as that! Print off our Would You Rather Harry Potter Edition, cut out the questions and have fun.
Would you rather be sorted into Gryffindor, Slytherin, Ravenclaw or Hufflepuff?
Or, is that a question that only the sorting hat can answer?
When to Play Harry Potter Would You Rather Edition
long road trips – keep a copy in the glove box and it is always on hand for long drives
rainy day playing – keep a copy at home and bust it out on those rainy days
dinner table conversation starters – super fun Harry Potter conversation starter at parties or around the dinner party
pop them in your kid's lunch bag – classmates will have fun discussing and debating all the choices they make
I love the silly and sometimes serious conversations that are sparked by these questions.
What Harry Potter would you rather questions would you ask? Share your ideas in the comments below, I'd love to hear what questions your kids (or you) come up with. I could even add them to the game!
---
Looking for more cool Harry Potter activities? Check out these…
Make your own Harry Potter inspired wand – complete with a printable Harry Potter spell list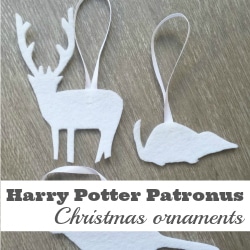 What's your Patronus? Make your own patronus shaped Christmas ornament. These Harry Potter Christmas ornaments are so lovely to hang up all year round.
---
A few more Harry Potter games that we love
One of our favourite versions of the classic game clue – Harry Potter Clue
The World of Harry Potter Trivial Pursuit game is
a quick quiz game to play
The Harry Potter Hogwarts Battle Deck Building Game is complicated but fun – especially for older kids
---
Make sure you are following along…
SUBSCRIBE TO KITCHEN COUNTER CHRONICLES TO HAVE OUR DELICIOUS RECIPES, FUN CRAFTS & ACTIVITIES DELIVERED DIRECTLY TO YOUR INBOX.
FOLLOW KITCHEN COUNTER CHRONICLES ON