If you came here looking for a pre-made 12 Day of Cookies Advent Calendar then I'm sorry, but you've come to the wrong place. If you have come here looking for a fun Christmas cookie advent calendar, a bake-your-own 12 Days of Christmas Cookies Advent calendar, I've got you covered!
Baking and Christmas are deeply tied together in my family. I remember baking sugar cookies with my mom. Our decorating was a little sloppy (I was a kid), but we would listen to Christmas music and laugh our way around the kitchen. Now that I'm the mom I've tried to keep the tradition going with my own girls. And, now that they are older it is the greatest feeling when they ask if they can bake the Christmas cookies.
12 Days of Cookies Advent Calendar
Making memories is what this 12 days of cookies advent calendar is all about. I'm sharing 12 of my favourite Christmas cookie recipes in one spot (plus 2 bonus Christmas cookie recipes). Some of these recipes are more challenging than others…but they all are totally doable and delicious.
I've created a super cute, printable 12 days of Christmas cookies countdown. So, go ahead and print off the calendar and cross off the cookies as you bake each batch. There is no real start or end date. Feel free to start at the end of December and see how many you can complete by the new year. Whatever works with your family's schedule.
My hope is that by the end of the 12 days you will have made a whole pile of new baking memories, you'll have plenty of cookies to share with Santa and your friends and family too! So, let's get baking.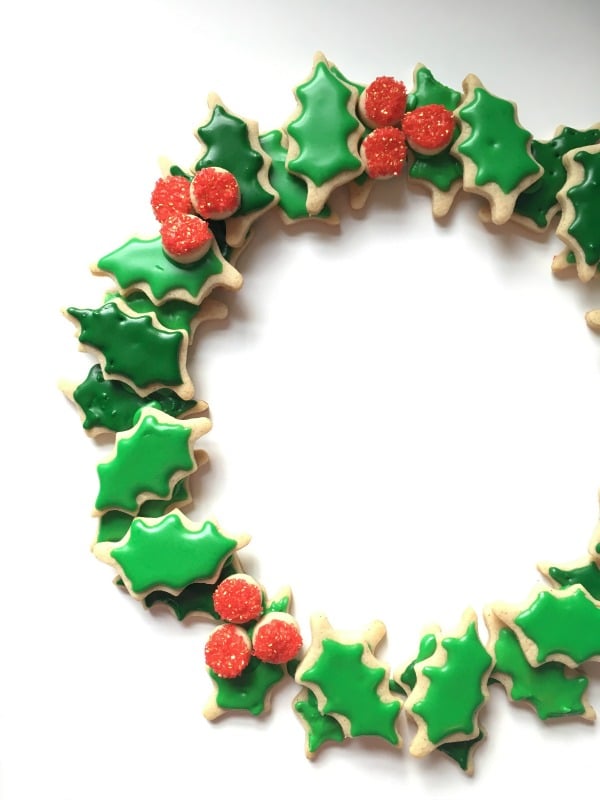 Sugar Cookie Christmas Wreath – First up is our sugar cookie wreath. This one is a total show stopper. By the time you bake, decorate and assemble this one you won't even want to eat this beautiful wreath. It makes an amazing treat to bring to a holiday party.
Hot Chocolate Cookies with Marshmallow Frosting – Next up is a cookie that pairs oh so beautifully with a cup of hot chocolate (or tea). These chocolate cookies are rich and balance well with the sweet icing. Fun to make and fun to eat too.
Pinwheel Christmas Cookies – Here's a slightly more challenging cookie recipe. It's actually not so hard to make, it just looks like it will be. Once you get things rolling, you'll be just fine. And, they look amazing!
Cranberry Orange Shortbread Cookies – I love this classic combination of Christmas flavours – orange and cranberry. Our shortbread cookies are melt in your mouth fantastic. Did I mention they have an amazing orange glaze on top!?
Gingerbread Santa's Sleigh and Reindeer Garland – Okay, who's ready for a fun cookie creation? Yep, we are turning gingerbread reindeer into a beautiful garland. A perfectly lovely gift to share or hang on your fireplace mantle.
Lemon Chamomile Shortbread Cookies – This cookie is an absolute must for tea lovers out there. A mug of tea and a few of these lemon chamomile cookies makes an amazing gift. The best part, you can use the chamomile you grew in your garden.
Raspberry Sandwich Cookies – Okay, technically I originally shared these as a Valentine's Day recipe, but they are equally perfect for the holiday season. Packed with the secret ingredient…love…and raspberries!
Holiday Shortbread Cookies – Here is a fantastic recipe for shortbread cookies with super fun and colourful coating of sprinkles. Yep, make sure you have a BIG bowl of sprinkle goodness for this one.
Oatmeal Cranberry Cookies – Sometimes you just want a good oatmeal cookie with a holiday twist. Enter the oatmeal and cranberry cookies. Crispy, chewy and everything you want from a Christmas cookie.
Glittery Ginger Cookies – I've been making these glittery ginger cookies for years. They're a critical part of our Christmas baking traditions. The crunchy and glitter turbinado sugar is the absolute best flavour pop!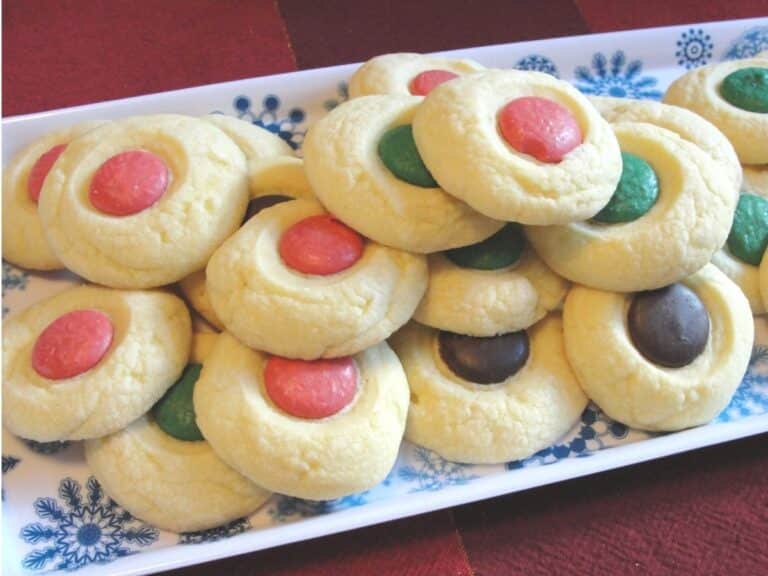 Holiday Shortbread Chocolate Button Cookies – I love a good pop of chocolate in my cookies. These chocolate button shortbread cookies are the perfect classroom party treat, trust me – I've made them for many, many classroom parties.
Gingerbread Folks Who Don't Want to Be Dunked – Lol! These cookies make me laugh. A fun twist on the traditional gingerbread man cookie. With a few cuts, you can create something quite comical.
Christmas Cookie Pops – Okay, maybe this is 13 Days of Cookies…whatever. We loved baking and decorating these sugar cookie pops and had to add them to the Christmas cookie list!
Bonus Christmas Cookie Recipes- Animals like Christmas cookies too!
Festive Apple and Cheddar Dog Cookies – Okay, I couldn't leave out our four-footed friends. If you don't have a pup at home, I know there must be a dog in your life who would devour these totally dog-friendly and do-approved Christmas tree cookies. So much fun!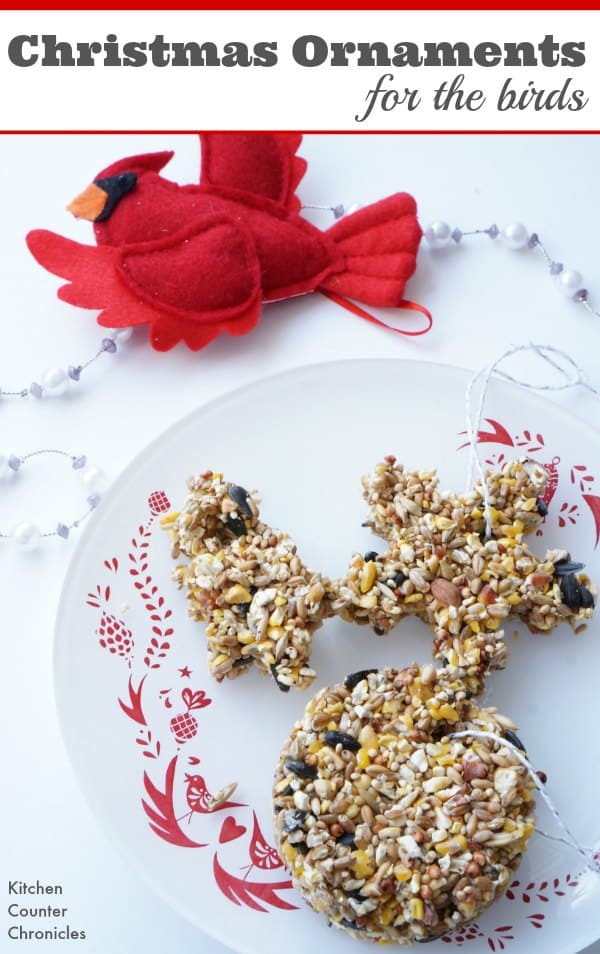 Birdseed Cookies – And, while we are taking care of the dogs, what about the birds? Yep, these birdseed bird feeders are made using festive cookie cutters. A nice way to spread the holiday love with all creatures great and small.
Each recipe includes everything you need to know to make the cookies – full recipes, supplies needed and how to make the cookies. Have fun baking your way through the holiday season. Be sure to keep a few cookies aside for the fella in the red suit.
---
More Christmas Advent Ideas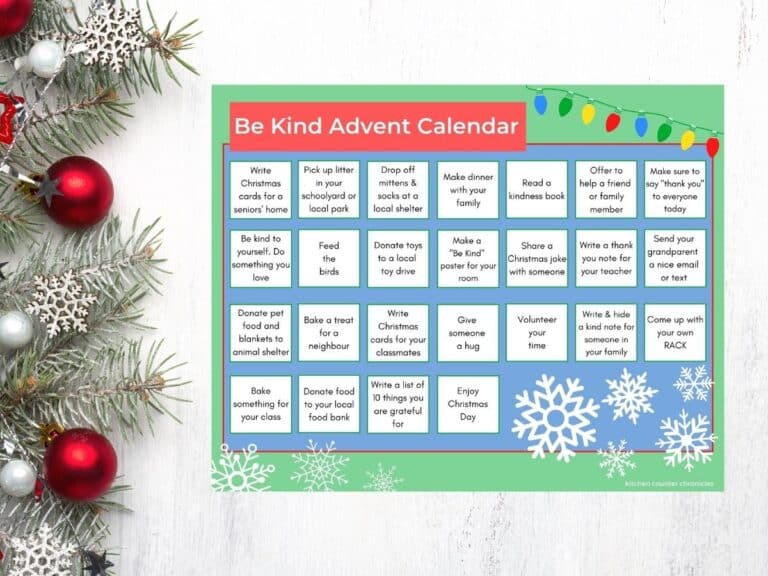 Share your gratitude with our Be Kind Advent Calendar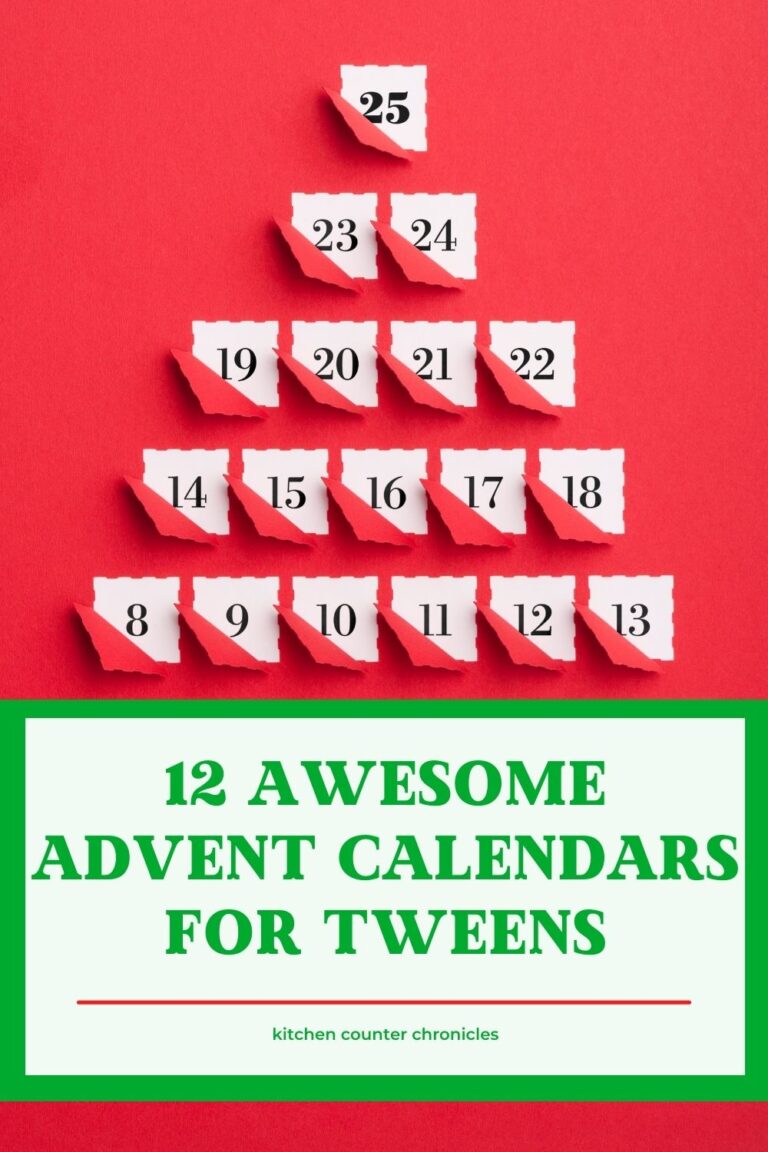 Looking for fun advent filler ideas for tweens? We've got all kinds of ideas
---
Make sure you are following along…
SUBSCRIBE TO KITCHEN COUNTER CHRONICLES TO HAVE OUR DELICIOUS RECIPES, FUN CRAFTS & ACTIVITIES DELIVERED DIRECTLY TO YOUR INBOX.
FOLLOW KITCHEN COUNTER CHRONICLES ON