I know, everyone thinks they have THE BEST shortbread cookie recipe. Well, this recipe happens to the BEST according to my family…which means something, right? These cookies are light, crispy and so absolutely simple to make. I suppose that is why we all love baking shortbread, isn't it. What other cookie only requires 3 ingredients and bakes beautifully? In the past we have experimented with lemon and chamomile shortbread cookies, today I'm sharing a basic shortbread cookie recipe – prettied up for the holidays. A perfectly lovely cookie to bake with the kids.
The Best Holiday Shortbread Cookies
1 cup unsalted butter, room temperature
1/2 cup icing sugar (powdered sugar)
1/4 tsp salt
2 cups all purpose flour
1/2 cup festive sprinkles
1. Cream together butter and sugar in a medium bowl.
2. Stir in the flour and salt. The dough will seem quite dry, keep on stirring. Eventually the dough will form into a ball…keep stirring. At this point dough can be wrapped in plastic wrap and refrigerated until you are ready to bake the cookies – approximately 24 hours in the fridge.
3. Roll out the dough, on a lightly floured surface…actually use powdered sugar for dusting as adding more flour may toughen the cookies. Roll them out to 1/4″ thickness.
4. Use a small glass or a round cookie cutter (about 2″ diameter) to form cookies.
5. Place sprinkles in a shallow bowl or on a plate. Take each raw cookie and press one side into the sprinkles…be sure to press firmly so the sprinkles really stick.
5. Bake on parchment paper lined baking sheet, in 350°F oven for 15-18 minutes, until edges are lightly golden.
6. Transfer cookies onto a wire rack to cool completely.
These cookies are so festive and bright, plus they are melt in your mouth perfection. Wrap up a few to give to friends and family as a gift…assuming you don't eat them all first. They also make a lovely nut free, simple treat to bake for classroom parties.
Are you looking for more delicious shortbread recipes? Head on over to the Gay Lea Website where you'll find plenty of amazing holiday inspiration.
Disclosure: I am part of the Gay Lea Ambassador Campaign with Mom Central Canada and I receive special perks as part of my affiliation with this group. The opinions on this blog are my own.
---
Related Posts
Flaky lemon chamomile shortbread cookies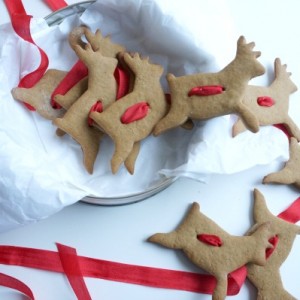 Bake a Santa sleigh garland with the kids
---
BE SURE TO SUBSCRIBE TO KITCHEN COUNTER CHRONICLES TO HAVE OUR DELICIOUS RECIPES, FUN CRAFTS & ACTIVITIES DELIVERED DIRECTLY TO YOUR INBOX.
---