Birds celebrate Christmas. I'm sure of it. Well, I'm almost sure of it.
I've read many a Children's books and it seems to me that most of the books include some sort of Christmas celebration taking place in a forest. Animals celebrating the holidays…snowy trees…dancing…festive scarves and hats…Christmas lights…animals. That's all the proof I need to make these sweet (and tasty – for birds) birdseed Christmas ornaments. These "cookies" are part of our 12 days of cookies Christmas advent calendar – be sure to check out all the recipes.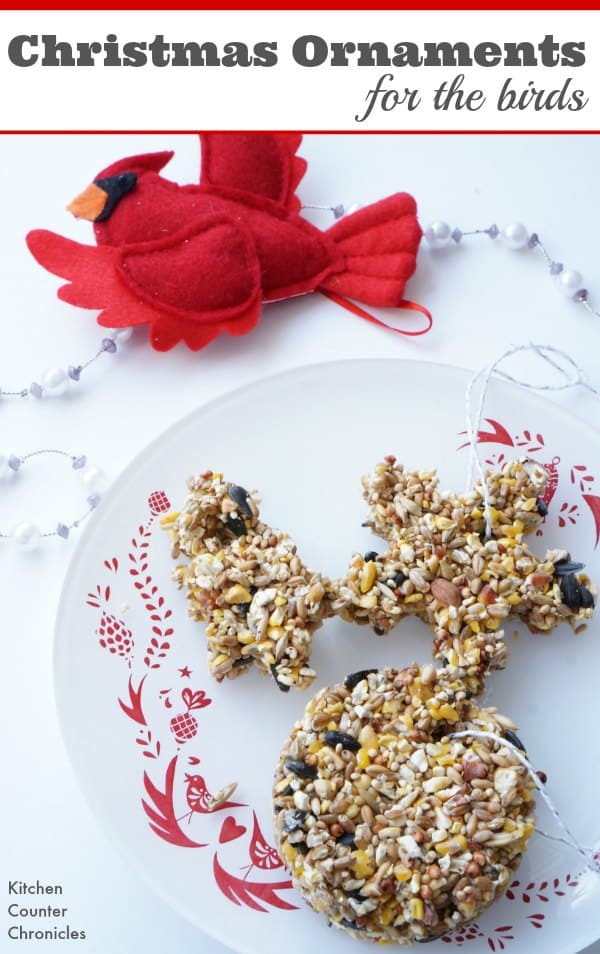 A few years ago we purchased a live Christmas tree, that we then planted in our front yard. In 20 years I imagine it is going to be a GIGANTIC tree, turning our tiny city front lawn into a delightful forest scene. For now, our little outdoor Christmas tree is the perfect spot for our birdseed Christmas ornaments. In the past, we have hung out popcorn strands, during the spring we've hung nesting supplies for busy nest-building birds and in the winter we have hung many different versions of bird feeders. Yep, we love helping out the little birds who choose to remain in our cold city during the winter months.
This Christmas we decided to help our little buddies ring in the holidays with an ornament-laden tree…picture book perfect.
Bird Seed Christmas Ornaments
2 cups water
2 packets gelatine
3 to 4 cups birdseed…make sure it is wild bird seed and appropriate for birds where you live
Christmas cookie cutters
string
parchment paper
skewer
Prepare your cookie cutters for filling. Place the cookie cutters on a parchment-lined baking sheet. This amount of birdseed will make at least 12 cookies (depending on the size of your cookie cutters).
Begin by bringing the water to a simmer in a pot on the stove. Stir in the gelatine until it dissolves.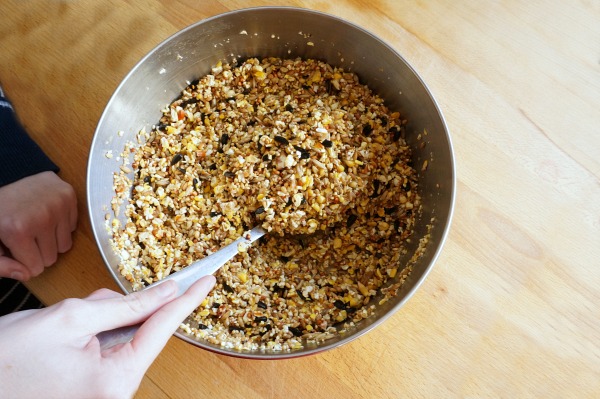 Pour the gelatine into a large bowl with the birdseed. Depending on the mix of your birdseed you may need more seed to soak up all the liquid. We needed close to 4 cups of birdseed. Keep adding and stirring the birdseed until all the liquid has been absorbed.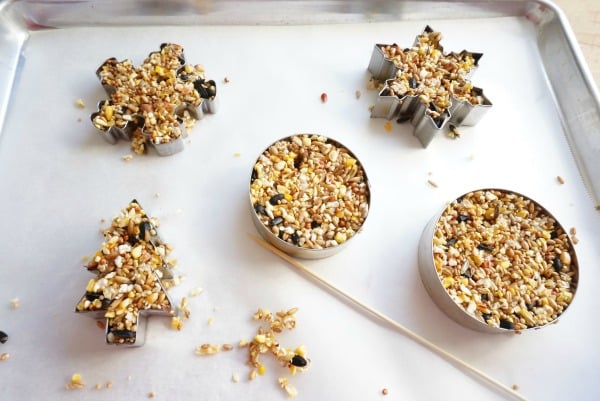 Use a spoon to scoop the wet birdseed into the cookie cutters. Use the back of the spoon to gently, but firmly, press the seed into the cookie cutter.
Once the cookie cutters are full of seed, use a toothpick or skewer to poke a hole in the seed. This hole is where you will feed the ribbon to hang the ornament. DON'T FORGET THIS STEP.
Now comes the part that requires patience. Let the cookies air-dry overnight. You can flip the cookies over after a few hours. They need a good 8-12 hours to become totally firm.
Gently push the birdseed ornaments out of the cookie cutters. They should slide out pretty easily. Learn from us…our beautiful pointy snowflake didn't really work out. The birdseed didn't properly take shape in the pointy parts. Our rounded-end snowflakes worked out beautifully. As did our Christmas trees. In other words, pointy ornaments are a challenge for the birdseed.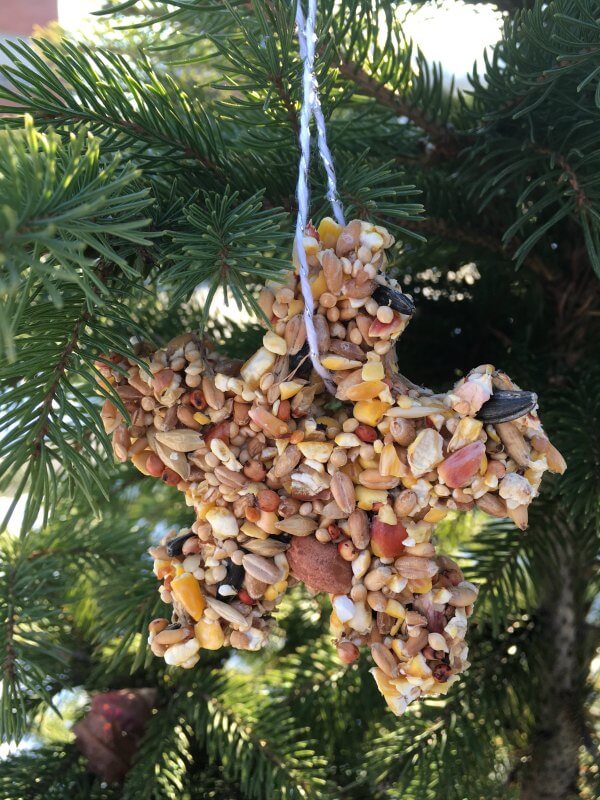 Once our ornaments were popped out it was time to feed the string through and hang the ornaments in the tree.
---
Related Posts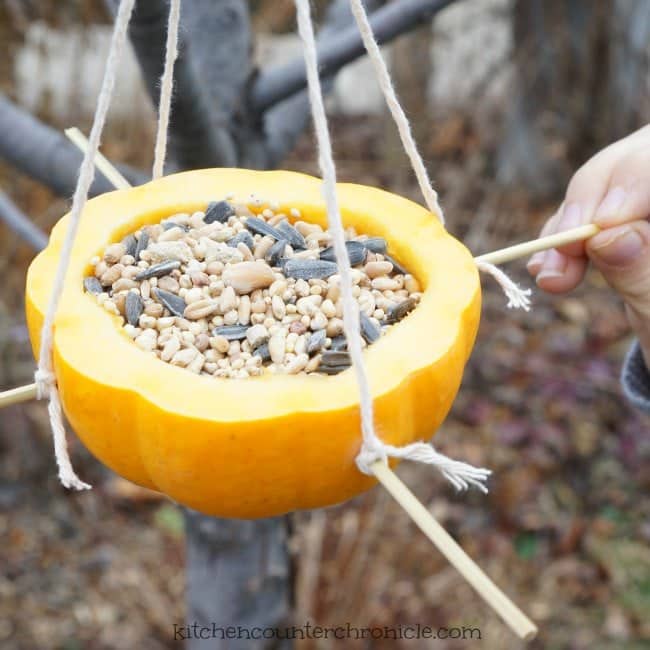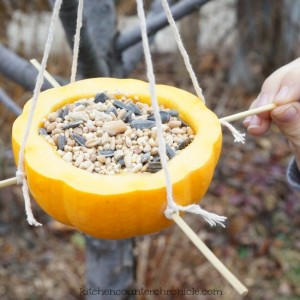 Use a gourd (or mini-pumpkin) to make a bird feeder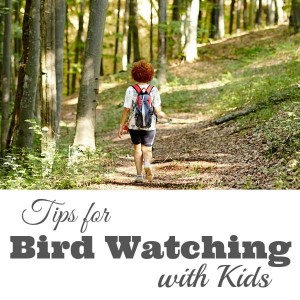 Take the kids birdwatching with these tips
---
Make sure you are following along…
SUBSCRIBE TO KITCHEN COUNTER CHRONICLES TO HAVE OUR DELICIOUS RECIPES, FUN CRAFTS & ACTIVITIES DELIVERED DIRECTLY TO YOUR INBOX.
FOLLOW KITCHEN COUNTER CHRONICLES ON