Every winter we like to find ways to feed the birds who live in our neighbourhood. In the past we have made garlands of treats, we have turned dried gourds into bird feeders and we even shared how to make birdseed ornaments. This year I had a pile of little pumpkins and gourds leftover from Thanksgiving and thought they would make perfect homemade gourd bird feeders.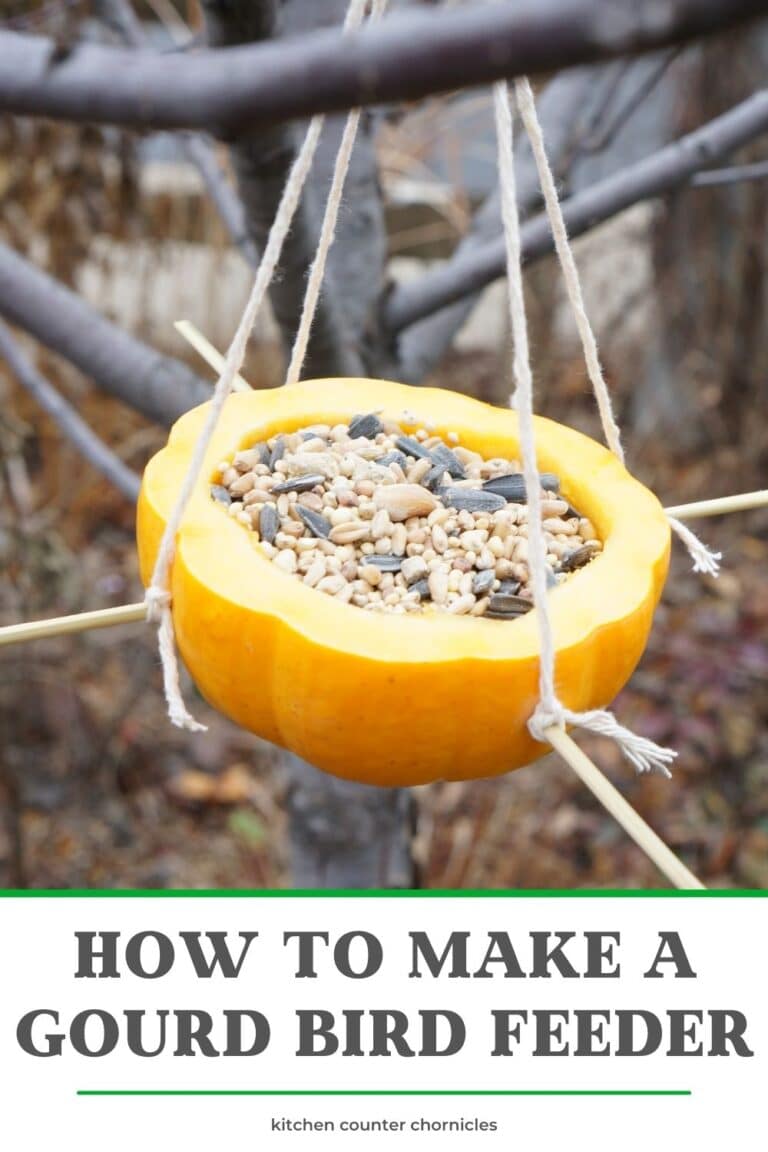 Disclosure: There are Amazon Affiliate links in this article which means, at no additional cost to you, we could receive compensation for our recommendations. You can read our full disclosure policy on our Disclosure Page for more details.
We've shared unique gourd crafts in the past, and I knew this would be another cool gourd craft. Making little bird feeders in the fall is very helpful for birds in the city. It can be very difficult for small birds to find food when the ground is frozen and the trees are bare.
How to Make Gourd Bird Feeder
You will need
gourds and little pumpkins
pumpkin carving knife
spoon
2 wooden skewers for each bird feeder
kitchen twine
First, we sliced the gourds in half…revealing the seeds and flesh inside.
Next, we hollowed out the pumpkins with a spoon. My daughter did all the cleaning.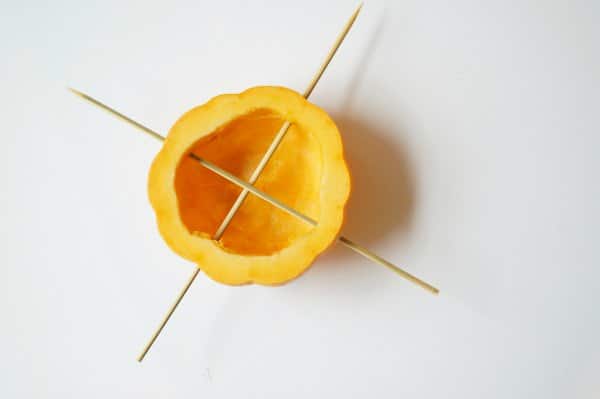 Once the little pumpkins were cleaned we carefully poked long wooden skewers into the pumpkin. We typically use these skewers for fruit kabobs, but we thought they would make perfect little perches for birds. We used 2 skewers and crossed them through the pumpkin.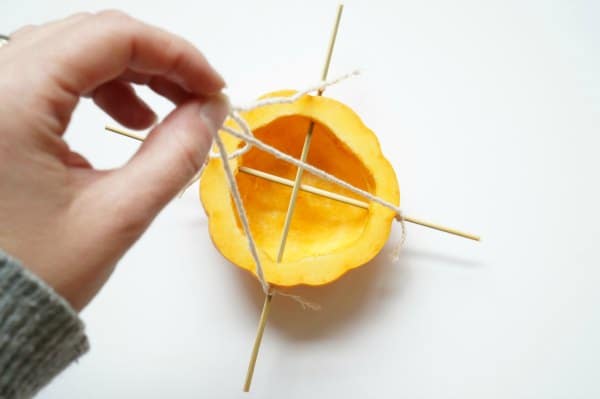 We then tied the kitchen twine to the skewers. Crossing the twine from one side to the opposite side. We made sure to keep the twine long enough that the feeder could hang on a branch and a bird could fit on the feeder.
Once the feeders were built we filled them up with birdseed. Be sure to use birdseed that is appropriate for birds that live in your area. Using birdseed for indoor birds will not help your outdoor birds. Different birds have different beaks and different dietary needs.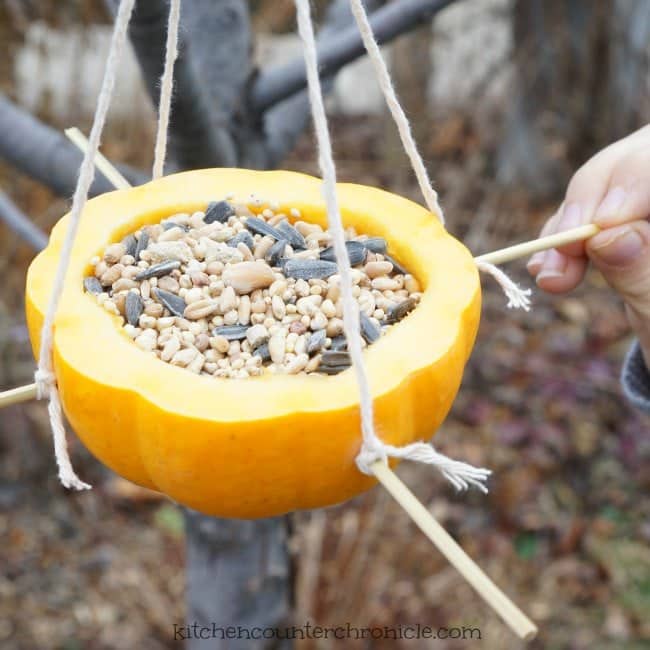 Finally, we went outside and hung up our gourd feeders. We chose two locations, one was hung in our pine tree and the other was hung in our crab apple tree.
Funnily enough, after about a week I suggested that the girls go out and fill up the feeders. To their surprise, the feeders were GONE! After a little hunting, they found the feeders had been carried from our front yard to the back yard. Clearly, a squirrel had thought that the gourds were pretty tasty. We found the feeder on TOP of our FENCE! With little nibbles in it.
To be honest, we are perfectly fine with that. As long as we are feeding the animals in our neighbourhood we are fine. In fact, we have a couple more pumpkins and we will be making more feeders for the birds and the squirrels.

---
Check out the other bird feeder we have made…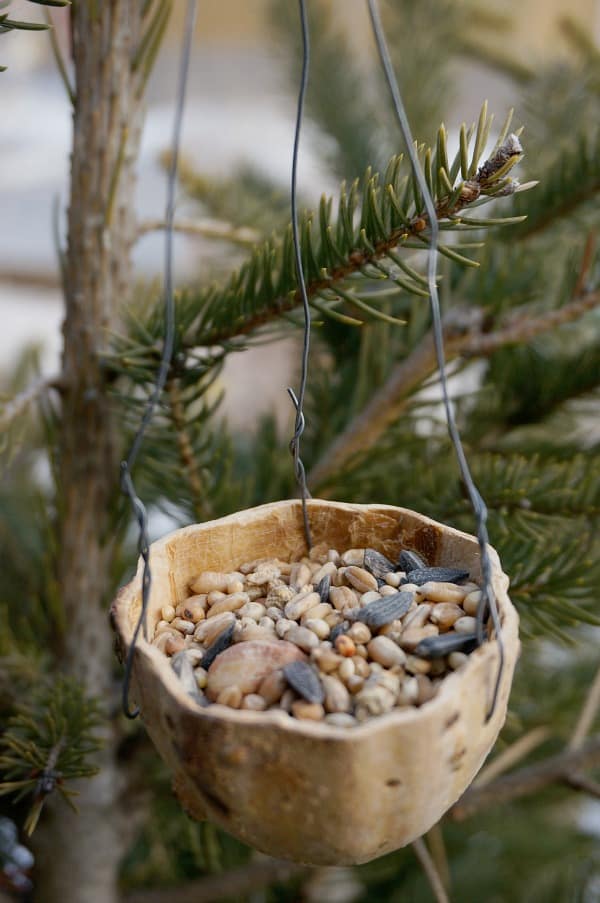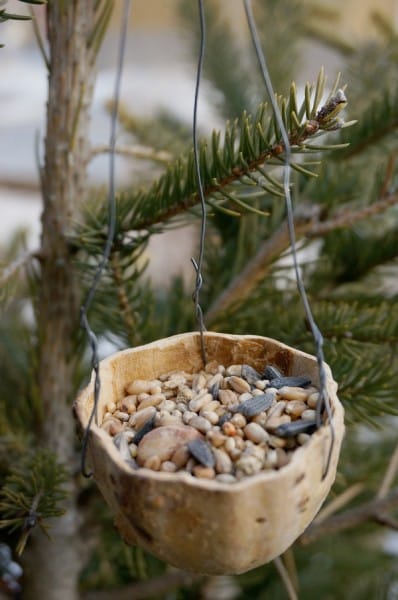 How to dry a decorative gourd and turn it into a bird feeder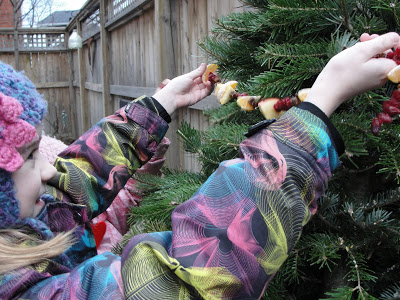 Make and hang a fruit garland for the birds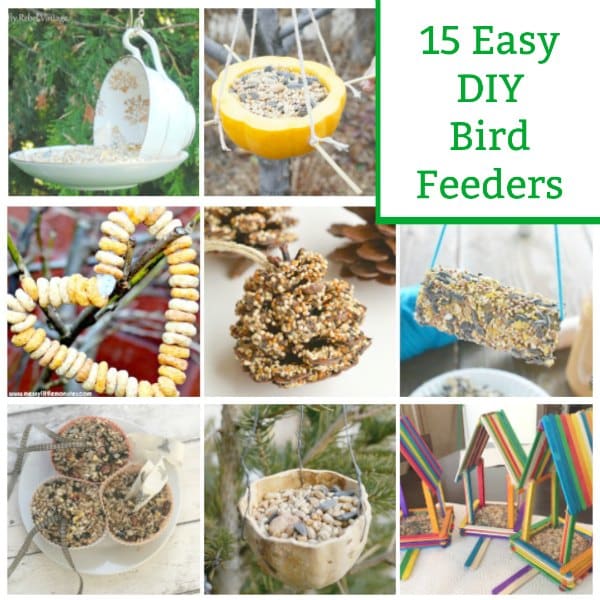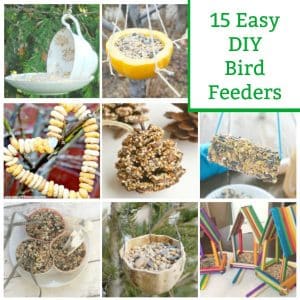 Be sure to check out our collection of simple bird feeders to make at home
---
Make sure you are following along…
SUBSCRIBE TO KITCHEN COUNTER CHRONICLES TO HAVE OUR DELICIOUS RECIPES, FUN CRAFTS & ACTIVITIES DELIVERED DIRECTLY TO YOUR INBOX.
FOLLOW KITCHEN COUNTER CHRONICLES ON