For a couple of years now I have been wanting to make a bird feeder out of a gourd. My best friend gave me a large gourd bird feeder for my birthday a few years ago. We have made many different homemade bird feeders over the years. But, ever since I received that gourd bird feeder I have been wondering if we could do the same thing, on a smaller scale. We have made a number of crafts with gourds in the past.
Disclosure: There are Amazon Affiliate links in this article which means, at no additional cost to you, we could receive compensation for our recommendations. You can read our full disclosure policy on our Disclosure Page for more details.
So, last fall when we were putting away the fall decorations I kept aside all of our little gourds. I kept 4 gourds and in the end 3 of the gourds could not be used because they became soft and mouldy. However, 2 of the gourds dried nicely and were perfect candidates for turning into bird feeders. Our next step was to figure out how to make a gourd bird feeder.
How to Make a Dried Gourd Bird Feeder
You will need
gourds
serrated knife (bread knife)
craft wire
drill and 1/16″ small drill bit
The first step is allowing the gourd to dry. Place the gourd in a dry spot and after a month give it a shake. When the gourd feels light and you can hear the seeds rattling around inside, the gourd is full dried. It might take a few months. Dried gourd crafts need a whole lot of patience.
How to hollow out a gourd?
Next, I used a serrated knife to cut the gourd in half. Once the gourd was cut in half, we could see that the inside was hollow…the seeds were perfectly dried. Seriously, it was pretty cool to see.
We cleaned out the seeds and used a fine drill bit to make the holes we would use for hanging the bird feeder. I positioned 3 holes evenly spaced around the gourd.
Then I fed 3 pieces of thin wire through each hole. I simply twisted the wire to fasten it to the gourd. Once the wires were attached to the gourd, I brought all the wires together and created the hanger.
Finally, we filled the hollowed out gourd with bird seed and hung the bird feeders up in our little pine tree. The birds can sit on the edge of the gourd to eat the seeds.
Now we wait to see who will enjoy our little bird feeders. Yes, this project took some patience and some work with some tools…but in the end we created something really useful.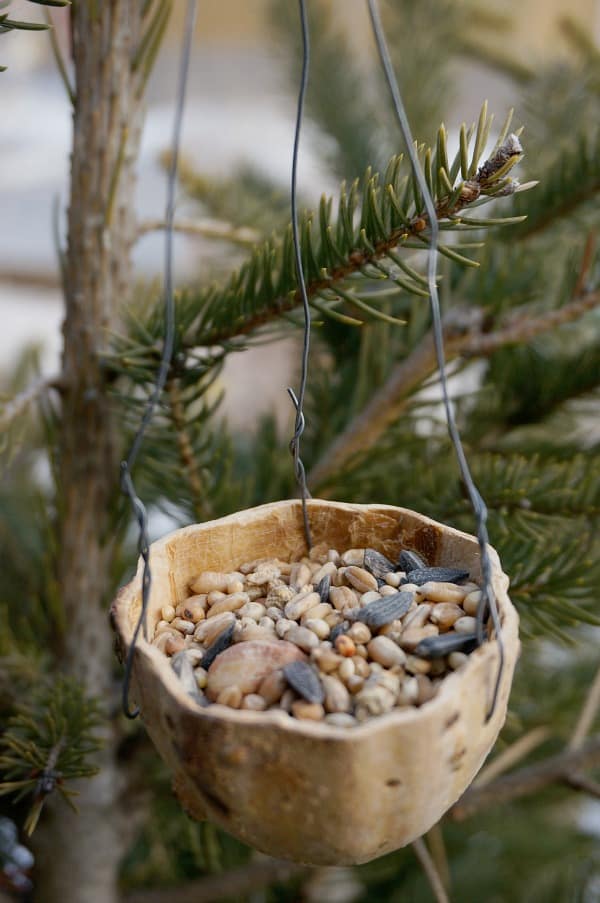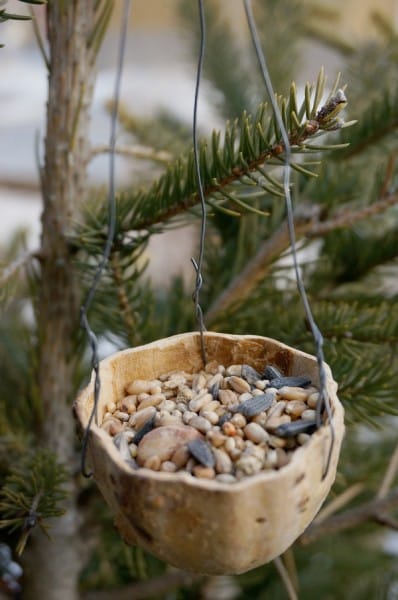 Be sure that you select bird seed that is best for the birds where you live. You can find outdoor bird seed at bulk food stores, hardware stores and at some pet food stores. Keep an eye on your bird feeder – you're going to want to keep it filled all winter long.
---
Check out these other fun winter outdoor play activities for kids…

Little Wonders Days shared great winter activities when there isn't any snow around.
Rain or Shine Mama gives plenty of great tips for getting kids outside, even on the coldest days.
Go fossil hunting with Kids in the Garden.
---
Related Posts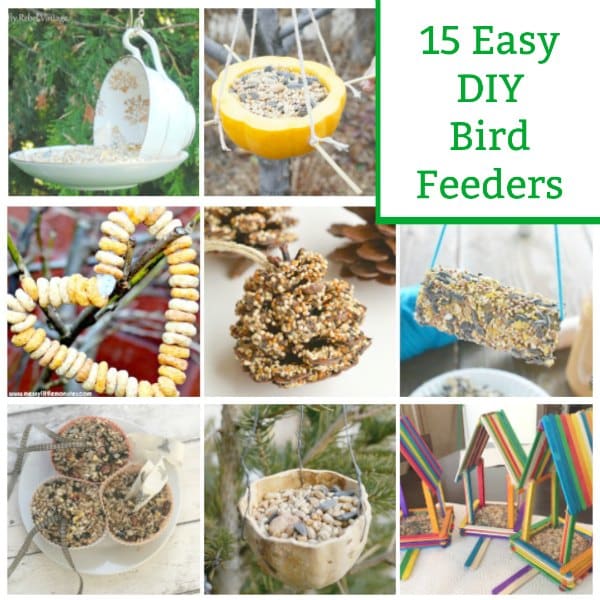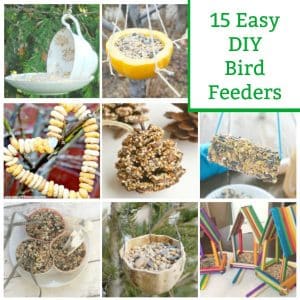 Check out our fun collection of simple bird feeders to make at home
---
Make sure you are following along…
SUBSCRIBE TO KITCHEN COUNTER CHRONICLES TO HAVE OUR DELICIOUS RECIPES, FUN CRAFTS & ACTIVITIES DELIVERED DIRECTLY TO YOUR INBOX.
FOLLOW KITCHEN COUNTER CHRONICLES ON