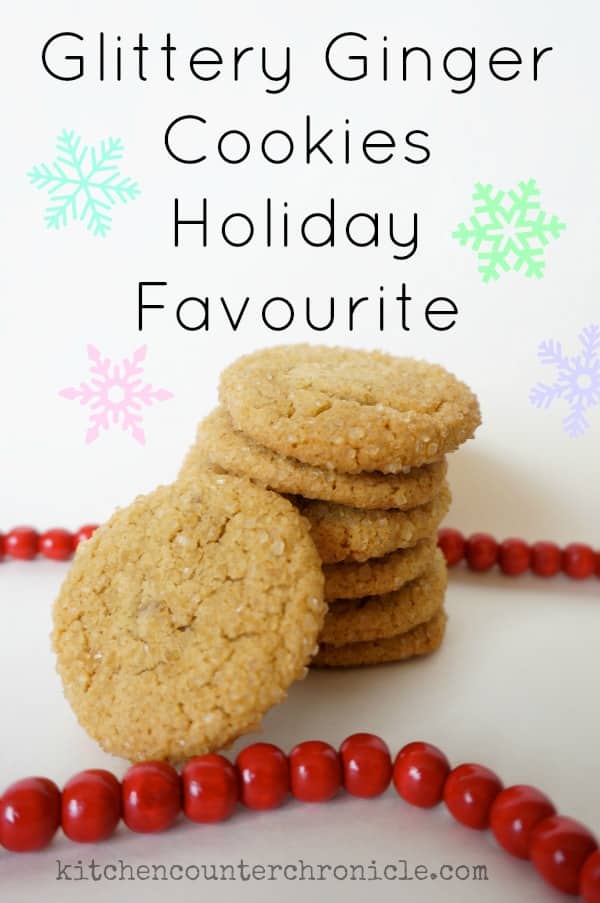 Every year a group of amazing women in my life come together for a day of holiday baking. We spend the entire day in the kitchen mixing, measuring and baking up holiday cookies. We share recipes and a lot of laughs. Over the years our families have grown. In fact, I'm now the one with the "old" kids…while others in the group have new babes. All the chatter and catching up is lovely, but in reality we are all there for the COOKIES. For the last couple of years I have been baking this simple, yet very successful recipe for glittering ginger cookies.
Glittering Ginger Cookies
yield 70 cookies…depending on how large you make them
(adapted from Canadian Living)
3/4 cup unsalted, room temperature butter
1 cup granulated sugar
1 large egg
1/4 cup light cane syrup…I use Lyle's Golden Syrup, found at shops that carry British import products and some grocery stores
1/4 cup finely chopped crystallized ginger…found in bulk food store
2 cups all-purpose flour
1tsp baking soda
1 tsp cinnamon
1 tbsp ground ginger
1/4 tsp ground cloves
1/4 tsp alspice
1/2 tsp salt
1/2 cup turbinado sugar…found in the bulk food store
1. Cream together butter and granulated sugar in a large bowl of an electric mixer.
2. Mix in egg and syrup, until combined.
3. Stir in crystallized ginger.
4. In a medium bowl, whisk together flour, baking soda, cinnamon, ginger, cloves allspice and salt.
5. Add flour mixture to wet ingredients 1/2 cup at a time…until dough forms.
6. Wrap dough and refridgerate for at least 2 hours…it can be frozen for up to 1 week..simple defrost in the fridge for an hour before using.
7. Pour turbinado sugar in a shallow bowl, or on a plate. Roll 1 tsp scoop of dough into a small bowl and then roll in the sugar, until completely coated.

8. Place cookie balls onto a parchment lined baking sheet, spaced about 1″ apart…they do flatten and spread while baking.

9. Bake in a 350F oven until edges are golden brown…about 12-14 minutes.
My daughters claim these are the best ginger cookies because they are soft and a little spicy. They are perfect for dipping into a cup of hot chocolate or leaving out for Santa Claus. This year we made our a little bit larger and ended up with about 48 cookies. Once the cookies are baked, wrap them and pop them in the freezer for 2-3 weeks. Just pull them out and let them come up to room temperature before offering them to your guest. I like to think putting my cookies in the freezer will deter me from sneaking a bite…but it really doesn't. Who can resist a freezer full of cookies baked with love by my friends and family? Happy holiday baking everyone!
Disclosure: I am part of the Life Made Delicious Blogger program and I receive special perks as part of my affiliation with this group. The opinions on this blog are my own.