The holiday season is a wonderful time to connect to gratitude and kindness – 25 items to include in your kindness advent calendar for kids. I love the idea of squeezing more kindness into the holiday season. Finding little and big ways to spread kindness is a great habit to start in kids, so why not start during the festive season!
Disclosure: There are Amazon Affiliate links in this article which means, at no additional cost to you, we could receive compensation for our recommendations. You can read our full disclosure policy on our Disclosure Page for more details.
I've created a printable kindness advent calendar for you to print and follow along with all December long. There are 25 acts of kindness. Some are simple and some are more complicated and need some more planning. Each act is meant to bring kindness to others in your family and community and even to yourself. After all, spreading kindness has this amazing way of making everyone feel warm and cared for.
Be Kind Advent Calendar Ideas
Don't think that you need to stick to the order I've created. Feel free to change things up, if an idea fits another day better than switch up the order of the activities. This is just a guide, a place to begin. I also wanted to expand on some of the ideas on the be kind advent calendar. Give you a little more guidance, if you like.
We printed our calendar on heavier card stock and have popped it into a simple frame. We've hung it in the kitchen and will use a whiteboard marker to cross off each act of kindness we complete.
For your "read a kindness book" day, I'm sharing a few of my absolute favourite books about kindness for kids. These titles are fantastic and you can totally pick them up at your local library!
Kindness is My Superpower by Alicia Ortego – A book is a great addition to any child's library and is the perfect fit for our kindness calendar. In this book, we learn how even if we make a mistake and are unkind, we can turn things around and be kind!
The Kindness Book by Todd Parr – I love a Todd Parr book. Yet again Parr using simple images to get across a big message – that potential acts of kindness are all around us!
Tomorrow I'll be Kind by Jessica Hesche – This book touches on all kinds of wonderful ways we can be thoughtful, gentle, honest, kind and more. Beautiful images and simple text make this engaging for young readers.
For our "feed the birds" day, why not make our cookie cutter bird feeders. I've shared the recipe and a step-by-step tutorial for making these birdseed bird feeders that you can hang up in your yard or around your neighbourhood.
When it comes to making donations to your local shelter, animal shelter or food bank be sure to head to the organizations' websites to find out what they are most in need of. Set your budget and pick up whatever you can. Every contribution is appreciated. Homeless shelters are always in need of socks and gloves or mittens. And, baby food is a great item to donate to food banks. Old blankets make a great contribution to your local animal shelter. There are ways to donate that are inexpensive.
Volunteering your time might seem overwhelming – where will you volunteer. Check your local newspaper and see if there are holiday volunteer opportunities for families. We volunteer at our local food bank every December. They need extra hands at this time of the year. Maybe you could volunteer at your school, or just lend a hand to a neighbour in need. This is simply about giving a little time to others.
I've included a day for your to come up with your own RACK – Random Act of Christmas Kindness. Maybe there is something that you would like to do to spread kindness, that I haven't included in this list. Go for it!
Finally, I love the idea of writing a list of 10 things you are grateful for. From the simplest things (like the sunshine) to the more complicated things (like relationships with our friends and family), it's always good to take stock of everything we have to be grateful for.
Oh, and there's one more way you can spread kindness this holiday season…share this calendar with your friends! Imagine if everyone in our communities took some time to share the love this December. Amazing!!
---
More Advent Calendar Ideas for Kids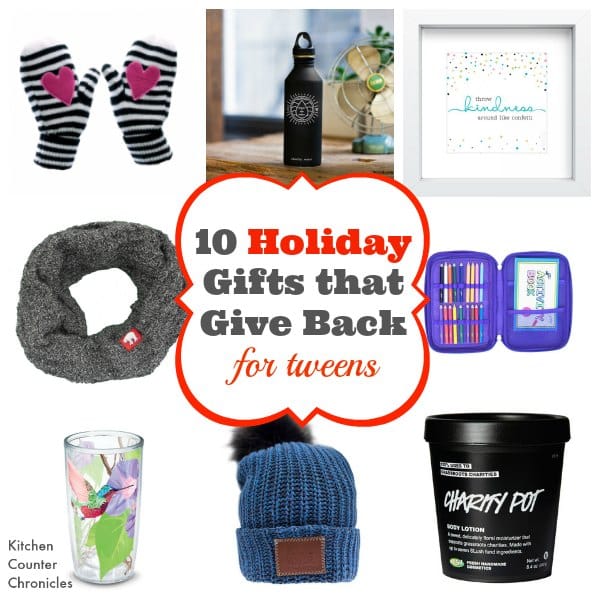 Check out our gifts that give back for tweens
And, we share all kinds of eco-friendly advent calendars and reusable advent calendar filler ideas
---
Make sure you are following along…
SUBSCRIBE TO KITCHEN COUNTER CHRONICLES TO HAVE OUR DELICIOUS RECIPES, FUN CRAFTS & ACTIVITIES DELIVERED DIRECTLY TO YOUR INBOX.
FOLLOW KITCHEN COUNTER CHRONICLES ON