While I am dreaming of a snow covered Christmas morning – I am also dreaming of a green, eco-friendlier Christmas this year. There seems to be a growing awareness of environmental issues – especially in the youth. So, it only makes sense to encourage and seek out eco-friendlier options for the holiday season. We have gathered together a collection of eco-friendly advent calendars to make and to buy, environmentally friendly advent calendar fillers and our own free printable eco-friendly advent calendar activities. Let's get ready to countdown to a greener Christmas together!
Disclosure: There are Amazon Affiliate links in this article which means, at no additional cost to you, we could receive compensation for our recommendations. You can read our full disclosure policy on our Disclosure Page for more details.
We have a wooden advent calendar that we fill and use every single year. Each morning the girls wake up and open the day's door to find 2 chocolates that have been magically placed there for them to enjoy. This year they will also find a ribbon wrapped little slip of paper, with a holiday activity written inside.
Eco-Friendly Advent Calendars
Each of the activities in our eco-friendly advent calendar encourages kids to do something that connects them with their community, nature or their family. These activities are free or low-cost.
Another bonus of using this eco advent calendar is that as the person putting the activities into the calendar, you can determine which day to put each activity on. For instance, it might be best to sleep under the Christmas tree on a Saturday night, not a weeknight.
Or, if you are already planning on visiting Santa on a particular date, place the corresponding paper inside the calendar. I've included a wide variety of ideas…for kids of all ages. Simply click the link to our eco-friendly advent calendar and print it off.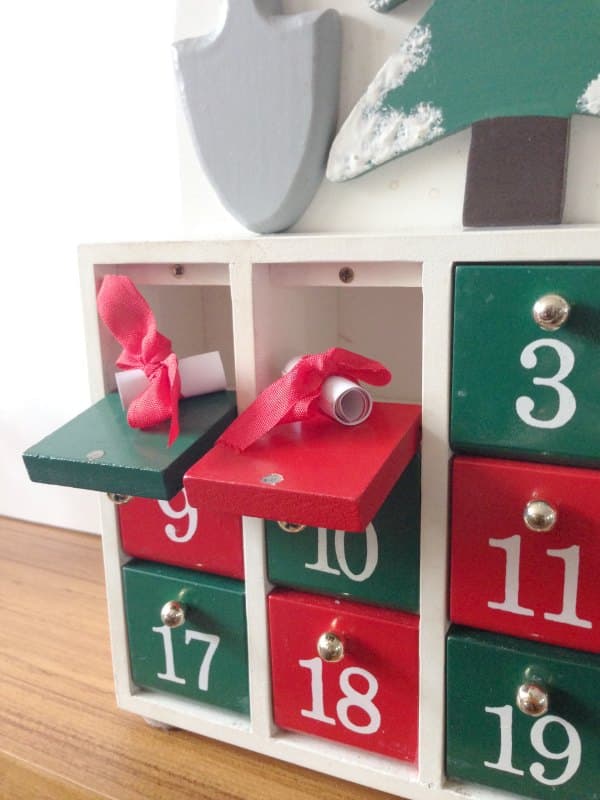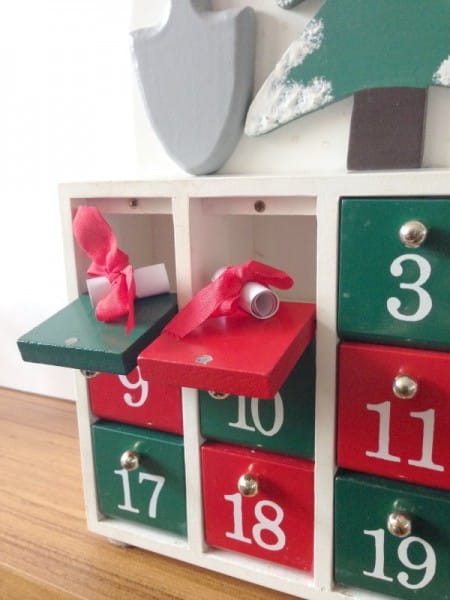 If you are looking for other sustainable advent calendars and eco-friendly advent calendar fillers, we have a few other ideas to share.
DIY Environmentally Friendly Advent Calendars
Here are a couple of our favourite DIY eco-friendly advent calendar ideas…
Craft your own creative toilet paper roll advent calendar from MayaMade.
How lovely is this little refillable box advent calendar from Make Life Lovely
We share how to make a reusable and totally edible Christmas cookie advent calendar
This Christmas book advent calendar from Natural Beach Living, can be made with new or used books
Mama's Kram shares a delightfully festive toilet paper roll reusable calendar
I love this DIY shoe organizer advent calendar from The Pretty Girl's Life, so clever
10+ Eco Friendly Advent Calendar Fillers
Now that you have an eco friendly advent calendar, what will you fill it with? We've got you covered with these fun ideas for eco-friendly advent calendar fillers. First, what makes something an eco-friendly advent filler? Well, we are looking for items that are preferably not made from plastic, the items serve a purpose, they are not instantly disposable and they are inexpensive.
Craft supplies – Fill each day with a different craft supply – paint brushes, paints, crayons, pencil crayons. Ultimately the kids can use the supplies to make Christmas cards or art to share.
Baking supplies – Fill each day with something to use in the kitchen. Think a favourite recipe, cookie cutters and candy sprinkles, a whisk or little scraper. Again, the kids can use these tools to bake cookies.
Our Eco-Friendly Advent Activities – Yep, you knew I had to include our eco-friendly advent calendar in the list!
Printable Christmas Game – We also have a super fun printable set of Christmas would you rather questions that you can include in each day.
Nature Ornaments – Fill each day with the natural supplies to make ornaments. For instance, pine cones, acorns, sticks, cinnamon sticks, ribbon. These supplies from nature can be used to make ornaments for the tree.
Pom Poms – We love pom poms! They can be transformed into so many amazing crafts. Like a garland for the tree or a wreath for the door. Fill the advent calendar with pom poms and get crafting.
Candy/chocolate – You can't beat a calendar that is filled with chocolates. Being able to source your own candy and chocolates means that you can select fair trade chocolates, vegan chocolates or chocolate made at home.
Kindness – Yes! You can fill an advent calendar with kindness. This free printable random acts of kindness calendar is perfect, from Coffee Cups and Crayons.
Lego – Make your own Lego advent calendar – fill each day with a few pieces of Lego that the kids can use to build something festive.
Christmas Play Dough – Make a batch of Christmas themed play dough (from Imagination Tree) and fill the days with homemade play dough and the tools the kids an use to play.
A combination of all of these ideas – Think of all the fun that could be had with an eco advent calendar filled with all of this fun!
Environmentally Friendly Advent Calendars to Buy
Okay, so you don't have time to DIY an advent calendar, but you still want to go with an eco-friendly option. We've gathered together an assortment of fun reusable advent calendars you can purchase and use for years to come.

Little ones will love this wooden advent calendar from Melissa and Doug
The Brubaker advent calendar wooden Christmas book is gorgeous and super easy to store
This beautifully simple white Christmas village advent calendar will fit into any home decor
A gingerbread house advent calendar that is super cute! The kids will love this one
My number one tip for buying the Lego advent calendars is to keep all the pieces with the calendar. Wrap everything back into the calendar after the last door is opened. Pack it up and bring it out again the next year. We've been reusing our LEGO calendar, this will be the fourth year.
Pin this for later…
---
Related Posts
Our annual eco-friendly gift guide for tween and teen girls
A creative collection of eco-friendly Christmas decorations for kids to make
---
Make sure you are following along…
SUBSCRIBE TO KITCHEN COUNTER CHRONICLES TO HAVE OUR DELICIOUS RECIPES, FUN CRAFTS & ACTIVITIES DELIVERED DIRECTLY TO YOUR INBOX.
FOLLOW KITCHEN COUNTER CHRONICLES ON