Today we are kicking off 15 Days of Green Christmas Ideas. While I am dreaming of a snow covered Christmas morning – I am also dreaming of a green, eco-friendlier Christmas this year. To start things off we are sharing 24 eco-friendly advent calendar ideas. Print off these 4 pages and December will be filled with fun and creative ways to get ready for Christmas.
We have a wooden advent calendar that we use every single year. Each morning the girls wake up and open the day's door to find 2 chocolates that have been magically placed there for them to enjoy. This year they will also find a ribbon wrapped little slip of paper, with a holiday activity written inside. The best part is that you can select which day to put each activity on. For instance, it might be best to sleep under the Christmas tree on a Saturday night, not a week night. If you are already planning on visiting Santa on a particular date, place the corresponding paper inside the calendar. I've included a wide variety of ideas…for kids of all ages. Simply click on the link to print green advent calendar ideas 1, green advent calendar ideas 2, green advent calendar ideas 3 and green advent calendar ideas 4. It's that simple.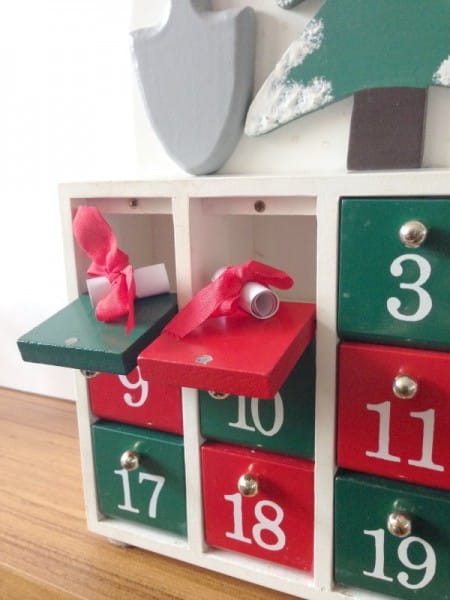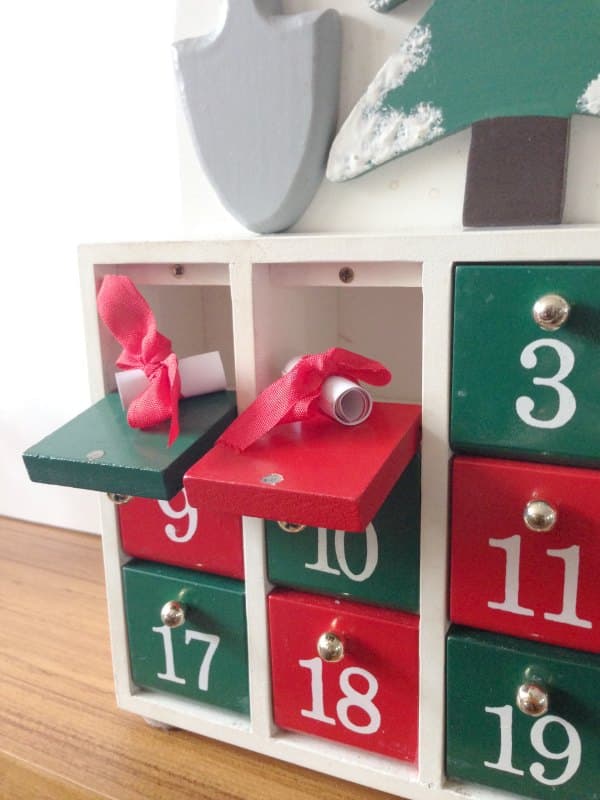 Here are a couple of lovely and simple eco-friendly advent calendar ideas…all you need are some spare toilet paper rolls.
I love this toilet paper advent calendar from Morning Creativity.
Another creative toilet paper roll advent calendar from MayaMade.
Looking for more ways to connect with your family this holiday season?
Be sure to follow along with Kitchen Counter Chronicles on Facebook and Pinterest,
or subscribe to receive our new posts delivered to your inbox every day.