This year is our first official tween Christmas. What does a tween Christmas look like? Well, the Christmas wish list has shifted away from toys and moved over to clothing. As with most things related to parenting a tween, we are learning as we go and hoping for the best. We've made plenty of gift guides for kids over the years and this gift guide filled with eco-friendly gifts for tween girls was a lot of fun to pull together.
Disclosure: There are Amazon Affiliate links in this article which means, at no additional cost to you, we could receive compensation for our recommendations. You can read our full disclosure policy on our Disclosure Page for more details.
It was only a matter of time before my daughter started desiring more mature gifts. The pre-teen and early teen years are the years when children become socially aware. Whether it be a heightened awareness of their own social circles or the greater world around them. This is the perfect time to help children understand the impact their purchases can make.
All of the items on our environmentally friendly gifts for the kids shopping list have a greater social impact and they are fun too. By supporting fair trade, providing funding for education or being environmentally friendly tweens will appreciate the positive social impact of this list.
Eco-Friendly Gifts for Tween Girls
Gardening – If your tween loves being outside and making a difference, then starting a garden is a great idea. I love this super straightforward and informative gardening book. Beginner Gardening is a step-by-step guide to gardening – perfect for budding gardeners (pun intended).
Pela Phone Case – Most tweens have a phone or will be receiving a phone soon. Why not make an eco-positive choice when you purchase the phone case? Pela's phone cases are heralded as the most eco-friendly phone cases around. Durable, plastic free and totally compostable…and they look cool too!
40 Oceans Bracelet – Here's a lovely gift that makes a difference to the state of our oceans. For every 40 Oceans bracelet purchase, a pound of trash is removed from the oceans. Made from recycled materials this is sure to be a favourite piece of jewelry for your eco-conscious kid.
Plan Canada – Every year we gather around the Plan Canada gift guide and decide what we will purchase for others. Giving to others is truly the best gift for tweens who have everything. Why not surprise your tween with a gift of school supplies for a child in a developing country? The school essential kit not only provides textbooks and pencils, but also supports school meal programs and teacher training. There are many gift options available, find one that would be inspiring for your child.
Ten Thousand Villages – I purchase my daughters a new tree ornament every Christmas…how cute is this giraffe doing yoga!? Who knew giraffes can do yoga? We love everything at Ten Thousand Villages, their products are made by artisans living around the world. They provide an opportunity for artisans around the world to sell their wares, through the principles of the World Fair Trade Organization.
Lush – Since 2007 Lush has been giving 100% of the purchase price of their Charity Pots to support humanitarian, environmental and animal rights causes around the globe. The pot is filled with a lovely, lightly scented body lotion that any tween is sure to love.
Organic Tea – My tween is really into tea at the moment. All the tween girls (and moms) seem to be loving tea at the moment. So, if I am going to purchase tea for my daughter – I'm going to look for organic tea. Fortunately, David's Tea has a great assortment of organic teas; blueberry jam, mother's little helper, pure vanilla and many more. David's Tea also carries tea steeping supplies so that you can skip the wasteful disposable tea bags. Because, eco friendly presents can be delicious too!
Recycled Tote Bag – How adorable is this tote bag – made from upcycled materials. Any fashionable tween would love to carry this stylish Creative Leather Art Sel De Mer Upcycled Canvas Tote Bag. They carry various styles and sizes.
Vegan Cook Book – Get your tween cooking in the kitchen…teach a child to cook and you feed them for life. This cookbook is a great place to start for the vegan-curious kid. The Oh She Glows cookbooks are always great for providing clear instructions for delicious food.
Burt's Bees – There are so many great gift sets available from Burt's Bees. These naturally nourishing kits are perfect for tweens who are becoming more aware of their hygiene…thank goodness.
There are so many amazing reasons to seek out environmentally friendly gifts for kids. Take the opportunity to educate your kids about the benefits of being responsible consumers. Are your kids looking for eco friendly gifts? Share your gift ideas in the comments below.
---
Related Posts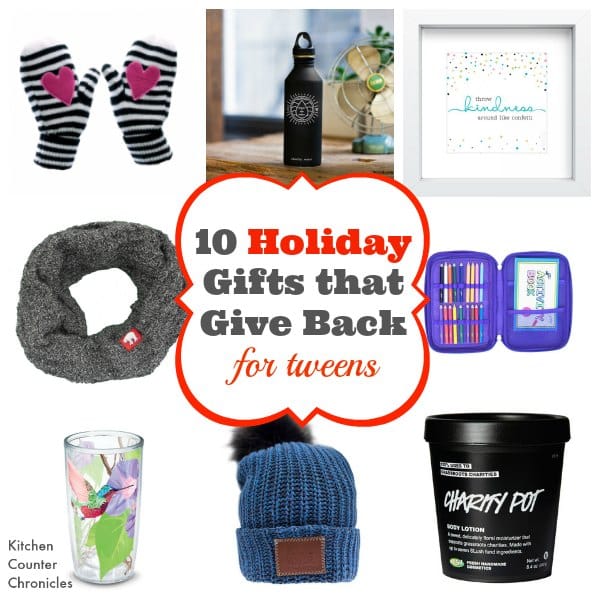 We love these eco-friendly Christmas gifts for tweens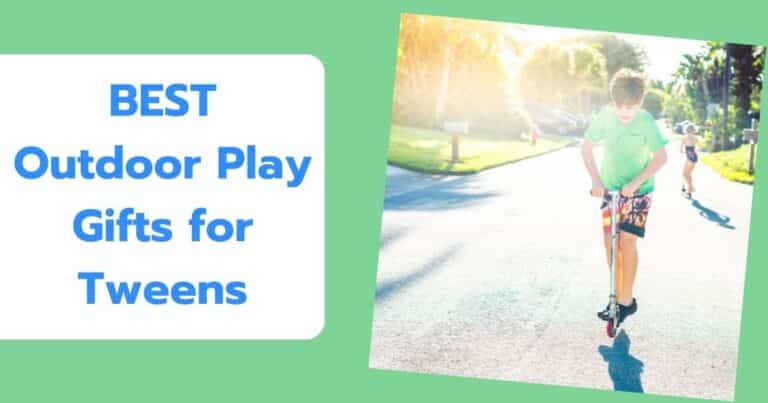 Check out all the cool gifts in our outdoor play gifts for older kids gift guide.
---
Make sure you are following along…
FOLLOW KITCHEN COUNTER CHRONICLES ON
SUBSCRIBE TO KITCHEN COUNTER CHRONICLES TO HAVE OUR DELICIOUS RECIPES, FUN CRAFTS & ACTIVITIES DELIVERED DIRECTLY TO YOUR INBOX.