It's time to show your mama some love. It's time for all the Mother's Day crafts, activities, and recipes! I've pulled all of our best Mother's Day ideas together in one spot. Whether you're a kid looking to make something for your Mom, grandma, or the "Mom" in your life, or you're a Dad looking for things your kids can make – we've got you covered!
In my house, we show our love through the things we do and make for each other. And, those things don't have to be fancy. Nope, I love simple handmade things. Which is why I love Mother's Day. There are so many easy ways to share your love… Moms love anything and everything. Trust me!
All the Best Mother's Day Ideas for Kids
Mother's Day Crafts
We love egg carton flowers. The kids can make an adorable egg carton flower bouquet to share with Mom. This bouquet will last forever and doesn't require any watering…it's possibly the most perfect Mother's Day flower bouquet.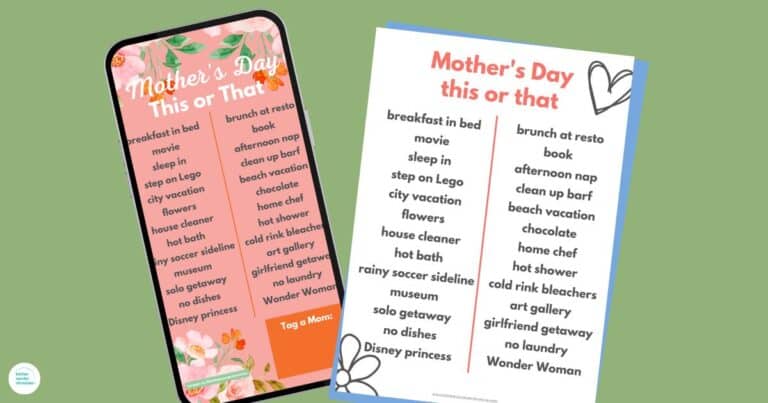 The Moms in your life will have fun answering and sharing our Mother's Day this or that questions. We have a Mother's Day Instagram template and printable so you can share online too!
Here's a fun Mother's Day craft project for tweens to make for mom. Learn how to make mom a cool friendship pin that she can clip to her sneakers and wear with pride.
Mother's Day Activities
Mom will love a new bookmark, especially one of our Mother's Day bookmarks that kids can print, colour, and share. You could even include a new book or magazine too. What book would your mom love to read? I know I love getting a new magazine – inexpensive and full of fun.
Play the sweetest game with Mom on Mother's Day. Inspired by the book, Are You My Mother this animal memory game makes a lovely gift for any mom or grandma. Sit and play a game with the kids on Mother's Day.
Here's another cool Mother's Day craft for the older kids to make. Learn how to make Mother's Day keychains with shrink film and zentangle designs.
Here's a fun Mother's Day activity. Play our game of Mother's Day Would You Rather. All kinds of silly questions for Mom to debate and discuss.
Here's a great Mother's Day gift for older kids to give – our printable Mother's Day coupons. Any Mom would love the gift of time spent with their kid and some help with the laundry would be great too!
Mother's Day Recipes
Planning a Mother's Day breakfast in bed? I've pulled together everything to make this year's Mother's Day breakfast in bed the absolute BEST!
Looking for more breakfast inspiration then be sure to take a look through our collection of easy and healthy breakfast recipes that are totally kid-approved. Easy for kids to make (or help make) for Mom.
I know it's kinda cliche…but I really do love a good wine spritzer. And, this stone fruit rose sangria spritzer is a delight that I'm sure Mom would love any time of the day.
And, if Mom isn't a fan of alcoholic beverages, then why not make one of our amazing iced tea recipes? There is bound to be a combination of flavours that the Mom in your life would enjoy.
---
Getting ready for Father's Day too?! Check out all of our awesome Father's Day ideas too!
---
Make sure you are following along…
FOLLOW KITCHEN COUNTER CHRONICLES ON
SUBSCRIBE TO KITCHEN COUNTER CHRONICLES TO HAVE OUR DELICIOUS RECIPES, FUN CRAFTS & ACTIVITIES DELIVERED DIRECTLY TO YOUR INBOX.