The power of a great story cannot be underestimated. The ability to tell a great story is a teachable skill. We created a collection of simple storytelling prompts for kids that will have you and your children sharing creative stories. We have shared all kinds of fun story writing activities for kids – our summer story writing prompts, fall story writing prompts and more. Why not create a super fun storytelling activity for kids to try.
Disclosure: There are Amazon Affiliate links in this article which means, at no additional cost to you, we could receive compensation for our recommendations. You can read our full disclosure policy on our Disclosure Page for more details.
My daughters have been reading quite a few fairy tale chapter books lately. There is something about fairy tales and fables that is always appealing to children.
When my youngest daughter came across the book "Clemency Pogue, Fairy Killer" by JT Petty and illustrated by Will Davis, I wasn't sure what this book would be about. After reading this intriguing book, I discovered that storytelling plays an important role in the book. The main character is Clemency and her family likes to sit around telling stories. Sharing stories is a wonderful way for the family to connect.
So, I was inspired by the story and decided to put together these simple printable storytelling prompts for kids.
When Clemency is attacked by an evil fairy, she remembers the tale of Peter Pan, as her father had told her one evening. The memory of the story is what saves Clem's life and takes her on an incredible journey…you have to read the book to find out what happens. At the end of the book, Clem returns home and tells her family all about her adventure.
Storytelling is a wonderfully engaging activity for children. Whether it is retelling something that they experienced or imagining an entirely new story. Telling stories is how generations of people have carried their heritage over centuries.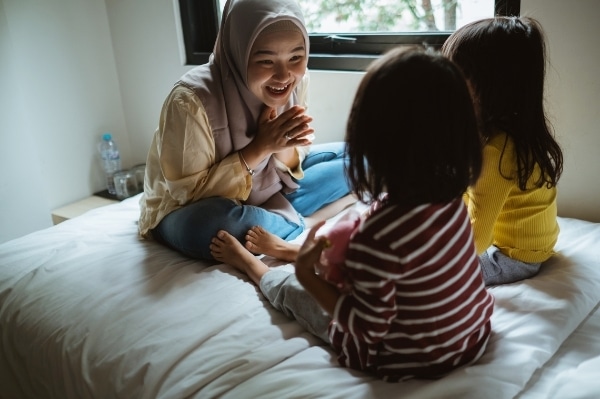 Without storytelling, history would not be nearly as interesting or informative. However, sometimes it can be hard to know where to start. I've put together some fun storytelling prompts for kids and turned them into an easily accessible game of sorts.
Printable Storytelling Prompts for Kids
First, print off our 2 pages of inspiring printable storytelling prompts for kids (newly updated version).
Next, it's time to cut out the prompts, fold them and place them inside a jar or a bag.
Finally, find some time to sit down with your family and have each person pull a storytelling prompt from the jar.
How to use storytelling prompts
Find a pocket of time when you can gather around and spend some time creating and listening to stories together. A great time might be in the evening or on a road trip, in the car. These storytelling prompts are a fantastic classroom resource for teachers. Spark a storytelling session with the kids in your class.
When we gave this activity a try, I discovered that it helped to have a few key questions on hand in case the storyteller becomes stuck.
what did you see?
what did you hear?
what did you smell?
who else is there?
what does the room/space look like?
how do you feel?
where did you go?
Since there is no writing involved, this activity can be enjoyed by children of all ages. My girls loved taking turns telling stories and when they got stuck, they helped each other out. Building and sharing stories as a family are great fun.
Extend the learning...
If your children are older feel free to use these prompts as creative writing prompts. Finding ways to start kids thinking about creative writing is fantastic.
Who knows where the stories might lead you…they might save you if you are attacked by an evil fairy one day?!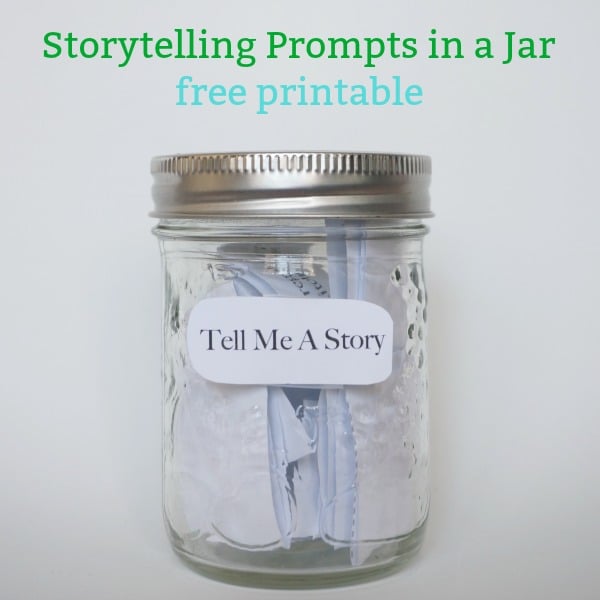 ---
Related Posts
Have fun writing a fairy tale with our fairy tale story writing prompts
Check out our creative writing kit for kids
Write your summer stories on our summer story writing pages!
---
Check out all the other fun projects that use a simple mason jar:
Craft a Valentine's Give a Kiss, Get a Kiss jar
Fight Boredom with an "I'm Not Bored" Jar
Fill a Jar with Outdoor Play Ideas
Make a Holiday Snow Globe
---
Make sure you are following along…
SUBSCRIBE TO KITCHEN COUNTER CHRONICLES TO HAVE OUR DELICIOUS RECIPES, FUN CRAFTS & ACTIVITIES DELIVERED DIRECTLY TO YOUR INBOX.
FOLLOW KITCHEN COUNTER CHRONICLES ON