Our love of reading has poured over into a love of bookmarks. Seems like a logical leap. So, I've been making all kinds of printable bookmarks to color for kids. It only seemed fitting to make a back to school set. These are great free back to school bookmarks for students of any age.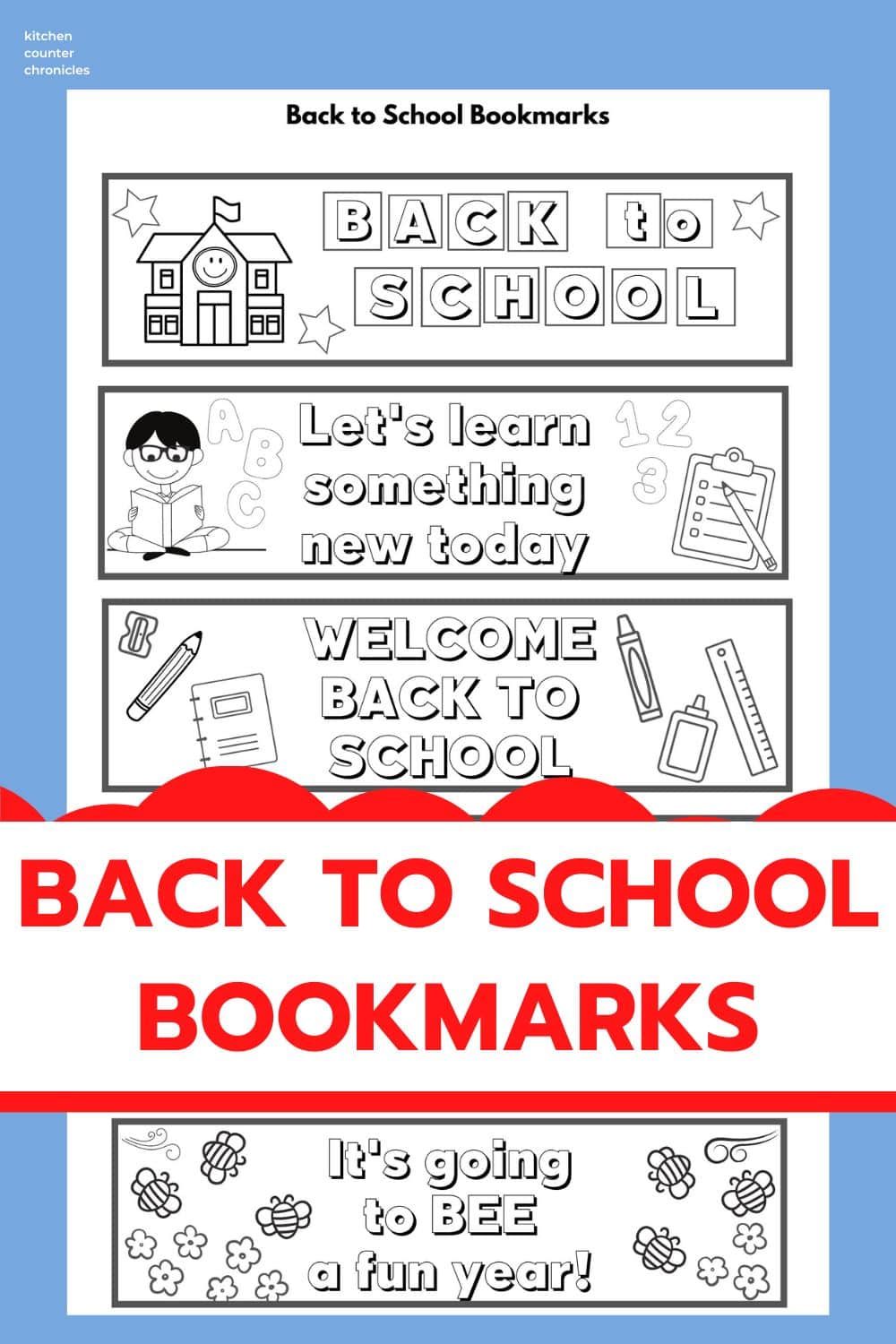 Disclosure: There are Amazon Affiliate links in this article which means, at no additional cost to you, we could receive compensation for our recommendations. You can read our full disclosure policy on our Disclosure Page for more details.
As you know, my love of bookmarks goes back to my mom's love of bookmarks. If she saw you attempt to turn the corner of a book, she'd jump into action and give you one of her bookmarks. After she passed away, I inherited over a hundred bookmarks?!
Now that I'm the mom I love gifting bookmarks to anyone and everyone. Gifting a bookmark along with a great book always makes a gift extra special. These are awesome free printable bookmarks for teachers to share with students. What a fun way to welcome students back to school – with a new bookmark that they can color themselves!
Back To School Coloring Bookmark for Students
white cardstock
colorful cardstock
pencil crayons
scissors
double-sided tape
It is super simple to use our coloring bookmarks. Start by printing off our back to school bookmarks to colour, there are 4 different options on the page. We've included fun bookmark quotes for students to enjoy. I prefer printing the bookmarks on white card stock, but you could totally use regular printer paper. I find the heavier card stock makes the bookmarks a little more durable and the colours are brighter. Use whatever you have on hand.
Once you have the bookmarks printed off it's time to cut them out. The bookmarks are ready to be coloured. I love using pencil crayons, but I've used markers and crayons in the past. Again, whatever you have available.
Finally, I like to add another layer of bright card stock to the bookmarks. Cut the bright card stock slightly larger than the bookmark itself. Then use double-sided tape to adhere the pieces together. I love the look of the little bright border around the bookmark. You could totally use construction paper or scrapbook paper.
Now that the bookmarks are done it's time to pop them inside a great book. I know that kids don't always read actual, physical books anymore. Even my kids love reading their books on an e-reader. But, there is something special about reading an actual book…even if it's simply a comic book. And, students can always use their bookmarks for their textbooks too!
If you know a kid who is an enthusiastic reader, or a kid who you'd like to inspire to read more these bookmarks will make a great gift.
Check out our bookmarks that celebrate a love of reading too!
---
Related Posts
Looking for a great back to school book for kids? Check out our collection of books for kids in kindergarten to grade 6.
---
Make sure you are following along…
FOLLOW KITCHEN COUNTER CHRONICLES ON
SUBSCRIBE TO KITCHEN COUNTER CHRONICLES TO HAVE OUR DELICIOUS RECIPES, FUN CRAFTS & ACTIVITIES DELIVERED DIRECTLY TO YOUR INBOX.