Load? Effort? Fulcrum? Pulley? Do these words sound familiar? If your child is learning about simple machines then you have undoubtably heard these words. What exactly do they all mean? What is a simple machine? Sometimes the best way to learn is with a fun challenge like this simple machines STEM challenge.
for your convenience, this post contains affiliate links
Before we can start working on our challenge we need a good book to teach us about simple machines. The book How Do You Lift a Lion? by Richard E. Wells introduces kids to simple machines. The kids in the book lift a lion using a lever, they move a panda using a cart with wheels and they transport a basket of bananas to a tree full of hungry monkeys using a pulley. So, I put the challenge to my daughter – find 3 ways to move a lion.
Now we don't have a lion laying about so our lion of choice was a toy. This lion comes from my husband's Fisher Price circus train set…from the 70's. Pretty cool lion. How did we go about making him move?
Simple Machines Activities for Kids
3 Ways to Move a Lion
How to Make a Pulley
craft/popsicle sticks
tape
string
scissors
branch
toy lion
Okay, first you are going to need a lion to move. Our lion is actually about 40 years old. He is from my husband's Fisher Price circus set – from when he was a baby! Crazy that my mother in law kept it all of these years. Anyhow, you can find lions as part of toy safari kits. Wherever you get your lion, I'm sure it will be perfect for this STEM challenge.
After brainstorming some ideas, my daughter went to work building a platform out of popsicle sticks and tape. The platform is large enough and sturdy enough to hold our lion. The lion is the load that we have to try and lift.
Once the platform was built she taped two lengths of string across either end of the platform…these are how the platform will be raised, balance and hopefully not tip.
Next, she looped the string over the tree branch. My daughter kept the string attached to the spool and used the weight of the spool of string to work as an anchor. Then the string was fed through the loops on the platform and up and over the branch…thus creating a rudimentary pulley.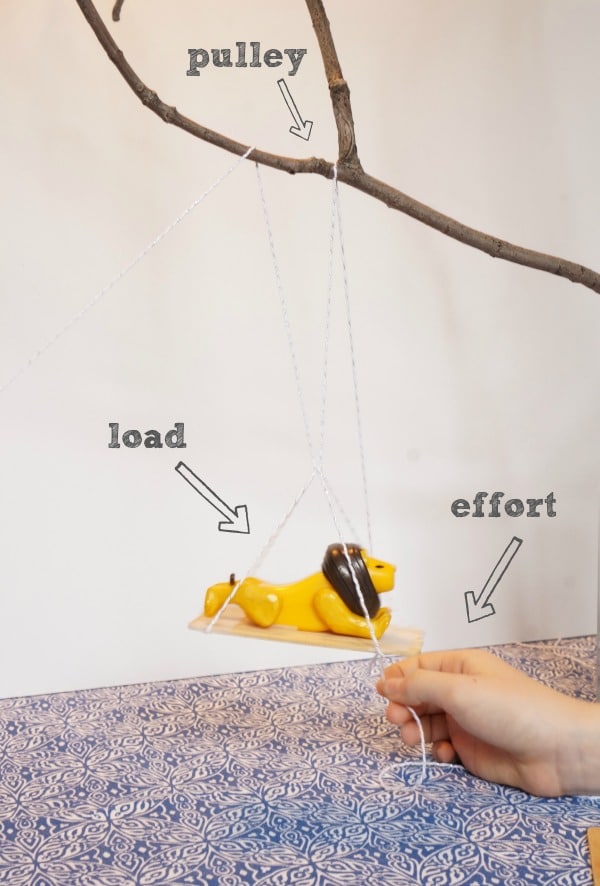 With a pull on the string (effort), the lion was lifted off the ground. We discovered is that the lion is a little front heavy. So, we decided it was okay to use a loop of tape on his belly to keep him in place on the platform…that lion was slipping all over the place and he needed a seatbelt.
How to Make a Wheel and Axel for Kids
plastic or wood coffee stir sticks
scissors
popsicle sticks
tape
string
4 plastic wheels
The next mission was to move the lion from one side of the table to the other. This task follows perfectly after the first one…we were able to use the same platform as the base for the cart that would hold our lion – the load.
The most challenging part about making a cart with wheels is figuring out how to make wheels that would spin…thus we needed an axle.
My daughter searched through her Mecanno kit and found 4 wheels…you could also use LEGO wheels. She was able to make an axle by cutting the coffee stir sticks in half (lengthwise). Depending on the size of the hole in your wheel and the stick you are using, you will have to make certain adjustments.
By cutting them she was able to feed them into the hole in the wheel one at a time.
She found that three halves filled the hole tight enough that the wheel didn't fall off and loose enough that the wheel could still spin on the axle.
After taping the wheel and axles to the underside of the cart the lion was able to be pulled across the table.
How to Make a Lever with Popsicle Sticks
popsicle sticks
tape
The final attempt at moving our lion was to use a lever. My daughter started this one by making a long (3 popsicle sticks long and 3 popsicle sticks wide) board (our lever) that the lion (our load) could stand on.
She then stacked and taped together a pile of popsicle sticks. Two piles, actually. The piled sticks became the fulcrum…the point that our lever sits on and pivots on.
With the fulcrum in place and the lever on top with the lion, she was then able to activate the lever by pressing down (effort) on the side the lion was not standing on.
She discovered that the further the lion (load)was from the fulcrum the higher the lion went.
She was even able to shoot the lion off with a catapult action! I think this was her favourite step in the entire process.
It is always fun experimenting with simple machines. In the future we might try adding more weight to the lion…maybe more animals can be lifted at once. How would you move an elephant!? Trial and error with hands on activities are a fun and memorable way to learn.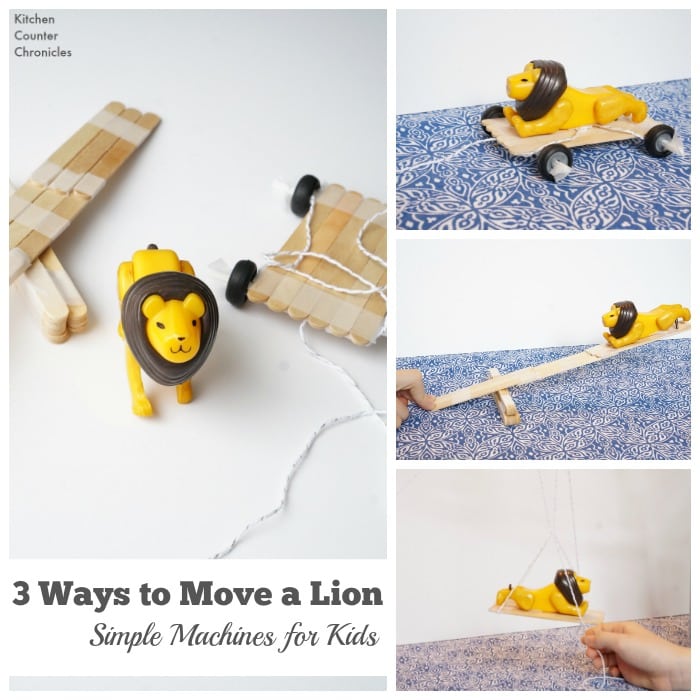 ---
A few of our other favourite STEM activities for kids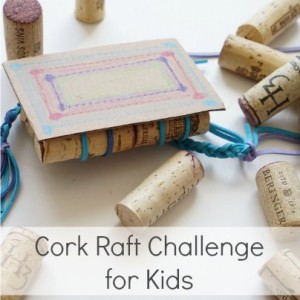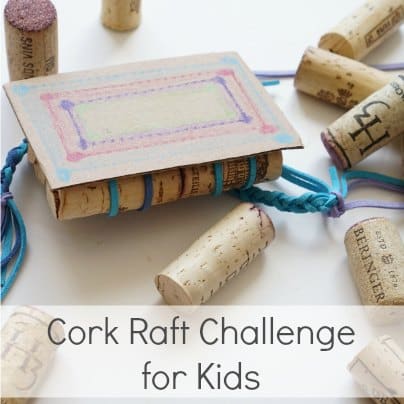 Can you build a raft from corks?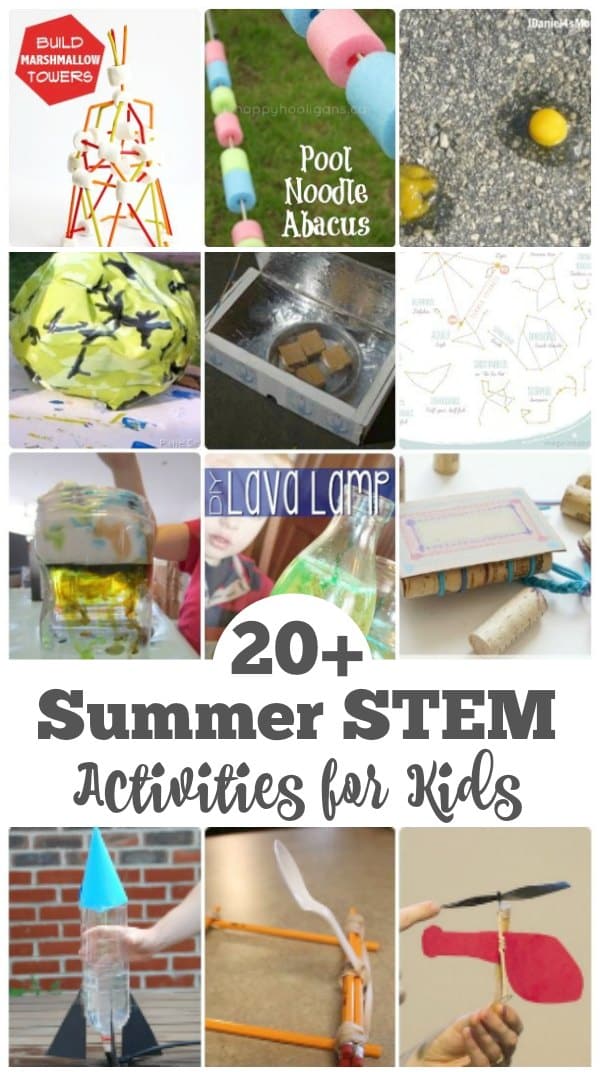 Take a look at this collection of summer STEM activities for kids
---
Today's post is part of the Storybook Science series taking place on Inspiration Laboratories. Be sure to head over and check out all the cool books and science activities that are being shared. So many great ideas to inspire your kids minds.
---
Make sure you are following along…
SUBSCRIBE TO KITCHEN COUNTER CHRONICLES TO HAVE OUR DELICIOUS RECIPES, FUN CRAFTS & ACTIVITIES DELIVERED DIRECTLY TO YOUR INBOX.
FOLLOW KITCHEN COUNTER CHRONICLES ON
---