Sharing love with friends is always a great idea. After our year of pandemic lockdown and online schooling, it seemed like a great time to really embrace our friends…even from afar. I've shared many crafts for tweens over the years, I thought it would be fun to pull together a collection of cool friendship crafts for tweens to make.
When I was a kid it was all about making friendship bracelets. You know the bracelets you make with embroidery thread and lots of flipping of the threads. Well, there's a great tutorial for making friendship bracelets in this round-up…and a whole lot more!
What is a friendship craft you ask? Well, a friendship craft is something you make and share. It might contain a special message or a secret code…something that only your friends would know. Have fun with all of these friendship craft ideas!
Friendship Crafts for Tweens
I love making seasonally-themed jewelry to share, like our Easter Friendship Bracelets. Is your friend a good egg or a bad egg?
Friendship necklaces with painted washers from Chica Circle are simple to make and are a great gift for a group of friends to share.
Even when it's cold outside it's a great time to share the friendship love. Check out the funny messages on our winter Friendship Bracelets
Here they are! The classic woven thread bracelets. Sarah Maker shares how to make colourful woven friendship bracelets
Valentine's Day is the perfect time to tell someone how important they are to you. Love these Valentine's Day themed friendship bracelets
Projects with Kids shares how to use polymer clay to make a shareable best friend necklace. A sweet gift to share with a friend who is moving away or travelling.
Back to school time is a great time to make fall friendship bracelets – do your friends like everything pumpkin spice?
Hello, Wonderful shares how to make a beautiful friendship collage art. Team up with your friend to make this piece of art.
Heading out on Halloween night with your friends? Why not make everyone a Halloween Friendship Bracelets
Here's an update on the classic 80's friendship pins. These friendship pins have all the fun modern short forms and hashtags…BFF, GOAT.
How cute is it to make matching star friendship necklaces shared by Moms and Crafters. Love the use of the friend's initials.
Our beaded friendship pins for shoes are a super fun retro craft for tweens to make and share.
What will you make your friends today?
---
Related Posts
Check out all of these creative summer crafts for tweens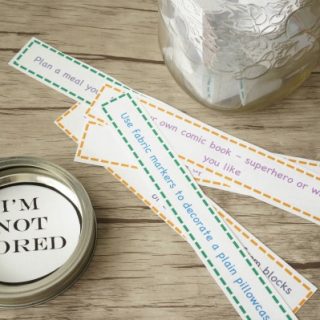 Feeling bored and looking for some inspiration? Check out our printable Bored Jar activities for tweens. Endless ideas to keep kids engaged.
---
Make sure you are following along…
SUBSCRIBE TO KITCHEN COUNTER CHRONICLES TO HAVE OUR DELICIOUS RECIPES, FUN CRAFTS & ACTIVITIES DELIVERED DIRECTLY TO YOUR INBOX.
FOLLOW KITCHEN COUNTER CHRONICLES ON