I love when I come up with cool crafts for tweens and teens to make. My series of friendship bracelets are a big hit with the older kids. This set of bracelets is a super colourful and festive Easter craft for the tweens to make.
Disclosure: There are Amazon Affiliate links in this article which means, at no additional cost to you, we could receive compensation for our recommendations. You can read our full disclosure policy on our Disclosure Page for more details.
Easter is such a fun and colourful holiday in our house. It's all about springtime, renewal and the coming of sunshine. We've shared all kinds of cool Easter craft projects over the year and I knew I wanted to make these Easter friendship bracelets.
Friendship crafts are a sweet way for kids to connect. These are so simple to make, the kids can share them with all of their classmates or maybe with their cousins. Whoever they're making them for, they are sure to love wearing these silly messages.
Easter Craft for Tweens – Easter Friendship Bracelets
letter beads
fabric measuring tape
colourful pony beads
stretchy string
bead stoppers
The first step in creating your Easter friendship bracelets is coming up with a fun message for the bracelet. You could totally go for something like "Hop. Hop. Hop. Hop." all the way around the wrist or maybe something more complicated like "Here comes Peter cottontail". Do you have a favourite springtime and Eastery phrase or poem?
We decided to go with 3 phrases…"eggcellent", "hippity hoppity" and "good egg, bad egg."
Once you have chosen your phrase or words, it's time to lay out all the letters and the pattern of the beads. I like to work on a piece of felt. A felt base means that the beads won't roll away as easily as when you use a smooth tabletop. And, I know you don't want those beads to roll away.
The next step is measuring your wrist. You can do this in a couple of different ways. The first way is to wrap a fabric measuring tape around your wrist. If you are using elastic string for your bracelet, then the string will need to be able to glide over the widest part of your wrist and then fit snuggly.
Another way to measure your wrist is to wrap a piece of string around your wrist – again, don't forget the widest part of your hand. Mark and measure the string.
Once you have the length of string or measuring tape, you are going to add at least 2 inches to the length. This will give you plenty of length for sliding over the widest part of your hand, and for tying a knot in the bracelet.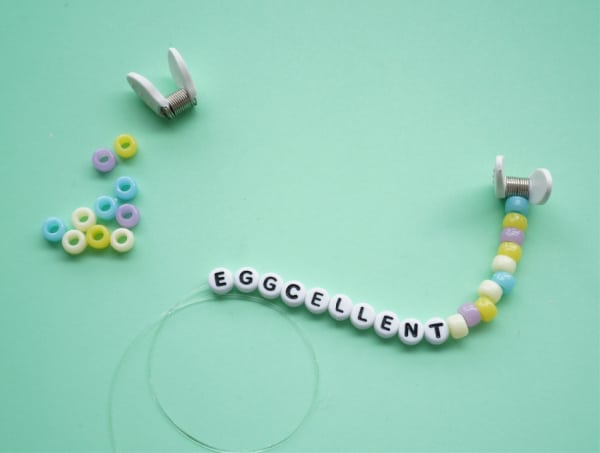 Okay, you have your design and you have your wrist size. Cut the stretchy thread and start beading. I discovered this super simple tool, called a bead stopper, that helps keep the beads from sliding off the string. You just clip the bead bud to the end of the string. If you don't have a bead stopper then go ahead and clip a bullnose clip on the end, or just be super careful with your beading.
When the message and the beads are in place, test run the length of your bracelet on your wrist. Tie a loose knot in the string and see how it fits. When the bracelet is the exact size you like, it's time to tie a surgeon's knot.
A surgeon's knot is a triple looped knot. It is more secure than a simple knot. Be sure to tie a few knots and tie them tightly. The knot will slide inside the beads.
You could add a dab of super glue to your knot, but I've never done this and my bracelets all hold with just a couple of surgeon knots. Trim off the excess string.
Now your bracelets are ready to wear or share. What a fun item to add to an Easter basket for tweens. You could add all the supplies needed or make a bracelet for your tween to wear.
What message will you put on your Easter bracelet?
---
Related Posts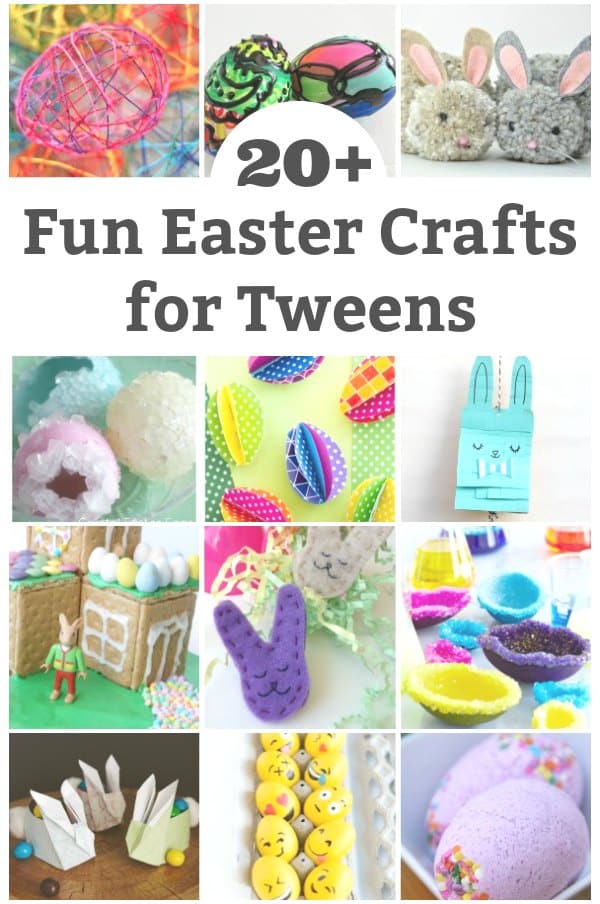 Check out all of these creative Easter crafts for tweens and teens to make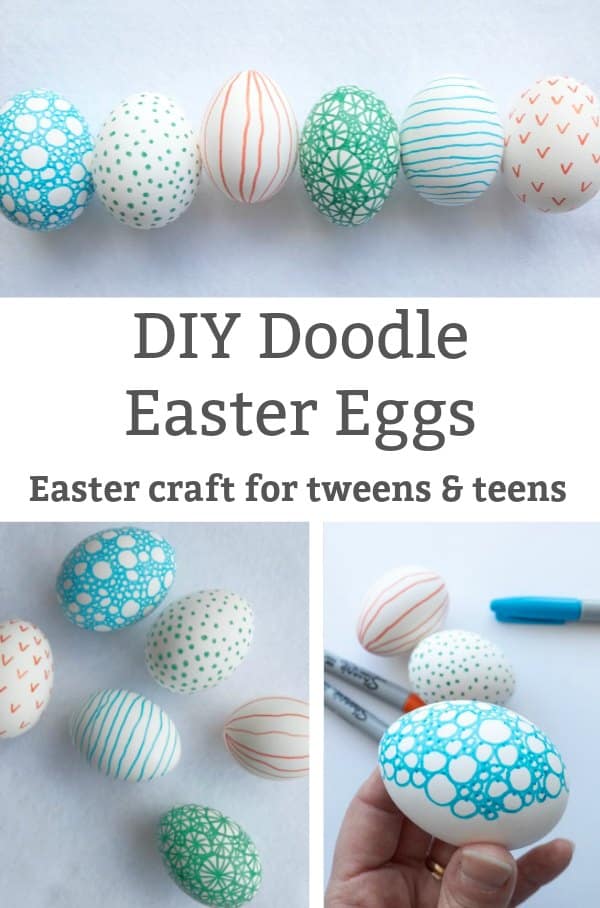 Discover how to make these awesome doodle Easter eggs!
---
Make sure you are following along…
SUBSCRIBE TO KITCHEN COUNTER CHRONICLES TO HAVE OUR DELICIOUS RECIPES, FUN CRAFTS & ACTIVITIES DELIVERED DIRECTLY TO YOUR INBOX.
FOLLOW KITCHEN COUNTER CHRONICLES ON